About Courvoisier
Courvoisier is one of the top cognac brands and part of the Big Four Cognac Houses. It has won several prestigious awards as well as recognition from notable historical figures such as Napoleon Bonaparte.
Courvoisier cognac first started in a Parisian suburb during the reign of Napoleon Bonaparte in 1809. Emmanuel Courvoisier and Louis Gallois founded the wine and spirit company in Bercy, where Gallois was the mayor.
In 1828, their respective sons, Felix Courvoisier and Jules Gallois, decided to move their business to Jarnac to improve the quality of the cognac, where it remains today.
Courvoisier cognac was recognized and sought after throughout Europe. It was requested to toast the grand opening of the Eiffel Tower in 1889 at the World's Fair. In 1983, Courvoisier was awarded the Prestige de la France for its high-quality products and remains the sole cognac house with this honor.
Composition
Courvoisier cognac is made with a specific blend of grapes from Borderies, Fins Bois, Grande Champagne, and Petite Champagne.
Is Courvoisier A Whiskey, Brandy, or Cognac?
It is both brandy and cognac as it is produced in the Cognac region and uses legally recognized grapes. There are three varieties of Courvoisier labeled by age: VS (Very Special), VSOP (Very Superior Old Pale), and XO (Extra Old).
Courvoisier Cognac Prices
Item
Type
Aged For
Alcohol (ABV)
Size
Price
Courvoisier VS
Cognac
2 years
40% (80 proof)
375ml
$17.99 – $19.99
750ml
$22.99 – $24.99
1L
$36.99 – $39.99
1.75L
$49.99 – $55.99
Courvoisier VSOP
Cognac
4 years
40% (80 proof)
750ml
$35.99 – $39.99
Courvoisier XO
Champagne Cognac
6 years
40% (80 proof)
750ml
$69.99 – $76.99
L'Essence de Courvoisier
Cognac
15 – 25 years
42% (80 proof)
700ml
$2,691 – $3,199
Courvoisier 12 Year Old
Cognac
12 years
42% (80 proof)
750ml
$46.99 – $49.99
Courvoisier 21 Year Old
Cognac
21 years
75% (150 proof)
750ml
$179.99 – $199.99
Courvoisier Initiale® Extra
Cognac
30 – 50 years
40% (80 proof)
750ml
$349.99 – $430.99
Courvoisier Sherry Cask Finish
Cognac
2 – 8 years
40% (80 proof)
750ml
$39.99
Courvoisier Rosé Liqueur
Cognac blend
–
18% (36 proof)
375ml
$17.99 – $20.99
750ml
$22.99 – $30.99
Courvoisier Cognac Buying Guide
Courvoisier cognacs come in various sizes and types, but each has its unique flavors and notes. Check out our buying guide below to get to know each Courvoisier cognac in more detail.
VS stands for "Very Special" cognac that has been aged at least two years with a maximum of seven. It is a blend of young and old cognacs and has a fruity and oaky taste with a floral aroma. It comes in several different sizes, with prices starting at $17.99. It is one of the most affordable Courvoisier cognacs due to its shorter aging period.
VSOP is the "Very Superior Old Pale" and has an elegant blend of Grande and Petite Champagne and Fins Bois grapes. It ages for at least four years in French fine-grained oak barrels and develops a caramelized nutty flavor and notes of peach. The VSOP typically starts at $35.99 and is best served neat or on ice.
The XO stands for "Extra Old" and ages for at least ten years to a maximum of 25. It has exotic flavors of vanilla and creme brulee with notes of iris and candied orange. It is the most expensive of the standard types starting at $114.99 for a 750ml bottle.
The Napoleon Champagne commemorates Napoleon's love for Courvoisier cognac. It is made with grapes from the Petite and Grande Champagne regions and ages for a maximum of 20 years. It is a mellow but voluptuous spirit with flavors of dried apricot, sandalwood, and mushrooms.
This rare and exquisite cognac is a blend of over 100 of the best cognac reserves from the early 1900s with 20th-century cognacs. It carries notes of sandalwood, cigar leaves, toffee, fresh honey, and marzipan. Its full-bodied and intense flavors include dried plum, licorice, and apricot. This rare cognac is the most expensive, starting at $2,691.00 for a 700ml bottle.
At the heart of the 12-year-old Courvoisier are grapes from the Borderies cru and aged for 12 years. It is then combined with Fins Bois grapes to add more depth. The flavors of raisins, almonds, and orange marmalade are complemented with notes of orange blossoms, violets, ginger, and clove.
As the name suggests, this Courvoisier cognac is aged for 21 years in Tronçais oak barrels. The grapes are from the renowned Grande Champagne cru, which develops into a rich aromatic spirit as it ages for over two decades. It has notes of dried hazelnut, apricots, and figs that are followed by honey, cocoa, and delicate spices.
The Initiale Extra is a meticulous and rare blend of very old cognac reserves starting at 30 years old. It combines the Borderies and Grande Champagne crus and ages for more than 50 years. This powerful and fragrant cognac has a forest and truffle aroma with flavors of cedarwood and port wine. It finishes with hints of fruitcake spices.
A limited-edition Courvoisier, this cognac first ages in French limousin oak barrels for between two and eight years, then finishes maturing for four months in a sherry cask to add full-bodied smoothness and notes of sherry. It has notes of honey, almond, and dried fruit. Its suggested retail price for a 750ml bottle is $39.99.
This liqueur is designed to be a refreshing beverage. It is mixed with fresh X grapes to take out the bite in typical cognacs and comes in the Josephine bottle, named after Napoleon Bonaparte's first wife. The Courvoisier Rose has flavors of black currant, blackberry, and cherry with hints of honey and vanilla.
The Best Way(s) to Drink Courvoisier
There are several ways to drink Courvoisier to enjoy the flavors and aromas. Choosing the right glass can affect the tasting experience as well. If you don't want to drink your cognac neat, here are a few of the best Courvoisier cocktails.
This classic cocktail is both simple and easy to make. Cognac, triple sec, and lemon juice are shaken together over ice. Courvoisier cognac adds a smoother flavor, unlike other cognac brands.
Midnight in Paris is a fruity cocktail suitable for cognac beginners. Cognac and ginger ale is poured over a glass with ice, then gently mixed. You can garnish it with half an orange slice to top it off.
Champagne is the name of another delicious and fancy Courvoisier cocktail. A brown sugar cube is placed at the center of a chilled glass. Then it's covered with a few dashes of Angostura bitters. Fill the glass with 2.5 ml of Courvoisier and top it off with champagne.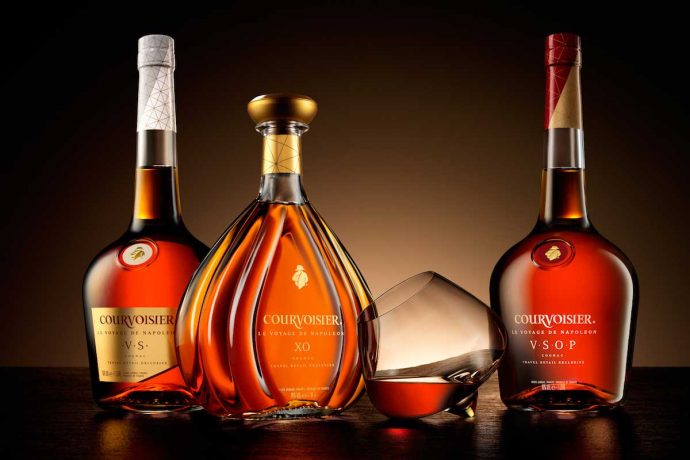 5 Best Things to Mix with Courvoisier Cognac
Ginger ale
Tonic
Iced tea
Coca Cola
Lemonade
Here are some of the most commonly asked questions about Courvoisier cognac.
VSOP Cognac Alternatives to Courvoisier
XO Cognac Alternatives to Courvoisier