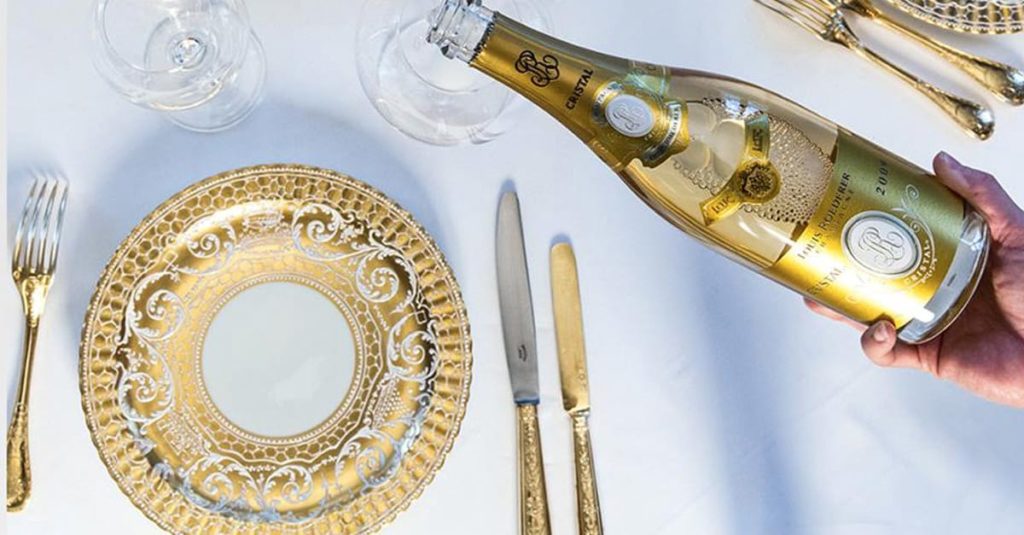 About Cristal
Cristal champagne has become a symbol of luxury, more so due to its association with hip-hop culture. Several artists like Jay-Z, 50-cent, Sean Combs (P Diddy), Drake, and A$AP Rocky referenced the wine in their songs and showcased it as part of their public image.
Some even nicknamed it Crissy, with Tupac creating a cocktail named Thug Passion by combining Cristal and Alizé Gold Passion.
But what warrants all this clout? To understand its popularity, we have to go way back in time.
History
As champagne gained in popularity in Russia during the mid-1800s, Louis Roederer was one of the top brands and sold a third of production in the country.
Russia was politically unstable at the time, and the Tsar during that period, Alexander II, ordered a clear bottle of champagne with a flat bottom in fear of his assassination. The goal was to see the bubbles and prevent explosives from being hidden under the bottle.
Louis Roederer commissioned the production of clear lead glass bottles (with a flat bottom), which led to the name Cristal (French for crystal).
The Tsar got his first Cristal in 1876, and he asked Louis Roederer to reserve the best champagne for him each year.
Hip-hop culture discovered the brand many decades later and blew its popularity through the roof. However, the hip-hop community boycotted the brand in 2006 after the managing director, Frederic Rouzaud, made comments that seemed racist. Sales kept on soaring, though, so this had no effect.
Composition
It is not all about packaging. Quality plays a huge role in the brand's success because they only produce the wine when pinot noir and chardonnay grapes are perfectly mature.
Cristal champagne contains 60% pinot noir and 40% chardonnay grapes, where the juice ages for six years in cellars, then kept for another eight months after disgorgement. However, these factors vary depending on the type of Cristal champagne.
Why is Cristal expensive?
Cristal champagne is expensive due to its rarity of production and position as a status symbol. You will have to part ways with at least $200 to get a 750ml bottle, but some varieties cost less than $100.
Cristal Champagne Prices
Type
Item
Style
Alcohol (ABV)
Sizes
Price
Cristal
Cristal Champagne
Brut
12%
750 ml
$389+
Cristal Rose Champagne
Dry
12%
750 ml
$499+
Cristal Vinothèque
Brut
12%
750 ml
$1,168+
Cristal Rosé Vinothèque
Brut
12%
750 ml
$2,096+
Vintage
Cristal Vintage
Brut
12%
750 ml
$70+
Cristal Rosé Vintage
Brut
12%
750 ml
$58+
Cristal Blanc de Blancs Vintage
Brut
12%
750 ml
$85+
Multi-Vintage
Cristal Brut Premier
Brut
12%
750 ml
$45+
Cristal Carte Blanche
Demi Sec
12%
750 ml
$50+
Years
Cristal Champagne 2008
Brut
12%
750 ml
$305+
Cristal Champagne 2012
Demi Sec
12%
750 ml
$242+
Cristal Champagne 2013
Demi Sec
12% – 12.5%
750 ml
$244+
Cristal Brut Nature 2012
Extra Dry
12%
750 ml
$91+
Cristal Brut Nature 2009
Extra Dry
12%
750 ml
$87+
Cristal Brut Nature 2006
Extra Dry
12%
750 ml
$86+
Cristal Champagne Buying Guide
If you are unfamiliar with the terms used in the world of champagne, here is a guide to help you pick the most appropriate bottle for the occasion.
There are four types of Cristal champagnes:
Cristal is the famous and prestigious cuvée first produced in 1876. It has a long history, and the bottles remain unchanged, having crystal clear glass with a flat bottom.
Louis Roederer does not make Cristal champagne every year. Only when grapes grow during the best years do they produce it after harvesting grapes worthy of the prestigious quality.
The House added more varieties of this champagne with time, each with a different twist to the original taste.
Vintage champagnes are those made using grapes that were all grown and harvested in a single year. Since conditions are different each year, the wines might have varying tastes.
These are the opposites of vintage wines because they contain a blend of grapes from two or more years. The practice is common among winemakers as they try to achieve a superior house style consistently.
Houses also classify wines by the year of production, after which they begin aging for consumption several years later.
Sizes
Cristal champagne and its varieties come packaged in a 750 ml bottle, a standard for most wines.
It is worth mentioning that the prestigious Cristal cuvée adds on a gold wrapping around the bottle, and this is not just for show.First, it shows the champagne is of the highest standard as per the 19th-century color-coding system. Most importantly, the wrapping protects the liquor from UV rays. Since the bottle is clear, the sun can quickly damage the wine.
Sweetness
Champagnes come in seven levels of sweetness. They are:
Brut nature (extra bone dry)
Extra brut (bone dry)
Brut (really dry)
Extra dry (not dry like brut)
Dry (dry to some extent)
Demi-sec (sweet)
Doux (extra sweet)
Brut is the most common type, making up to 90% of champagne sales. On the other hand, doux is very rare, and most of it gets sold in France. Not much goes out as export.
Brut nature champagne is gaining in popularity as a healthy zero-sugar option, signaling changes in consumer tastes, especially with keto-friendly diets. Usually, the sugar gets added after disgorgement to balance out the acidity, so if you do not mind taking acidic champagne, try extra brut or brut nature.
For comparison, extra brut can have 0 – 6 grams of sugar per liter, while doux champagnes have more than 50 grams per liter. That is a lot of calories.
Pairings
Since doux and demi-sec champagnes have a sweet taste, they pair well with sweet servings like dessert. You can try them with cake, fruit tarts, apple pies, and the like.
However, the less sugary champagnes have high acidity levels, making them perfect for pairing with meaty dishes, oily fish, and seafood. They cut through the rich aromatics of the meat, leaving your mouth full of flavor.
The Best Way(s) to Drink Cristal Champagne
Champagne is best served cold, and the ideal temperature is 47 – 50ºF (8 – 10ºC). If lower than 47ºF, it will be difficult to detect the aromas because the wine will numb your taste buds. On the other hand, if the temperature exceeds 50ºF, the wine will be less bright and appear heavier.
So how do you chill it to the right temperature?
You can keep the bottle at the bottom of your fridge for about four hours or place it in an ice bucket for 30 minutes. Do not chill the bottle in a freezer. When ready, serve the drink in non-chilled glasses. Pre-chilling the glasses makes the champagne lose its sparkle.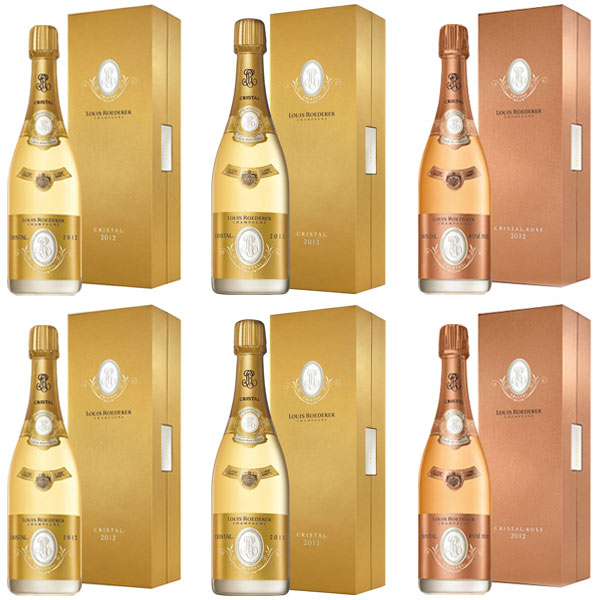 Alternatives to Cristal Champagne
While Cristal is among the best luxury champagnes in the sparkling wine market, there is some competition. The most notable ones are:
Moet: Unlike Louis Roederer, which produces less than a million bottles of Cristal every year, Moet has an output of close to 30 million bottles, making their champagnes significantly cheaper. Even though it is a prestigious champagne house, prices range from around $50 to $65. Apart from streamlined processes, another factor contributing to such high production numbers is short aging periods. For instance, Moet Imperial ages for only two years, which minimizes storage costs.
Dom Perignon is under the Moet & Chandon House but forms the luxurious part of it. The champagnes are more expensive than those in the Moet brand, ranging from about $150 to almost $400. Part of this is because the brand only produces vintage wines, and they can skip production during an entire season if the grapes are not good enough. Also, all their champagnes must age for at least seven years, resulting in high quality and great taste, but at a high price.
Ace of Spades: Officially known as Armand de Brignac, Ace of Spades also has a foothold in pop culture because Jay-Z owns a part of it and regularly mentions it in his lyrics. Like Cristal, Armand de Brignac is a luxury brand, but surprisingly, it does not offer vintage champagne. It is usually a blend of three vintages, and prices range from about $300 to over $900. The Silver Blanc de Noirs is the rarest and most expensive of their champagnes because production requires grapes from the best Pinot Noir vineyards.