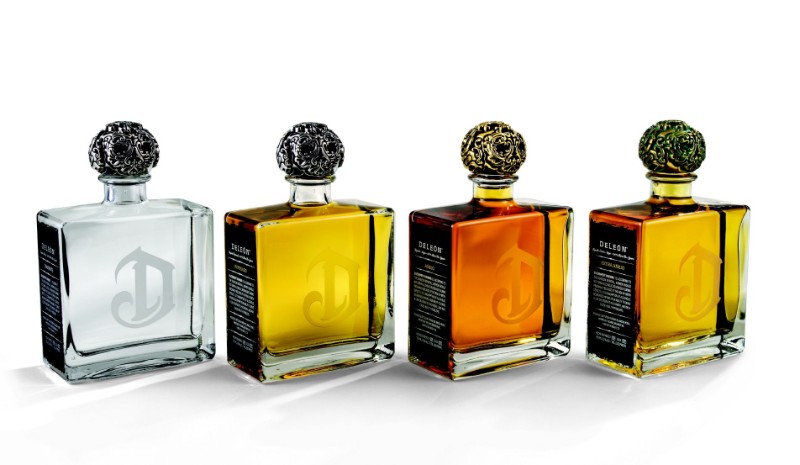 About DeLeon
First introduced in 2009, DeLeon Tequila comes from the Los Altos region of Jalisco and is made from 100% Highland Blue Weber agave. With only two distillations, DeLeon tequila has a flavor depth that reigns unique to the brand.
DeLeon Tequila's creation sparked interest throughout Hollywood and the U.S. music industry, which led to a change in ownership in 2014 when icon Sean Combs and the spirits company Diageo joined forces.
DeLeon Tequila has a history of producing only the best product. This expression reigns true even when it comes to the specially designed bottle the product is sold in. Bottles for DeLeon Tequila are made from fragrance-grade glass and stamped with the mark of the DeLeon brand.
Each collection receives a different detailing to set the uniqueness of the liquor apart. The bottles are hand-carved by a talented jeweler from a solid, one-pound ball of sterling silver.
The DeLeon Tequila collection is composed of Blanco, Reposado, and Anejo, all of which possess varying tastes, aromas, and ingredients.
DeLeon is available for purchase online through Drizly and ReserveBar and at select liquor stores.
Deleon Tequila Prices
| Item | Type | Origin | Aged | Alcohol (ABV) | Size | Price |
| --- | --- | --- | --- | --- | --- | --- |
| DeLeon Blanco | Blanco | Jalisco, Mexico | 2 months – 1 year | 40% (80 proof) | 750ml | $47 |
| DeLeon Platinum | Blanco | Jalisco, Mexico | 2 months – 1 year | 40% (80 proof) | 750ml | $50 |
| DeLeon Reposado | Reposado | Jalisco, Mexico | 2 months – 1 year | 40% (80 proof) | 750ml | $49 |
| DeLeon Diamante | Premium | Jalisco, Mexico | 2 months – 1 year | 40% (80 proof) | 750ml | $170 |
| DeLeon Anejo | Anejo | Jalisco, Mexico | 2 months – 1 year | 40% (80 proof) | 750ml | $57 |
| DeLeon Extra Anejo | Anejo | Jalisco, Mexico | 2 months – 1 year | 54% (102 proof) | 750ml | $129 |
| DeLeon Leona | Anejo | Jalisco, Mexico | 1.5 Years | 40% (80 proof) | 750ml | $979 |
Blanco is "The Definition of Smooth" and has hints of sweet agave, citrus, and spices with a touch of vanilla. Its aroma releases scents of fresh citrus and crisp agave with a crystal clear appearance, finishing with vanilla and warm brown spice for a smoothness that is difficult to mimic.
DeLeon Blanco is slow-roasted on clay ovens which gives it a uniquely warm and smooth taste. It is sold in 750ml bottles and holds a 40% alcohol content by volume and is available in 25 states.
DeLeon Platinum is a top-shelf tequila that screams high-class. Slow roasting in a clay oven gives hints of sweet agave, citrus, and warm space with a vanilla finish. As with all DeLeon tequila, platinum is made from 100% Blue Weber Agave.
Sold in a 750ml bottle with 40% alcohol by volume, this product receives 4.7 stars on Drizly.
Reposado holds a deep amber color with aromas consisting of cinnamon and butterscotch and is "An Artful Balance." Classification is Tequila Reposado, and the taste is unique with hints of caramelized oak and layers of spices with dried fruit. The finish is one for the books as a smooth vanilla and clove taste linger once finished.
A 750ml bottle is priced just under $50 and holds a 40% ABV.
The aroma of DeLeon Diamante has fresh agave notes with a hint of vanilla and a taste of warm spice and honey. The off-white color of the tequila gives a sense of pure perfection, and the caramel finish is smooth.
The remarkable flavors of DeLeon Diamante are reflected in the price point of over $150. However, the 40% ABV and the 750ml bottle make it worth it.
Anejo boasts a definition of "Aged to Perfection" and consists of a dark amber color. The aroma is a sweet honeyed agave and baking spices with a soft, toasted vanilla finish. The taste of the Anejo collection has subtle dried fruit with hints of caramel and toasted oak.
The 750ml is $57 on ReserveBar with a 40% ABV and is sold in 23 different states.
DeLeon Extra Anejo holds the record for being the only tequila in the world to hold a 102 – proof rating. Also known as DeLeon 51, this tequila is comparable to some of the finest scotches in the world and has an acquired taste that isn't for everyone.
Its 51% alcohol by volume makes the difference in the overall taste, and the citrus, pepper, and herbs create a smooth finish.
Leona is the pride and joy of Deleon tequilas, and the price tag reflects that. Aged for 2-4 months in oak, then allowed to rest for a year in French Sauternes casks, each bottle has a rich amber color with ripe fruit and caramel aromas.
It is sold online in a 750ml bottle size for an impressive $979.00. Each bottle ordered online from ReserveBar comes wrapped in a leather carrier with a python-wrapped flask. This product is only available in New York.
The Best Way(s) to Drink DeLeon Tequila
Margarita
This margarita highlights the DeLeon Platinum tequila by adding a hint of spice and the traditional Mexican flavor you get from cilantro.
Ingredients
DeLeon Platinum Tequila
Agave
Lime Juice
Serrano Pepper
Cilantro
Place the serrano pepper and cilantro in a tin shaker, then add the liquid ingredients. Shake until well combined, then pour into a highball glass with tajin and ghost pepper salt.
Las Flores de Mayo
Not only is this another cocktail recipe that highlights DeLeon Platinum, but its sole purpose is to keep the tequila the feature of the drink by enhancing the agave taste and aroma.
Ingredients
DeLeon Platinum Tequila
Verjus
Velvet Falernum
Cacao Bitters
Add all the above ingredients into a mixing glass and stir well on ice. Once mixed well, strain the liquid into a chilled glass and add a lime slice for the garnish.
Platinum Pina
We've all had a pina colada before, but have you ever tried a DeLeon Platinum pina colada?
This version of the cocktail keeps the traditional pineapple and coconut taste while adding a hint of spice that brings out the DeLeon tequila to keep it the star of the show.
Ingredients
DeLeon Platinum Tequila
Fresh pineapple juice
Fresh lime juice
Jalapeno syrup
Take all your ingredients and add them to a shaker. Shake and strain over ice into a glass of your choice and garnish with a jalapeno slice.
5 Best Things to Mix with DeLeon Tequila
If a fancy cocktail isn't your forte, try mixing DeLeon tequila with one of the following ingredients for a simple beverage.
Soda: soda is an inexpensive tequila mixer that can give your DeLeon a fresh new taste.
Grapefruit juice/soda: mixing grapefruit juice or soda with tequila is one of the most popular ways to drink tequila in Mexico.
Agave Syrup: one of the main ingredients in tequila is agave, so why not enhance that taste by mixing in agave syrup with your DeLeon tequila?
Bloody Mary Mix: my favorite alcoholic beverage is a bloody mary. Find your favorite bloody mary mix and substitute vodka for DeLeon tequila for a new twist on a classic.
Tequila Alternatives to DeLeon Tequila
If DeLeon tequila doesn't fall within your price range or doesn't suit your fancy, there are similar tequila alternatives.
Patron – with a flavor that develops slowly and naturally, Patron has earned the rank of most popular tequila. The high-quality ingredients used in Patron give it complex flavoring, and the hand-crafting process makes it difficult to replicate. If you are in search of a noble alternative to DeLeon tequila, try Patron.
Casamigos Blanco – with George Clooney as a co-founder, Casamigos has captured the hearts of Hollywood stars much like DeLeon Tequila. Beginning in 2013, Casamigos produce Reposado, Blanco, Mezcal, and Anejo tequila.
Jose Cuervo – Jose Cuervo is known as having the largest agave holding in the world. Agave is slowly aged in barrels as it has been for over 250 years. Tequilas include a Tradicional Anejo, Tradicional Tequila Plata, Tradicional Reposado, Especial Silver, Especial Gold, Reserva De La Familia, Aniversario, and more. To highlight the Tequila, Jose Cuervo also produces margarita mixes for an easy-to-drink refreshment.