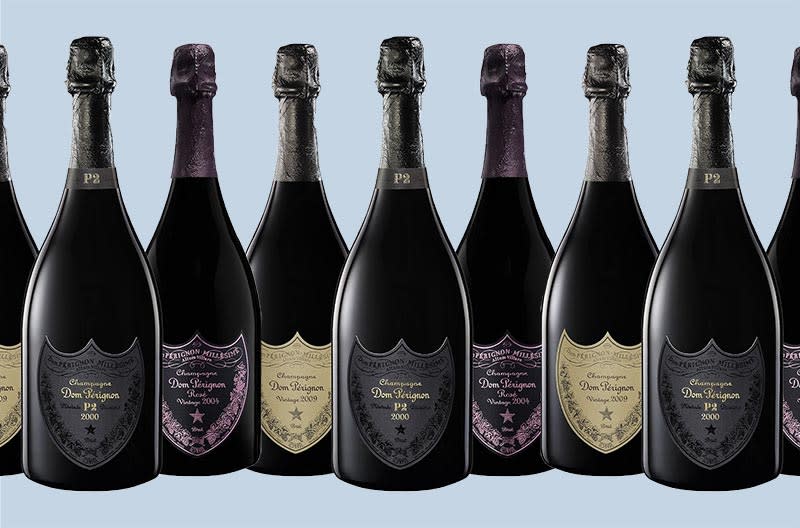 About Dom Pérignon
Dom Pérignon has earned a reputation as being one of the most prestigious and known Champagnes amongst casual drinkers and enthusiasts alike. The champagne earned its namesake from a monk hailing from the region of Champagne.
Produced by the Champagne house, Moët & Chandon, Dom Pérignon is only released as a vintage. Every bottle contains the grapes of only a single year's harvest, and a vintage is only created if the maker believes the harvest to be of the highest quality for aging. This champagne is aged for seven or more years and consists of a blend of Pinot Noir and Chardonnay.
Where can I buy Dom Pérignon Champagne?
Dom Pérignon is available for purchase in stores and online all throughout the United States. The official website has a function to help locate the closest location to make a purchase for delivery or pickup. Storefronts such as Costco, Wegmans, and Total Wine & More sell Dom Pérignon in-store as well as online for delivery. Other online delivery services like Drizly.com offer to your door delivery from nearby stores with the champagne on hand.
Why is Dom Pérignon so expensive?
Many are quick to notice that this famous Champagne comes with a high price tag. The strict criteria by which the maker evaluates the harvest means that they never produce Dom Pérignon in a weak year. Along with that, the distinction of using only grapes harvested in the same year makes this Champagne a high-cost item.
Dom Pérignon Champagne Prices
| Items | Style | Suggested Pairing | Alcohol (ABV) | Sizes | Price |
| --- | --- | --- | --- | --- | --- |
| Dom Pérignon P2 | Brut | Fried artichokes, sea bass, peach salad | 12.5% | 750ml | $425 – $499 |
| Dom Pérignon Rose | Rose | Cured pork, clams | 12.5% | 750ml | $385 – $429 |
| Dom Pérignon | Brut | Shellfish, Crab, Lobster | 12.5% | 750ml | $606 – $639 |
| Dom Pérignon 1990 | Brut | Seafood, caviar, pork | 12.5% | 750ml | $570 – $599 |
| Dom Pérignon 1995 | Brut | Foie Gras, grilled meat, seafood | 12.5% | 750ml | $412 – $425 |
| Dom Pérignon 1996 | Brut | Salmon, tuna, shellfish, soft cheese | 12.5% | 750ml | $512 – $549 |
| Dom Pérignon 1998 | Brut | Cheesecake, caviar, risotto, crab | 12.5% | 750ml | $365 – $440 |
| Dom Pérignon 2000 | Brut | Ravioli, grilled potato chips, caviar | 12.5% | 750ml | $259 – $295 |
| Dom Perignon 2002 | Brut | Shellfish, crab, lobster | 12.5% | 750ml | $295 – $315 |
| Dom Pérignon 2006 | Brut | Caviar, salmon, tuna | 12.5% | 750ml | $245 – $240 |
| Dom Pérignon 2008 | Brut | Shellfish, goat cheese, lox | 12.5% | 750ml | $237 – $242 |
| Dom Pérignon 2009 | Brut | Smoked meat, carbonara | 12.5% | 750ml | $182 – $225 |
| Dom Pérignon 2010 | Brut | Lamb, prawns, caviar | 12.5% | 750ml | $149 – $186 |
Dom Pérignon Champagne Buying Guide
There are a few key characteristics of Dom Pérignon Champagne that will help you make an informed purchase.
Dom Pérignon has recently released its latest vintage: 2012. For winemakers in France, 2012 was considered to be a somewhat difficult year. Yields were lowered by up to 40% for some, but a strong month of decent weather in August led to a successful harvest for Dom Pérignon.
The end result of this year produced a vintage that is unlike many before it, with acidity and bitterness coming forth on the palate. The nose gives fruity and floral notes. The finish brings accents of ginger and tobacco. Having gone through a difficult weather pattern before harvest, the yields of this vintage bring up harmonious contradictions. The complexities of the 2012 vintage read as pleasant and controlled, a reflection of all the unique circumstances in which this blend came to fruition.
Dom Pérignon is never produced on a bad harvest year, so each vintage is of high quality. Each vintage year uses a different ratio of their Chardonnay and Pinot Noir blend, resulting in slightly different profiles every time.
Some of the standout vintages of Dom Pérignon are 1995, 1996, 2004, and 2008.
The 1995 vintage was harvested from a particularly hot summer that succeeded an overcast spring that led to late flowering vines. The result of these conditions is a well-rounded and bright Champagne that brings notes of mineral and fruit to the palate.
In 1996, the harvest underwent hot spells, wind, and rain. Different from the 1995 vintage, this vintage is rich and concentrated. Sweet scents of vanilla, white peach, and praline come through on the nose of this champagne.
The 2004 vintage had an unproblematic harvest season which led to beautifully ripe grapes and healthy vines. On the palate, this vintage gives spicy notes. The nose has a bit of toastiness on the finish to round out the powdered cocoa and white fruit.
After overcast skies for much of 2008, the weather for the harvest season seemed to brighten up to create ideal conditions for a ripe grape and healthy vines. The vintage is acidic, aromatic, and delightfully complex. There is freshness on the nose, as well as roasted notes. It offers a smokiness on the palate that pairs well with spiced dishes and fresh seafood. Musician Lenny Kravitz collaborated with Dom Pérignon for this vintage to create three unique designs that are depicted on the bottle and box.
The Best Way(s) to Drink Dom Pérignon Champagne
To get the best tasting results from Dom Pérignon Champagne, it should always be served chilled.
Between 47 and 50 degrees is the optimal temperature for a vintage Champagne, which you an achieve by refrigerating the bottle for about 2 hours before serving. If time is limited, this temperature can also be achieved using an ice bucket topped with a bit of salt for up to half an hour. Serve in proper Champagne flutes to gain the full experience. Champagne flutes will keep the beverage cooler longer and maintain the bubbles.
Avoid chilling Dom Pérignon in the freezer or serving the champagne in pre-chilled glasses, as it will reduce the quality of the effervescence.
Alternatives to Dom Pérignon Champagne
If you're looking for something similar to Dom Pérignon but with a different price or a slight variation in taste, you can choose one of these top options.
Moët & Chandon Imperial Brut touts a 92 ranking from Wine Spectator. It has a smoky, mineral tasting profile that comes through with flavors like salted almond and white peach. Its price is $134.97.
Veuve Clicquot
The Veuve Clicquot La Grande Dame is a brut Champagne named as a homage to Madame Clicquot. Tasting notes include citrus and almond. Its price is $179.99.
Krug
Krug Grand Cuvée is a brut Champagne aged a minimum of six years. It is acidic, with tasting notes of apple and toast. Its price is$199.99.
Roederer Cristal is a brut Champagne that is considered Louis Roederer's crown jewel. It is light-bodied with tasting notes that are floral, nutty, and fruity. Its price is $299.97.
Armand De Brignac Ace of Spade NV is a medium-bodied brut Champagne. It is full and rich with notes of apple and white fruit with a creamy mouth feel. Its price is $299.99.