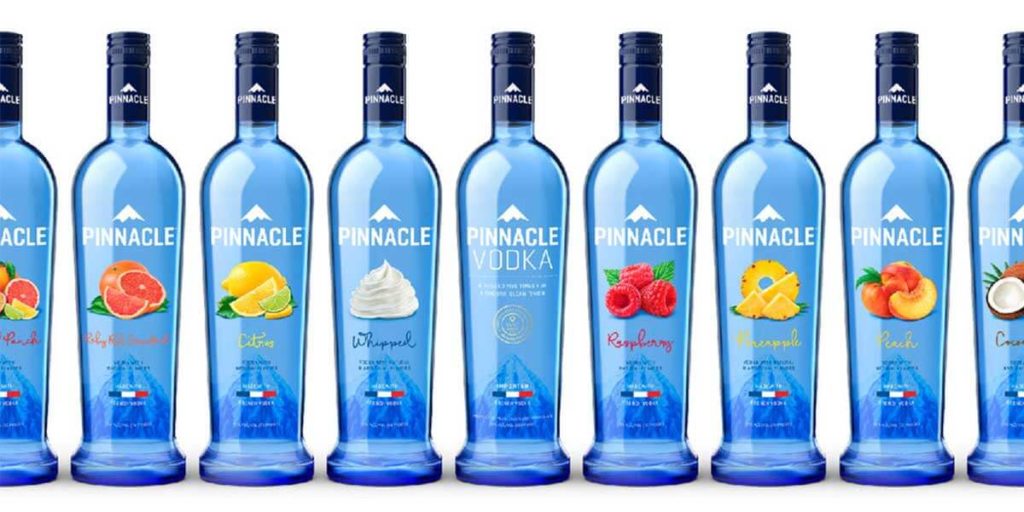 About Pinnacle Vodka
Pinnacle Vodka is a well-known French spirit exported to the United States. It has acquired the honor of #1 Premium Spirit Worldwide due to its impressive growth from 2010 to 2012. Pinnacle has developed a wide variety of vodka to match the distinctive tastes of their fervent consumers. Product variety ranges from unflavored, flavored, and their newest addition to their portfolio — Light & Ripe.
Who Owns Pinnacle Vodka?
Pinnacle Vodka has withstood 3 management transitions during its existence.
It was first owned by White Rock Distilleries by CEO Paul Coulombe. Their first product, Pinnacle Vodka Original, was released in 2002, followed by their flavored vodka in 2005.
Despite the success, it was then sold to Beam Inc. in 2012, which was owned by the creator of Jim Beam Bourbon. Two years later, it was sold to Suntory, Inc., a Japanese multinational corporation and the third-largest distilled beverage maker in the world. Pinnacle Vodka is now owned by Beam Suntory, Inc., a subsidiary of Suntory, Inc.
With the company's continued commitment to retaining the stature of Pinnacle Vodka as a prime brand, a new product line through Light & Ripe, was introduced in the market in 2021.
Where To Buy Pinnacle Vodka
Pinnacle Vodka has made a reputation for itself in the wine and spirit industry in the United States. It has a substantial presence in large retailers such as Walmart, Kroger, Walgreens, Bevmo, Target, and Binny's Beverage Depot.
Coinciding its presence in physical stores, vodka drinkers may also order Pinnacle Vodka online through Total Wine, Drizly, Instacart, Safeway, and Minibar.
What is in Pinnacle Vodka?
Pinnacle Vodka is made from whole-grain wheat cultivated in Northern France, a location recognized for its fertile soil, limestone, and clay — a great site for harvesting. The excellent wheat was blended with pure spring water from the Charente Region, which was filtered naturally by the presence of limestone to remove all types of contaminants.
Before shipping to the United States for flavor infusion and bottling, the liquor is distilled 5 times in France to ensure a high-quality product.
All Pinnacle Vodka products have zero sugar and zero fat content. The nutritional value of each product is dependent on its product category:
Unflavored vodka has calories that range from 98-122 per 1.5 fl. oz.
On the other hand, flavored vodka has 77-100 calories and 0.8-6.9 carbs/g per 1.5 fl. oz. serving.
Finally, each 1.5 fl. oz. of Light & Ripe contained 73 calories per serving.
Pinnacle Vodka Prices
Item
Alcohol (ABV)
Size
Price
Unflavored
Pinnacle Original
40% ABV / 80 proof
750ml
$12.99
1L
$16.52
Pinnacle 100 Proof
50% ABV / 100 proof
750ml
$15.19
1.75L
$29.79
Light & Ripe
Pinnacle Guava Lime
30% ABV / 60 proof
750ml
$12.99
Pinnacle Apricot Honeysuckle
30% ABV / 60 proof
750ml
$12.99
Flavored
23 Flavors
35% ABV / 70 proof
750ml
$12.99
Pinnacle Vodka Buying Guide
98 cal. per serving
The distillation and filtration of the Pinnacle Original Vodka takes place in France. It has a delicate texture and a creamy aroma that attributes to the French wheat. Unlike other inexpensive liquors, it's smooth and doesn't have a lot of burn near the end.
122 cal. per serving
Pinnacle 100 Proof is a more potent variant of the classic vodka. Despite the high alcohol content, the smoothness of the taste has been preserved for the consumer's enjoyment.
73 cal. per serving
Light & Ripe comes in 2 exciting flavors — Apricot Honeysuckle and Guava Lime. The combination of apricot highlighted by honeysuckle overtones produces a soothing sensation. On the other hand, Guava Lime offers a delectable tropical fruit scent with a hint of lime zest and a touch of sweetness in it.
77-100 cal. per serving
Currently, there are 23 exciting flavors in the flavored vodka assortment. These varieties range from fruit juice infusions to their famed Pinnacle whip lines. Among these product lines. Pinnacle Whipped Vodka is the most popular flavor and won several awards under its wing.
Pinnacle customers can mix these products with beverages like hot chocolate, soda, and other fruit drinks.
How Good is Pinnacle Vodka?
Pinnacle Vodka is a name to trust if you are looking for something worthy of your money's value. It has earned more honors than any other French vodka, including a gold medal in the vodka category at the 2013 International Wine & Spirits Competition. It was also a gold medalist in 2007, 2009, and 2010 in the Beverage Tasting Institute.
This brand caters to all types of vodka for its clientele. Whether you are a lover of unflavored vodka or you love the presence of sweetness found in most flavored vodka, Pinnacle always has something to offer to you.
The following is a list of Pinnacle Vodka customer reviews that demonstrated how this brand is a sure winner.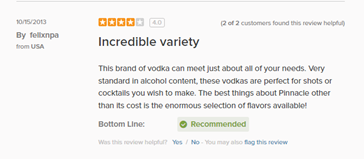 From the roster of Pinnacle flavored vodkas, the consumers considered these three as their preferred flavors — Pinnacle Whipped Vodka, Pinnacle Cake Vodka, and Pinnacle Peach Vodka.
Among Pinnacle's brands, Pinnacle Whipped Vodka is the most popular among vodka connoisseurs. A taste of this flavor will give you delicious vanilla and whipped cream flavor with just a light vodka texture.
Pinnacle Cake Vodka contains traces of baked vanilla and buttercream. This bakery-fresh vanilla cake vodka creates a delightful confection in your glass, complete with the aroma of warm frosting.
Pinnacle Peach Vodka, the third most sought-after flavor, has a smooth vodka finish with a peach flavor.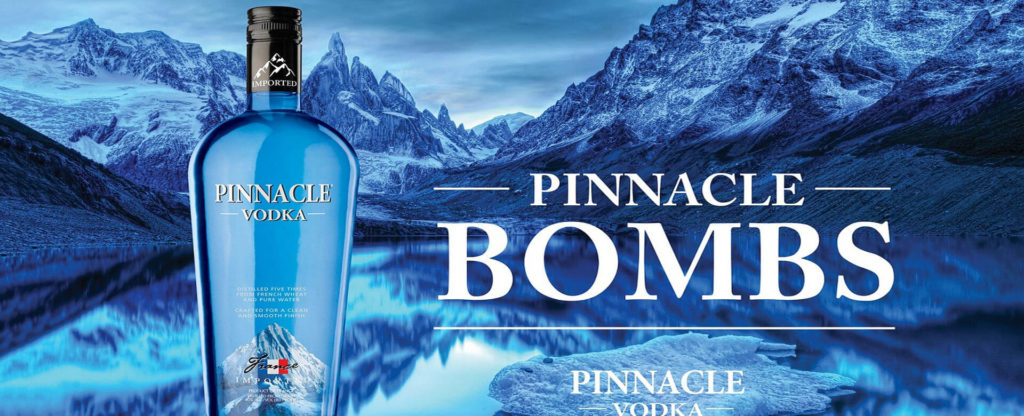 The Best Way(s) to Drink Pinnacle Vodka
In their continuous effort to improve the product, Beam Suntory Inc. provides several recipes and ideas for vodka preparation. Vodka connoisseurs will thrill in several ways to prepare Pinnacle vodka to suit their tastes. There is no limit to their quest to taste the sweetness and calming comfort of this well-known brand since they will be guided through the process of picking the appropriate mixture for each season and occasion.
Below are examples of ways to prepare Pinnacle vodka:
Whipped Aloha — In a glass with ice, combine one part Pinnacle vodka, one part pineapple juice, and one part orange juice. As a garnish, add 3 to 4 strawberries
Light and Ripe Guava Lime Sparkler — In a highball glass with ice, combine 1 ½ part Light & Ripe Guava vodka, squeeze of lime, and ¾ part honey. Finish with a splash of soda water. Serve with 1 slice guava and fresh mint as garnish
Citrus Screwdriver — In a glass with ice, combine 1 part Pinnacle Citrus Vodka and 2 parts orange juice. As a garnish, place an orange slice on top
Spicy Bloody Mary — In an ice field shaker, combine 1 part Pinnacle Habanero and 2 parts Bloody Mary mix and shake until completely cold. Pour the contents into a chilled glass with ice. As a garnish, add green olives and celery.
You can also mix it with a hot beverage, such as peppermint hot chocolate. Prepare by mixing 1 part Pinnacle original vodka, ½ part DeKuyper Peppermint Schnapps, 5 to 6 parts hot chocolate. As a finishing touch, smear whipped cream on top
Or you can always take the classic route — drinking it straight. Pinnacle vodka can be taken straight by chilling it in the freezer or placing an ice cube before serving.
Alternatives to Pinnacle Vodka
The presence of many brands contending for market position demonstrates the fierce competition that exists in the vodka business. Pricing and quality are always important considerations for consumers when selecting a brand.
In the wine and spirit sector, the following alternatives to Pinnacle Vodka have created a reputation for themselves. New Amsterdam Vodka uses the same distillation method as Pinnacle Vodka and is priced similarly. Finland Grapefruit Vodka, on the other hand, goes through a rigorous distillation process and is regarded as one of the best-flavored vodkas on the market. The Absolut Apple Juice is a premiere brand produced by Absolut, a leading wine and liquor brand.
New Amsterdam Vodka —This vodka was created from the best American corn, which was distilled 5 times and filtered 3 times to create a smooth feeling while drinking
Finlandia Grapefruit Vodka — The coolness of Finlandia Grapefruit provides a light grapefruit aroma. It tastes like freshly squeezed grapefruit coupled with the warmth of pure vodka.
Absolut Apple Juice Edition —contains excellent Absolut Vodka from a single source, apple juice, and natural flavors.