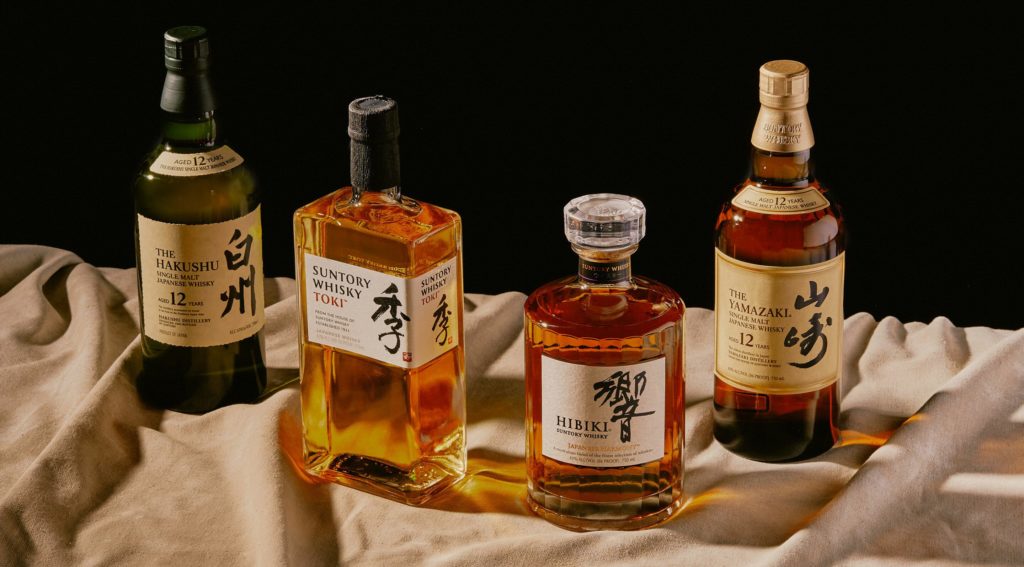 About Suntory Whisky
To those familiar with the House of Suntory, the name rings of quality, class, and innovation. With a lineup of top shelf Japanese liquors encompassing several whiskies, vodka, and gin, the whisky house has perfected the art of infusing Japan into renown spirits.
The House of Suntory produces many types of spirits, but whisky is where it all began, after founder Shinjiro Torii was inspired by the new Western trends flooding Japan in the late 1800's.
Where to Buy Suntory Whisky
The House of Suntory has gained in popularity all around the world since its inception in the 1920's, and it is now widely available. Anywhere with a diverse and generous whisky section will carry Suntory whiskies. You're all but guaranteed to find several Suntory selections in large liquor stores, and while not a sure thing, it's sometimes located in markets like Kroger and Walmart. Though not usually found at discount stores like Costco, you can guarantee stock at online retailers like WineChateau.com.
Suntory Whisky Prices
| Item | Alcohol (ABV) | Size | Price |
| --- | --- | --- | --- |
| Yamazaki Whiskies | | | |
| Yamazaki 12 Years Old | 43% (86 proof) | 750 ml | $140 |
| Yamazaki 18 Years Old | 43% (86 proof) | 750 ml | $1,200 |
| Yamazaki 25 Years Old | 43% (86 proof) | 750 ml | $20,000 |
| Yamazaki 55 Years Old | 43% (86 proof) | 750 ml | $600,000 |
| Hakushu Whiskies | | | |
| Hakushu 12 Years Old | 43% (86 proof) | 750 ml | $170 |
| Hakushu 18 Years Old | 43% (86 proof) | 750 ml | $800 |
| Hibiki Whiskies | | | |
| Hibiki Japanese Harmony | 43% (86 proof) | 750 ml | $110 |
| Hibiki 17 Years Old | 43% (86 proof) | 750 ml | $250 |
| Hibiki 21 Years Old | 43% (86 proof) | 750 ml | $1,400 |
| Suntory Whisky Toki | | | |
| Suntory Whisky Toki | 43% (86 proof) | 750 ml | $27 |
| Suntory Chita Whisky | | | |
| Suntory Chita Whisky | 43% (86 proof) | 750 ml | $57 |
Suntory Whisky Buying Guide
Suntory is a liquor house, meaning they produce many styles and levels of liquors to sell. But Suntory started with whisky, and that's why the style is its shining glory. Suntory is made of many different whisky lines, each with its own strengths and price points, so let's explore what makes each Suntory whisky line unique.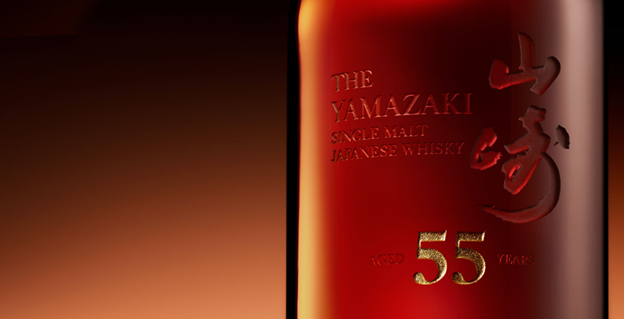 Yamazaki is the name of the first Suntory distillery, and it's the flagship single malt whisky from you can get your hands on a sip of the 55-year, you'd be insane to pass it up as it is one of the most expensive and prized liquors in the world and can almost exclusively be purchased from collectors.

This lineup is distilled in a location nestled deep in the mountains of Japan, and it tastes like it. With its "green", smoky flavor, this whisky revolutionized Japanese whisky by capturing a smoky flavor that somehow also suited the delicate sensibility of the Japanese palate. This single malt is crisp and vibrant, which is rare in a single malt whisky.

Suntory's Hibiki whiskies blend malt and grain for a harmonious, complex Japanese flavor that pairs well with the national cuisine. This line was created to commemorate the 90th anniversary of The House of Suntory, and it's Japan's most awarded blended whisky.
Toki is Suntory's most accessible whisky. It was created to commemorate a blend of timeless and modern, which is why the whisky is named for the Japanese for "time": Toki. The flavor is bright and spicy, and there are hints of both fruit and spice.
This single grain whisky began in 1972 on the shores of the Chita peninsula. Suntory's second master distiller created this to capture both versatile flavors and exquisite balance, something virtually unheard of in single malts at the time. The whisky was so popular that it has endured for over 40 years.
The Best Way(s) to Drink Suntory Whisky
Whisky is enjoyed differently in Japan than it is in the West. In Japan, food and drink are enjoyed as a kind of ritual, which makes sense when one considers the fact that the flavors involved are delicate, intricate, and spiritual. Here's the Suntory way to enjoy these whiskies.
Japanese Whisky Rituals

Japanese mixologists are renowned throughout the world as some of the best beverage craftsmen there are. Kazuo Uyeda, a mixologist in Tokyo, invented "the hard shake", a method of infusing air into cocktails using a boston shaker. This method has quickly spread around the world to become the proprietary way to shake a high end cocktail, enhancing texture and flavor.
While one would rarely shake a whisky cocktail, as this "bruises" (distorts) the delicate layers of the whisky, Japan has also contributed some of the other most innovative and contagious cocktail methods in the world. Here are some cocktail rituals you can apply to your Suntory whisky.
Hand-Cut Ice Ball: The hand-cut ice ball is a Japanese original, and it compliments a Suntory whisky flawlessly. The large surface area means the ice lowers the temperature of the whisky immediately and melts slowly, while the hand-cute texture allows small bits of ice to float to the top for a frozen mouth-feel.
Stirred on Ice: For a perfectly chilled whisky with just enough water to ease the burn, try stirring Suntory over ice in a tall rocks glass. Use a bar spoon to stir 20-30 rounds for just the right amount of dilution.
Perfectly Paired: Because the Japanese palate is refined and delicate, Suntory whiskies are created to pair perfectly with Japanese cuisine. Hibiki whiskies pair perfectly sipped along-side sushi nigiri. And a malt like Yamakazi will compliment a Wagyu steak flawlessly.
In a traditional whisky cocktail: Most traditional whisky cocktails were formulated to highlight the flavors of whisky, not drown them out, which is perfect for savoring these top shelf selections from Suntory. It would be a crime to lessen the impact of any Suntory whisky with a heavily sweetened or over-flavored modern cocktail.
The History of Suntory Whiskies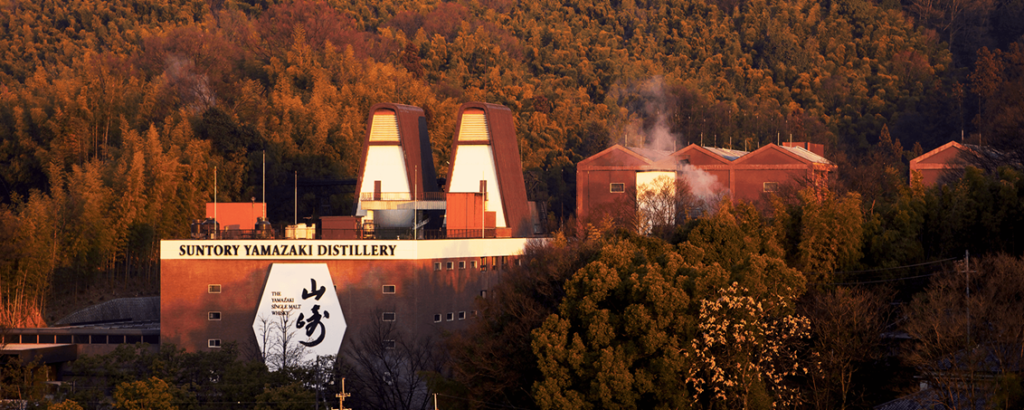 Whisky as we know it today has been a popular and prominent spirit around the world for over five hundred centuries. It was first distilled for worldwide distribution in Scotland in the late 1400's, but the tradition of distilling grain into whisky is rooted so far back into Gaelic history that it's almost impossible to remove that history and tradition from the liquor itself.
But Torii, when he developed a passion for Japanese mixology in his late teens and early 20's, was mesmerized by the liquor and wanted more than anything to create it in Japan. He didn't, however, wish to westernize Japanese distillation. Instead, he wanted to infuse the liquor with Japan itself, remaining true to the terroir and spirit of Japanese culture. He wanted to create a truly Japanese whisky, distilled on Japanese soil from Japanese grain, using Japanese sensibilities to develop the nose, palate, and finish into something utterly new.
In 1923, when Torii inherited his family fortune, he immediately invested it in building the first ever Japanese whisky distillery, situated at his ideal location in Yamazaki, Japan.
His first whisky wasn't a hit, as his inspiration from smokey Scottish whiskies bled into the palate of his distillation despite his best efforts at creating something uniquely Japanese. But Torii was determined to craft a whisky that perfectly suited the delicate sensibilities of Japanese taste, and his second distillation, Suntory Kakubin became the national whisky best seller. From there, Suntory has only grown and improved, becoming the premier spirits house of Japan.
Suntory has since dominated the international beverage market, taking over distribution and marketing of brand names like Jim Beam, Courvoissier, and Canadian Club Whisky while developing their own lineup into a household name for the worldwide elite.
Alternatives to Suntory Whisky
Mars Iwai Whisky: $34- This whisky isn't the easiest to find in person, but it is reliably in stock from online retailers. This Japanese whisky takes inspiration from American whiskey, using corn as the primary grain mash. For a combination of Japanese and American sensibilities, consider Mars Iwai.
Akashi Blended Whisky: $38- Akashi is a good introduction into the world of Japanese whisky. If you can't find Whisky Toki, see if you can find Akashi, because they have a similar commitment to the Japanese terroir and palate.
Nikka Whiskey From the Barrel: $80- This Japanese whisky utilizes Japanese mash and heavy oak aging processes to marry the styles of Scotch and Japanese whisky for a unique experience.
Miyagikyo Loch Fyne Whisky: $100- This single peat-malt whisky is one of the only of its kind in the world, making it well worth the top-shelf price tag. If you're interested in unique flavor profiles in whisky, this is for you.
Yomato Takeda Whisky: $350- This high-end limited edition pays homage to the Japanese public's flavor profile: less smokey and more delicate than the Western counterparts. This results in a smoother whiskey with more distinguishable notes in the mash.