About Virginia Black Whiskey
One of the fundamental backbones of whiskey itself is the understanding that there are no limits. As long as the ingredients are quality, the recipe is delicious, and there's a good story to back it up, anything goes. And that's exactly what Virginia Black Whiskey embodies.
Celebrity liquor brands are a dime a dozen. They're usually designed as a fast cash grab, an expansion of a celebrity's brand recognition, a short-lived experiment for a creative individual. But when Drake, one of the most successful entertainer celebrities of his generation, sought to make a whiskey, he avoided the short-lived fate of most celebrity brands by pairing with successful liquor entrepreneur and brand creator Brent Hocking.
Hocking's background is highly awarded and recognized by the likes of Bloomberg, Robb Report, and Forbes for his creation of DeLeon Tequila and subsequent sale of the brand for $1 billion to Diageo Spirits. DeLeon became a fixture in the music and fashion industries for its super-premium quality and flavor. It was during this time that Hocking established his expertise in "luxury with an edge", and it was this expertise that proved to be vital in the success of his next venture with Drake, Virginia Black Whiskey.
Brent Hocking has a sensitive, intuitive palate and the entrepreneurial skills to contribute to making Virginia Black more than just another liquor with a celebrity face. Together, he and Drake have formulated a signature whiskey that rivals tried and true whiskey brands around the world in quality, flavor, sophistication, and style.
How Virginia Black is Made
Virginia Black is produced with a mix of two, three, and four year old Bourbon whiskeys that are rich in rye but come in a low alcohol by volume, a mere 40% ABV, to attract drinkers who aren't accustomed to the hot, burning sensation typical of rye Bourbons.
Given the founding duo's backgrounds in business, artistic endeavors, and luxury exposure, it's no wonder that the flavor and packaging attract a new audience, redefining what it means to be a whiskey. Brent Hocking successfully curated his previous liquor, DeLeon Tequila, for the fashion and music elite and secured its place at fashion weeks and music festivals to this day. And with a shared vision between him and Drake to do the same with Virginia Black, you can rest assured that this is not like any whiskey you've had before.
Where to Buy Virginia Black Whiskey
Virginia Black is fast-encompassing the whiskey market, and it's now available in all 50 states of America. While not available at every liquor store or market (you're unlikely to find it in either Walmart, with a few exceptions, or Costco), it's almost certainly available somewhere near you. To locate it at a liquor store or restaurant near you, visit drizly.com.
Virginia Black Whiskey Prices
Item
Alcohol (ABV)
Size
Price
American Bourbon Whiskey
Virginia Black American Whiskey
40% (80 proof)
375ml
$27.00
750ml
$42.00
Virginia Black Whiskey Buying Guide
Virginia Black is created for the more decadent cocktails of the world. The light flavors of the whiskey compliment a variety of cocktails and mixers, but it's best kept light with this one.
The Best Way(s) to Drink Virginia Black Whiskey
Virginia Black is created for the more decadent cocktails of the world. The light flavors of the whiskey compliment a variety of cocktails and mixers, but it's best kept light with this one.
Virginia Black Cocktails
1) Wild Black Cherry
2 oz. Virginia Black
3/4 oz. Simple Syrup
1/2 oz. Malbec
1/4 oz. Lemon Juice
Combine ingredients into shaker tin. Shake with ice and strain over fresh ice into double rocks glass. Garnish: 3 skewered cranberries and a rosemary stem.
2) Springtime Pleasure
2 oz. Virginia Black
1/2 oz. Fresh Lemon Juice
1/2 oz. Orgeat
Combine all ingredients into shaker tin. Shake with ice and strain over fresh ice. Garnish:
Dash of Angostura bitters and an orange twist.
3) The VB Champagne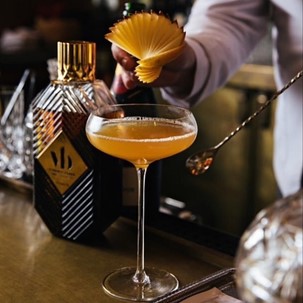 1 oz Virginia Black
1 oz Aged Rum
.75 oz Apple juice
.5 oz Habanero simple syrup
2 oz Champagne
Combine VB, aged rum, apple juice, and habanero simple syrup over ice in a mixing glass. Stir thoroughly, 20-30 rounds, until ice cold. Staring into a coupe and top with champagne. Garnish: Dash of cinnamon and an apple slice.
4) The Feel No Ways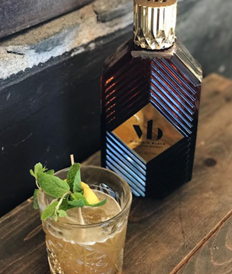 1.5 oz Virginia Black
1 oz Peach Liqueur
1 tbspHoney
.25 oz Lemon Juice
Pour all ingredients over ice in a rocks glass. Stir thoroughly (20-30 rounds) until chilled and incorporated. Garnish: mint sprig and lemon wedge.
5 Best Things to Mix with Virginia Black
Virginia Black is posh. It's decadent. It's upscale. So only the best whiskey mixers will do, and here are the 5 best.
Soda water: Soda water is the classy way to zhuzh up any liquor. It adds just a little fizz and a little dilution to preserve the integrity of the liquor while creating an instant cocktail.
Sour: Sour is a true classic when mixed with whiskey. It incorporates all the citrus with just a little eggwhite for some thickness, and a tiny bit of sugar to round it all out. Just a splash will go a long way.
Vermouth: This one goes far too unrecognized. Mixing equal parts vermouth and whiskey makes for a great nightcap or after-dinner beverage.
Ginger beer: Ginger beer is ginger ale's fancy older cousin. It's potent and spiced, and it tastes more complex than it is.
Tonic: Tonic is most well-known as a gin mixer, but don't discount the power of a whiskey tonic. This mineral-driven flavor will compliment the delicate balance of a Virginia Black pour.
Alternatives to Virginia Black Whiskey
Eight and Sand Blended Bourbon – $22: Eight and Sand is also a blended bourbon, like Virginia Black, carefully selecting bourbons that are all aged for four years or more.
DeLeon Tequila – $45: This tequila was created by Brent Hocking, co-founder of Virginia Black. It's not the same type of liquor, but if you're into the celebrity of it all it's now owned by Sean "Puff-Daddy" Combs.
Ghostwood Blended Bourbon – $65: Like Virginia Black, Ghostwood is a non-Kentucky blended bourbon. But this one, rather than a delicate blend of flavors, is dark and smokey.
Breckenridge 105 High Proof Blended Bourbon – $70: Breckenridge is stout enough to put hair on your chest, and its Colorado distillation means it's as hardy as the Colorado winter.
Backbone Bourbon The Forge – $90: This aged, blended bourbon is bottled at a high proof and is almost completely composed of straight bourbon. It blends straight rye and bourbon for a distinct, new flavor.