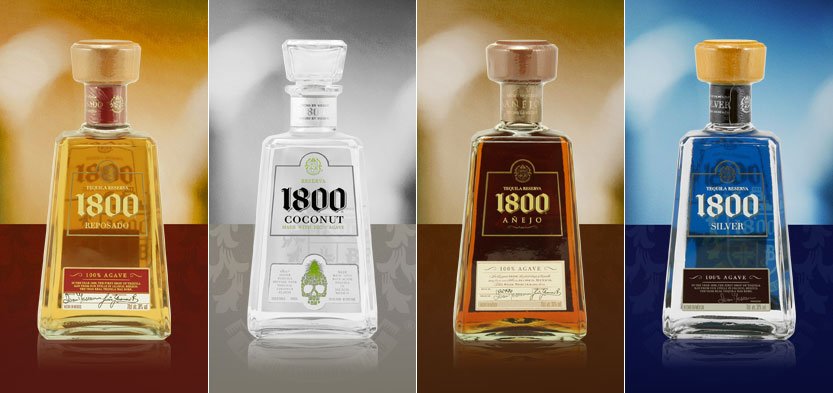 About 1800
1800 Tequila was originally known as "Cuervo 1800 Tequila." The 1800 bit, it is widely recognized as the year that tequila was first aged with wood. 1800 Tequila was founded in 1975 as a luxury drink and has continued to branch out and win fans ever since.
The founder of 1800 Tequila was named Jose Antonio Cuervo. The birthplace of Tequila was Jalisco, Mexico, and that is where 1800 Tequila was first made as well. Tequila has a rich history in Mexico, and the country legally owns the term 'tequila' and determines where the spirit can be made.
Tequila comes from the Blue Agave plant, which is also native to Mexico. As a result, there are multiple varieties of this liquor, as well as multiple distinct flavors. In addition, the brand 1800 Tequila has several different labels.
Not all tequilas are created equal. Some tequilas come from more than one source. These "mixtos" can have as much as 49% of their sugar be from a source other than the Blue Agave. Whereas the more pure tequilas, 1800 Tequila being among them, get all their sugar from the Blue Agave.
Item
Type
Origin
Aged for
Alcohol (ABV)
Size
Price
1800 Silver
Blanco
Jalisco, Mexico
15 days
40% (80 proof)
375ml
$18
750ml
$26
1.75 L
$42
1800 Coconut
Blanco
Jalisco, Mexico
15 days
35% (70 proof)
750ml
$27
1800 Anejo
Anejo
Jalisco, Mexico
12 months
40% (80 proof)
750ml
$38
1800 Reposado
Reposado
Jalisco, Mexico
6 months
40% (80 proof)
750ml
$30
1800 Cristalino
Blanco
Jalisco, Mexico
16 months
40% (80 proof)
750ml
$60
1800 Milenio
Anejo
Jalisco, Mexico
5 years
40% (80 proof)
750ml
$125
1800 Coleccion
Anejo
Jalisco, Mexico
3 years
38% (76 proof)
750ml
$1600
1800 Essential Artist Series
Blanco
Jalisco, Mexico
15 days
40% (80 proof)
750ml
$36
Which 1800 Tequila is the right tequila for you? It depends on what you plan on doing with it and what your personal preferences are. Some tequilas are good for mixing, and some are better for sipping with ice. Others still are great for both. Read below to learn more about each kind of tequila offered by 1800 Tequila.
1800 Silver has a fresh, clean taste because it is unaged. Therefore, it is suitable for mixing with a drink or for sipping on its own.
1800 Coconut is a tequila blanco like Silver, but with the sweet taste of added coconut.
It is perfect for mixing sweet fruity drinks. You can also enjoy it by drinking it on its own
1800 Anejo, or gold, is an amber-colored tequila. The reason for the color is because of the aged wooden barrels. As a result, this tequila has a stronger flavor than the blancos.
1800 Reposado is aged in barrels similarly to the anejo, but not as long. As a result, this tequila has a smooth, vanilla-like taste.
1800 Cristalino is a crystal-clear award-winning tequila. Its pure, perfect taste is excellent for sipping.
1800 Milenio is another anejo tequila. It has a deep golden color, and it has deliciously aged flavors of vanilla and cinnamon.
1800 Coleccion is also an anejo, or golden, tequila. This one, however, is exceptional. With a limited number of bottles, this delicious tequila is not always easy to get your hands on.
1800 Essential Artist Series is another product that is limited in production to not many bottles. An artist is invited to design special bottles of 1800 Silver. These can become collector's items and flaunted for their rarity and uniqueness. If you manage to get your hands on one, don't let it go.
The Best Way(s) to Drink 1800 Tequila
The classic Margarita is always a great way to drink tequila. A simple recipe is to mix 1800 Silver with Triple Sec and lime juice in a cocktail shaker and strain into a salt-rimmed glass.
Another way to enjoy 1800 Tequila is in a Tequila Sour. Make one using tequila, lime juice, lemon juice, agave syrup, bitters, and topping it with a whipped egg white. This unique cocktail has vintage vibes.
One of the most beautiful drinks you can make with tequila is the Tequila Sunrise. Use 1800 Silver or perhaps some 1800 Coconut to make this classic summer cocktail. Only three ingredients in this one: Tequila, orange juice, and grenadine.
There's nothing simpler than tequila and Coke. The clean taste of 1800 Silver mixed with the sweet, caramel flavor of Coca-Cola gives a delicious cocktail that gives the old rum and Coke a run for its money.
5 Best Things to Mix with 1800 Tequila
Below is a list of things that are delicious mixed with 1800 Tequila:
Orange juice, add grenadine for the Tequila Sunrise
Pineapple juice
7UP, a great alternative to Coke
Cranberry Juice, or cranberry juice cocktail
Grape juice
Tequila Alternatives to 1800
The following brands are similar to and are decent alternatives to 1800 Tequila.
Like 1800 Tequila, Casamigos is made from 100% pure agave from Jalisco, Mexico. This brand was co-founded by George Clooney and is a favorite among the Hollywood crowd. Even so, it's got a reasonably affordable price tag.
Patron is one of the most popular brands of tequila in the world, and for good reason. With its smooth flavor, pure taste, and fair price for the quality you will get, it's no wonder why.
Don Julio boasts as the first luxury tequila. This classic brand indeed broke the mold with its unique agave growing and bottling techniques. Moreover, its high-quality, flavorful tequila can be purchased for a reasonably affordable price, similarly to 1800 Tequila.
From the same family that brings us 1800 Tequila, Jose Cuervo is a classic brand all on its own. This tequila has good taste for a reasonable price and is excellent for mixing up some margaritas.