About Martell
Few pleasures in life can compare to a glass of your favorite drink. And few drinks can afford you such pleasure as a quality cognac.
Some of the finest cognac produced falls under the Martell name. The founder of Martell Cognac is Jean Martell, who established the distillery in Charente over 300 years ago, making this name one of the oldest among cognac names in France.
Cognacs are produced utilizing grapes from vineyards in the city of Cognac. The six vineyard areas in this region are known as crus, with each crus producing different varieties of grapes. Jean Martell set his sights on the Borderies, the most coveted of the cru, to make his blend of cognac.
These grapes produce a clear, white wine, which is distilled in copper stills. The Eaux-de-vie, the product of this wine distillation, is then allowed to rest in oak barrels, catalysts for Martell's cognacs' flavor and character. Martell is perhaps the most distinctive Cognac available.
Martell Cognac Prices
Item
Type
Aged
Alcohol (ABV)
Size
Price
Martell VS Single Distillery
Cognac
5-7 years
40% (80 proof)
50ml
$4.99
375ml
$21.99
750ml
$31.99
1.75L
$54.99
Martell VSOP
Cognac
5-7 years
40% (80 proof)
750ml
$29.99
Martell VSOP (Matured in Red Barrels)
Cognac
2-8 years
40% (80 proof)
750ml
$26.99
Martell XO
Cognac
15-35 years
40% (80 proof)
750ml
$249.98
Martell Cordon Bleu
Cognac
5-7 years
40% (80 proof)
750ml
$29.99
Martell Cordon Bleu Extra
Cognac
30 years
40% (80 proof)
750ml
$249.99
Martell Blue Swift
Cognac
4 years
40% (80 proof)
50ml
$5.99
Cognac
4 years
40% (80 proof)
750ml
$44.99
Martell Chanteloup XXO
Cognac
14 years
40% (80 proof)
750ml
$399.99
L'OR de Jean Martell
Cognac
Up to 100 years
40% (80 proof)
750ml
$2999.99
Martell Blue Swift by Quavo (Limited Ed)
Cognac
4 years
40% (80 proof)
750ml
$44.99
Here is some more detailed information on the different types of cognac listed above.
Distilled twice from a single source, Martell's VS single distillery carries plum, apricot, and candied lemon aromas associated with a smooth, fruity taste. The entire cognac package is embodied in clear gold color.
Well-known for its balanced flavor and oaky taste, Martell's VSOP carries notes of lime, licorice, quince, raisin, and plum. An engraving of Louis XIV's portrait marks the establishment of the House of Martell in 1715, over 300 years ago. The cognac contains soft amber hues.
The barrels used for this variation of Martell's VSOP are made of aged oak, the red color a product of this aging process. These red-oak barrels have previously been used to age distilled Eaux-de-vie and are perfect for the aging of the Martell VSOP. A more intense presence of fruit is apparent in both aroma and flavor, and the appearance is more like copper and gold.
A cognac of intensity and tradition, the Martell XO derives its flavor from the vineyards of Grande Champagne. In aroma and flavor, hints of spice can be found, with fig, red fruit, and blackcurrant notes. This golden amber cognac is the taste of cognac's history.
Produced from grapes harvested in the Borderies, the Cordon Bleu is a legend in its own right. With a flavor encompassing both an intense fruity note and the taste and aroma of spices and cocoa beans, this golden copper cognac offers a truly unique experience.
An extension of the celebrated Martell Cordon Bleu, the Cordon Bleu Extra has been aged longer and constitutes a refined cognac fitting of its predecessor. Aromas of apple pie can be detected, along with other dried fruits, lending the flavor of this masterpiece a refinement and balance that can only be found in the Cordon Bleu, with added characteristics.
The Blue Swift is the first of its kind and a cognac VSOP finished in bourbon casks. Because of this process, Martell's Blue Swift carries the character of their VSOP and is elevated by notes of vanilla and oak from their cask finish.
The Martell Chanteloup XXO is the torch-bearer of House Martell's name and legacy. Nine generations of Martell Cellar Masters have masterfully blended these cognacs from 450 supremely aged Eaux-de-vie. These factors contribute to a flavor and experience unlike any other, and that encompasses the heart and soul of House Martell.
The culmination of House Martell's mastery of cognac production, the L'OR de Jean Martell, has been produced from grapes harvested in the vineyards of Grande Champagne and the Borderies, distilled into Eaux-de-vie that is of supreme quality.
Over 400 Eaux-de-vie produced from these vineyards are used to make the L'OR de Jean Martell. Some of these Eaux-de-vie have been aged for over 100 years. A perfect harmony of fruit and wood flavors linger in your mouth with this masterful blend.
A representation of bold fusions, the unique process of finishing VSOP cognac in bourbon casks to produce Martell's Blue Swift is further established as a legacy with designs from Quavo. The integration of Martell's character with hip-hop culture is a fitting illustration of the Blue Swift cognac's one-of-a-kind nature.
The Best Way(s) to Drink Martell
Martell cognacs can be consumed in many different ways. But some cocktails are a preferred choice by many. Here are some suggestions.
A classic that is, for a good reason, still loved by many. The ingredients are simple. Martell Blue Swift Cognac with pineapple syrup and orange bitters are all you need.
Another classic that can be enjoyed throughout the day, Sangria requires Blue Swift Cognac, cinnamon syrup, lemon juice, red wine (preferably Campo Viejo Rioja), and Angostura bitters.
A refreshing fruit cocktail, this drink utilizes Martell's VSOP cognac. Grapefruit juice, blackberry honey syrup, and orange bitters are the ingredients that will accompany the VSOP.
This is a simple drink that delivers a "punch." Martell Blue Swift and apple cider are blended with Angostura bitters to create this flavorful piece, with apple slices and cinnamon sticks optional for garnish.
5 Best Things to Mix with Martell
Depending on your profile, Martell may taste better with specific mixers. Here are some popular mixers that will appeal to a variety of tastebuds.
Coke: A popular mixer for many drinks, Martell's VSOP mixed with coke appeals to many young adults who may be looking for sweeter flavors.
Tonic water: Tonic water is another popular mixer, adding a sweet profile to an otherwise bitter drink.
Ice: Ice can help tone down the intensity of flavor of your Martell cognac, and as it melts, new flavor profiles will open up for your enjoyment. You must use clean, high-quality ice!
Water: This liquid form of ice dilutes your drink, allowing more aromas and flavors to release.
Ginger ale: Another mixer that can add a unique flavor to offset the bitterness of liqueurs, ginger ale is an excellent alternative to coke or tonic water.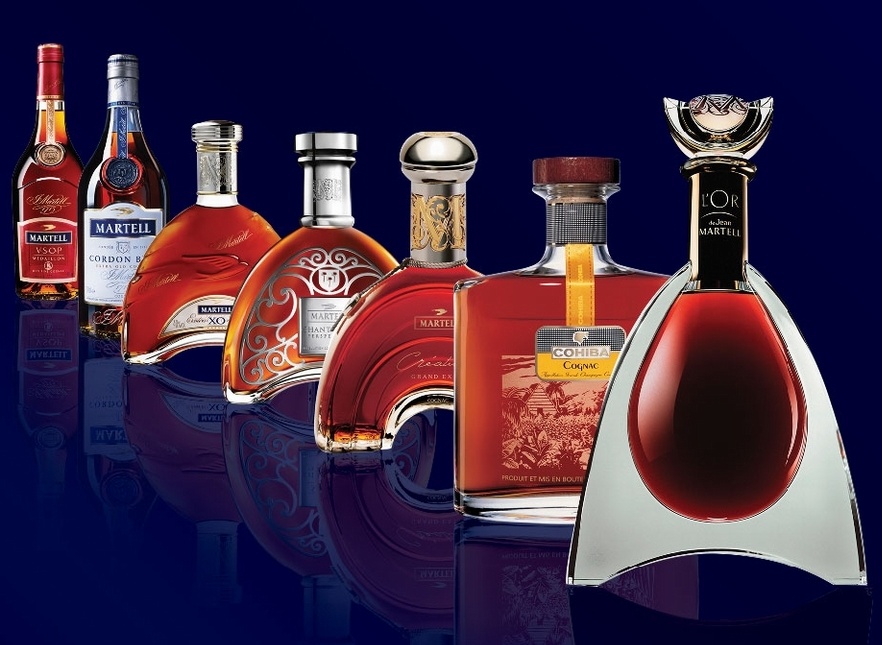 VSOP Cognac Alternatives to Martell
Here are some of the best alternatives to Martell for VSOP's, ranked lowest to highest cost:
Courvoisier VSOP – This cognac blends many crus from Fins Bois, Grande, and Petite Champagnes. Tasting notes include toasted almond. It is priced around $34.99-44.99.
Remy Martin VSOP – This stands out as being twice the age of a standard VS and has a balance of flavor that comes through nutty and oaky. It is priced at $49.99-59.99.
Branson VSOP – $69.99-79.99
Hennessy VSOP – This cognac is made up of a blend of Eaux-de-Vie and barrel-aged with a honey and spice finish. It is priced at $61-80.99.
XO Cognac Alternatives to Martell
Here are some of our favorite XO cognac alternatives to Martell, from lowest to highest cost:
E&J XO – price aside, E&J makes a good XO cognac. For those of you looking for an affordable XO cognac with good flavor, E&J is the way to go. Costs range from $13.99-14.99.
Christian Brothers XO – this is a good XO alternative to Martell and worth giving a try; it costs around $15.99-35.99.
Camus XO – Camus Elegance XO uses Eaux-de-Vie from many high-quality vineyards, including Camus Borderies. Tasting notes consist of licorice and dried fruit. It is priced at $139.99-179.99.
Hennessy XO – This cognac earned 92 points from Wine Enthusiast and uses a blend of 100 Eaux-de-Vie aged for up to 30 years. Tasting notes include fig, toffee, and baking spices. It is priced at $169.99-219.99.
Louis XIII – $8,999.99-13,999.99