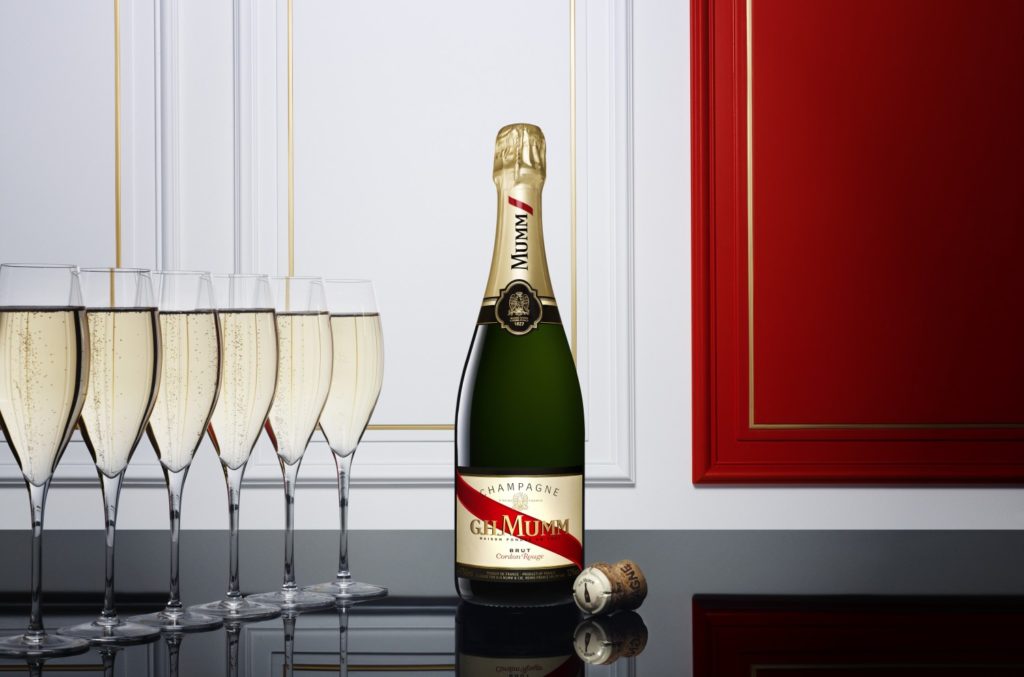 About GH Mumm
GH Mumm champagne originates from a noble lineage of German knights and barons and has been held to a high standard over its centuries on the market. Founded by Peter Arnold Mumm in 1761, succeeding generations continually surpass his high standards.
In 1827, Peter Arnold's sons moved the Mumm Champagne house to the unmatched terroir of Reim, France—where it remains to this day. Peter Arnold Mumm's grandson, Georges Hermann Mumm, also played a significant role in advancing the champagne's status. In recognition of his family's high expectations, he created the brand's motto—Only the best.
Composition
The Maison Mumm was the first to purchase grapes from vineyard growers and press the fruit in-house to ensure quality. Their close attention to production grants them an impressive 98 percent on the champagne quality scale. It is also a favorite amongst affluent restaurants and even Queen Elizabeth II!
So, how do they do it? GH Mumm has a group of researchers to study the environmental effects on production, resolve weather issues, and continually improve grape quality. Crafted from sustainably grown Pinot Noir, Chardonnay, and Pinot Meunier grapes—the champagne's quality is apparent in just one sip.
But don't take our word for it. Buy a bottle on GH Mumm's webpage, have it directly delivered to your door with Drizly, or find it at a local supplier like Total Wine & More!
GH Mumm Champagne Prices
| Item | Style | Suggested Pairings | Alcohol (ABV) | Size | Price |
| --- | --- | --- | --- | --- | --- |
| GH Mumm Grand Cordon | Brut | Greens or citrus fruits | 12% | 750ml | $42 |
| GH Mumm Grand Cordon Rose | Brut | Sweet fruit dishes | 13% | 750ml | $52 |
| GH Mumm Cordon Rouge | Brut | Honey desserts or brioche flavors | 12% | 750ml | $40 |
| 4-pack Cloupe Set | N/A | Any GH Mumm | N/A | 11 oz glasses | $40 |
| LE Specs X GH Mumm Rose Limited Edition | Brut | Sunshine and sweet delectables | 13% | 750ml | $115 |
| Maison Mumm Cuvee 4.5 | Brut | Mediterranean seafood or lamb | 12% | 750ml | $65 |
| Maison Mumm RSRV Blanc de Blancs 2014 | Brut | Seafood and white fish | 12% | 750ml | $75 |
GH Mumm Champagne Buying Guide
Most GH Mumm bottles are blended from Pinot Noir, Chardonnay, and Pinot Meunier grapes, with Pinot Noir's bold body as the primary ingredient. This commonality makes picking the right one difficult. Let's cover what makes each bottle unique.
Grand Cordon is composed of grapes sourced from 100 different vineyards. Chardonnay and Meunier grapes balance the Pinot Noir's powerful body with a light and fruity taste. The champagne is complete with reserve wines—some aged in oak vats, making for a toasty yet fresh fruit flavor and refreshing finish. The moment you pop the cork, a sweet aroma of dried fruit, vanilla, and honey emerges. This unique composition is best for celebrations!
Grand Cordon Rose has an elegant appearance, rejuvenating taste, and sweet wild berry aroma. Cordon Rose is crafted from Mumm's finest Pinot Noir grapes and balanced with gentle Chardonnay and Meunier grapes, creating a light but energizing effect on the palette. The bottle is perfect for sipping alone or sharing with friends over dessert.
Cordon Rouge has been GH Mumm's signature wine since 1876. Its extended time on the market makes it a rarity and, therefore, difficult to find. Pinot Noir is the primary grape, but light Chardonnay and Pinot Meunier grapes complement the rich flavor. The result is an exhilarating taste that transitions into a fruity yet creamy flavor. The unique composition is perfect for large or small get-togethers.
The Cloupe set contains four 11-ounce glasses etched with the red sash seen on most GH Mumm bottles. The Cloupe glasses are tempered and tinted, making for durable drinkware that protects cold drinks. Most impressively—the etched design preserves champagne's fizzy character.
GH Mumm partnered with Le Specs eyewear brand to create a summer package containing Grand Cordon Rose and a limited edition of sleek black shades with rose mono lenses. Stylishly bask in the sun while sipping on a novel glass of rose.
Mumm Maison produces Cuvee 4.5 by individually fermenting Pinot Noir and Chardonnay grapes then combining the juices with reserve wine. Once mixed, they add a small portion of dosage liqueur (a sweet liquid) and leave it to age for at least four years. At first sip, it is bold and energizing but gently fades into a smooth end. The gourmet bottle is most enjoyable at extravagant events.
This vintage champagne is a result of France's rainy 2014 summer. High-quality Chardonnay grapes grown in chalky soil birthed a bottle filled with smooth mineral notes. The rare champagne is aged for a minimum of three years and balanced with 6 grams of dosage liquor per liter. Because Blanc de Blancs 2014 is a limited bottle, it is best for significant life events, like engagements or weddings!
The Best Way(s) to Drink GH Mumm Champagne
First and foremost, chill your bottle to 46 to 50 degrees Fahrenheit. This temperature preserves the champagne's character. Once chilled, grab a classic white wine glass as its construction encourages bubble formation.
Before pouring, grasp the base and the body of the bottle, rather than the neck. Tilt the wine glass slightly as you pour to invite bubble formation. Once bubbles appear, stop pouring and wait for them to pop. Once the bubbles are gone, pour until the glass is two-thirds full, leaving room for flavor and aroma to develop.
Champagne Alternatives to GH Mumm
Moet: The Moet champagne house has centuries of success beneath their belt. The brand also conducts extensive research to produce the best champagne possible. Connoisseurs describe Moet as bright and elegant. The imperial bottles are most popular and range from $50 to $70.
Bollinger: The Bollinger house emphasizes excellence, producing champagne from only the highest-quality sources. Many of their bottles are primarily composed of Pinot Noir's rich flavor. Bollinger crafts complex yet elegant wines fit for an array of occasions. Their Cuvee and rose are most popular, ranging from $60 to $110.
Veuve Clicquot: This champagne house focuses on maintaining its terroir and practicing sustainable production. In the early 1800s, the founder's daughter-in-law took over the Maison—a bold yet quality decision. Ironically, the brand's champagne is also considered bold and of quality. The Yellow Label and La Grande Dame are the most popular and range from $60 to $170.