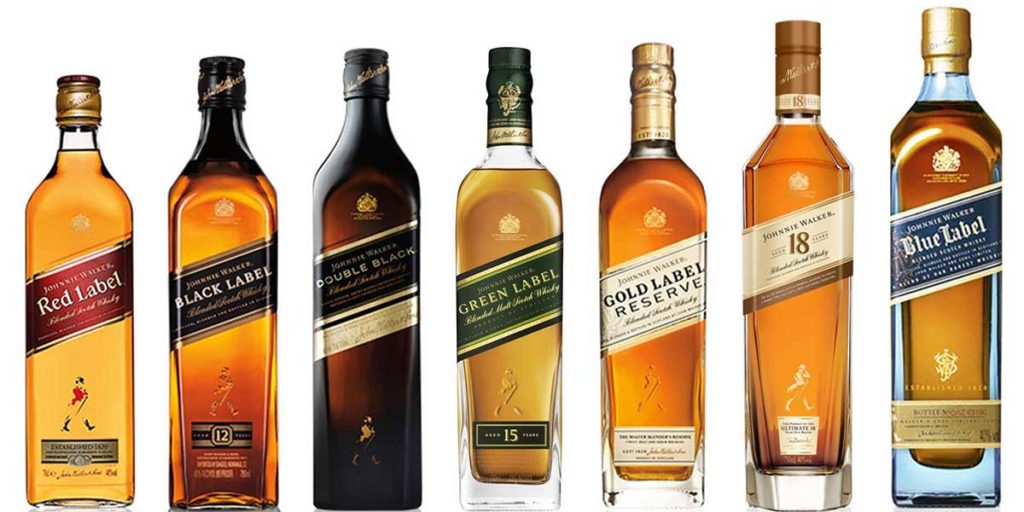 About Johnnie Walker Scotch Whisky
Broadly speaking, whisky is any liquor distilled from malt (sprouted grain). It's all over the world and comes in a hundred variations, but each has a distinct flavor as unique as vodka is to gin. Scotch lovers won't necessarily love bourbon, and a Tennessee whiskey aficionado might hate a pour of Japanese whisky. But what makes Johnnie Walker Scotch different from the rest?
To begin with, Johnnie Walker is one of the most recognized Scotch whiskies in the world, earning itself accolades of excellence for more than 200 years. Its iconic flavor is popular in every region, and it's stocked in just about every bar in the world. But what makes it "Scotch"?
Scotch whisky must be produced using malted barley, specifically, in casks no bigger than 700 liters and aged for no less than three years. These specifications come from the great pride the Scottish hold in their traditional whisky processes, and these regulations have preserved Scotch whisky's reputation as a top-shelf choice.
Johnnie Walker is a true icon of Scotch whisky, and it's born of a story of ingenuity, passion, and overcoming hardship. Johnnie Walker, the creator and namesake of Johnnie Walker Scotch whisky, lost his father at a young age in 1819 and he used the proceeds from the sale of his father's farm to pivot into the grocery business in 1820 when he opened a grocery shop in up-and-coming Kilmarnock, Scotland.
What's in Johnnie Walker?
Johnnie Walker is recognized as one of the original blended Scotch whiskies. Johnnie Walker takes some of the best Scotch and blends it to perfection, capturing their signature flavors year after year.
Scotch whisky is produced using kiln-dried grain (the kiln is what gives Scotch its smoky flavor) fermented with yeast, then distilled in a copper pot still, intensifying the flavors. Scotch is then aged in toasted oak barrels that have once held bourbon, sherry, wine, or beer.
Where to Buy Johnnie Walker Irish Whisky
Johnnie Walker is one of the biggest names in Scotch whisky, making it available almost everywhere liquor is sold. Depending on the Johnnie Walker variety you're after, you can find it at almost every liquor store, market, and grocery (where liquor sales are legale outside state-regulated shops). Walmart, Kroger, and Costco are known to carry Johnnie Walker, and sites like drizly.com can help you locate it near you.
Johnnie Walker Scotch Whisky Prices
Item
Alcohol (ABV)
Size
Price
Blended Scotch Whisky
Johnnie Walker Black Label
40% (80 proof)
50ml
$4
200ml
$12
750ml
$36
1L
$63
1.75L
$89
Johnnie Walker Red Label
40% (80 proof)
200ml
$10
750ml
$30
1L
$56
Johnnie Walker Blue Label
40% (80 proof)
200ml
$95
750ml
$300
Johnnie Walker Gold Reserve
40% (80 proof)
200ml
$18
750ml
$70
1L
$98
Johnnie Walker Double Black
40% (80 proof)
200ml
$13
750ml
$48
1L
$55
Johnnie Walker Green Label- 15 years
40% (80 proof)
200ml
$25
750ml
$80
1L
$110
Johnnie Walker- 18 Years
40% (80 proof)
200ml
$30
750ml
$90
1L
$120
Johnnie Walker King George V
43% (86 proof)
750ml
$730
Johnnie Blonde
40% (80 proof)
750ml
$40
Blended Scotch Rye Whisky
Johnnie Walker High Rye
40% (80 proof)
200ml
$15
750ml
$40
Special Releases
Johnnie Walker Blue Label Year of the Tiger Collectible Edition
46% (92 proof)
750ml
$300
Johnie Walker and Sons Bicentenary Blend
46% (92 proof)
750ml
$1,200
Johnnie Walker and Sons Celebratory Blend
51% (102 proof)
750ml
$100
Jane Walker by Johnnie Walker
41.9% (83.8 proof)
750ml
$130
Johnnie Walker Ghost and Rare Port Ellen
43.8% (87.6 proof)
750ml
$1,300
Johnnie Walker Ghost and Rare Glenury Royal
43.8% (87.6 proof)
750ml
$1,500
Johnnie Walker Ghost and Rare Pittyvaich
43.8% (87.6 proof)
750ml
$500
Johnnie Walker Ghost and Rare Brora
n/a
750ml
n/a
Johnnie Walker Buying Guide
Johnnie Walker is one of the best widely distributed Scotch whiskies there are, and they produce several standard varieties and limited ranges, many of which can be quite pricey to the average consumer. Here is a guide to the different ranges available from Johnnie Walker Scotch Whisky.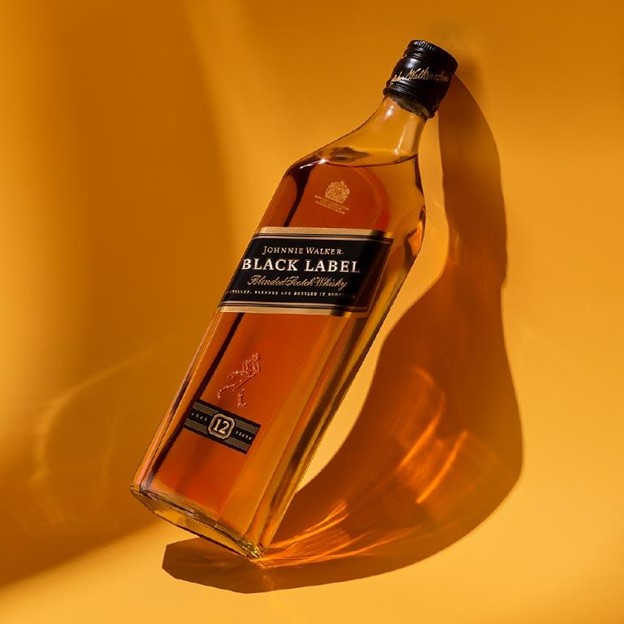 Johnnie Walker is most known for its blended Scotch whiskies, taken from some of the best distillations in Scotland. Johnnie Walker Black Label is the most widely available, and the prices range from Johnnie Walker Red being the cheapest to the most expensive Johnnie Walker King George. These are all part of the standard range and are always blended for a consistent flavor year after year.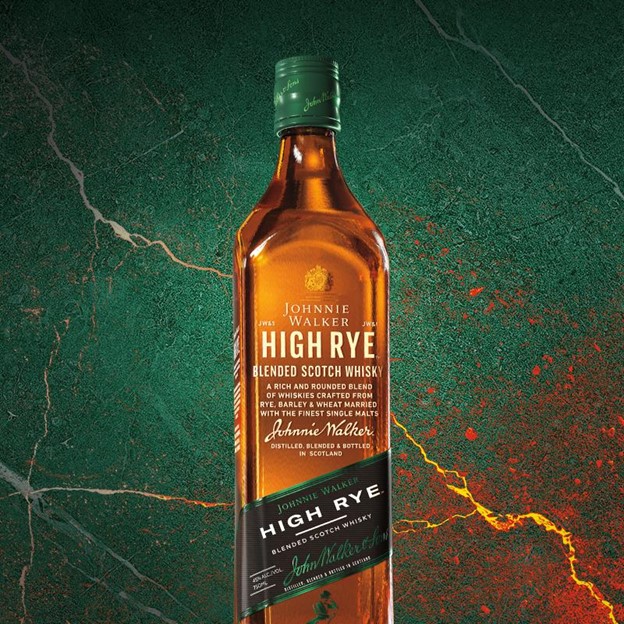 Johnnie Walker's rye whisky is increasing in popularity since rye whiskies are having a comeback. This mash bill is 60% rye, providing that signature spicy flavor of rye mixed with the signature sweet, vanilla flavors of Johnnie Walker Black.
Johnnie Walker is consistently producing special, limited releases that can only be purchased for a limited time. These are collectable and rare, and the flavors capture the essence of a year's distillation, a distinct flavor, or a special imagining from a master blender. Each year they release a special packaging of Johnnie Walker Blue label showing the Chinese year of, and 2022 is a special Year of the Tiger. The Ghost and Rare collection, all aged at least 20 years, feature special malt blends aged in rare casks that will never again be released. And still other special editions are released each year.
The Best Way(s) to Drink Johnnie Walker Scotch Whisky
Some of Johnnie Walker's more rare and expensive varieties should never be mixed with something other than ice, preserving the unique and rare flavors and notes within. Still other varieties blend flawlessly with whisky cocktail ingredients, making some of the most delectable whisky cocktails there are. Let's explore some of the best ways to drink and blend Johnnie Walker.
Johnnie Walker Cocktails
1) Johnnie and Lemon
1.5 oz Johnnie Walker Black Label
Lemon-lime soda
Garnish: lemon zest, lemon verbena sprig, orange wedge
Pour Johnnie Walker over ice in a highball glass. Fill with lemon-lime soda and stir. Garnish and serve.
2) Whisky Penicillin
1.5 oz Johnnie Walker Black Label
.5 oz ginger liqueur
.75 oz honey simple syrup
.75 oz lemon juice
2 dashes bitters
Garnish: Candied ginger slice
Pour ingredients over ice in a cocktail shaker. Shake hard until frothy and ice cold. Pour over ice in a rocks glass and garnish.
3) Whisky Hot Toddy
3.5 oz hot water
1.5 oz Johnnie Walker Black Label
.75 oz lemon juice
.75 oz honey
Garnish: 1 star anise and 1 cinnamon stick
Pour all ingredients into a brandy mug and stir thoroughly until honey is dissolved. Garnish and serve.
4) Johnnie & Elderflower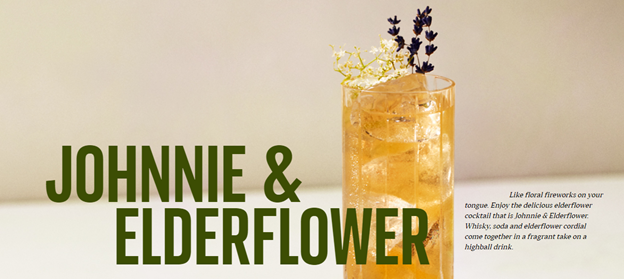 1.5 oz Johnnie Walker 12-Year
1 oz St. Germain elderflower liqueur
3.5 oz soda water
Garnish: Lemon twist and lemon thyme twig
Pour Johnnie Walker and St. Germain over ice. Stir thoroughly (20-30 rounds with a bar spoon). Top with soda water and garnish.
5 Best Things to Mix with Johnnie Walker
Johnnie Walker stands well on its own and as a cocktail mixer. The key when making a simple one-mixer cocktail is to choose a mixer that doesn't compete with the flavor of this delightful liquor.
Water: Water is the mixer of the connoisseur. It dilutes the alcohol flavor enough for peake enjoyment, but it also doesn't change the flavor of the liquor itself so you can capture every note and flavor.
Soda water: Soda water with Johnnie Walker is nothing but a jazzed-up whisky and water. Mixing the bubbles with one of the best widely-available scotches around creates an instant delight, and topping it off with a simple garnish takes it to the next level.
Iced tea: Use sweet tea if you're from the Southern USA, or unsweetened iced tea if that's what you're used to.
Lemonade: For a summer refresher, a little lemonade goes a long way with a Johnnie Walker. The flavors mingle well, and the citrus flavors compliment the smokey ones from the liquor.
Sour: Whisky sour is a classic, and it suits none better than Johnnie Walker. Just a splash of sour with your pour of Johnnie Walker makes a great nightcap or an afternoon pick-me-up.
Alternatives to Johnnie Walker Scotch Whisky
Dewar's 12-Year Scotch Whisky- $28: Dewar's is an excellent, slightly more affordable, option compared to Johnnie Walker. Dewar's has a similar commitment to quality as Johnnie Walker, and they have similar aged ranges and different mash bills to choose from.
Glenfiddich 12-Year Scotch Whisky- $39: Glenfiddich is one of Johnnie Walker's biggest competitors, and it's very similar in flavor and price. It's a good alternative if your local supplier is running low on your favorite Johnnie Walker.
The Dimple Pinch Scotch 15-Year Whisky- $46: Pinch is the oldest-recorded distillery still operating today. So each pour is a slice of history, and their reputation for excellent flavor and story are unrivaled.
Laphroaig 10-Year Scotch Whisky- $67: This single-malt barley whisky is smoky with hints of seaweed, harkening back to the Scottish coast. You can taste the tales of selkies, Nessie, and other Scottish lore in every pour.
Auchentoshan 18-Year Single Malt Scotch Whisky- $175: This special bottling of an 18-year single malt Scotch whisky is triple distilled and then aged in American bourbon oak for 18 years. It is one of the better versions of the signature smooth, delicate Auchentoshan palate.