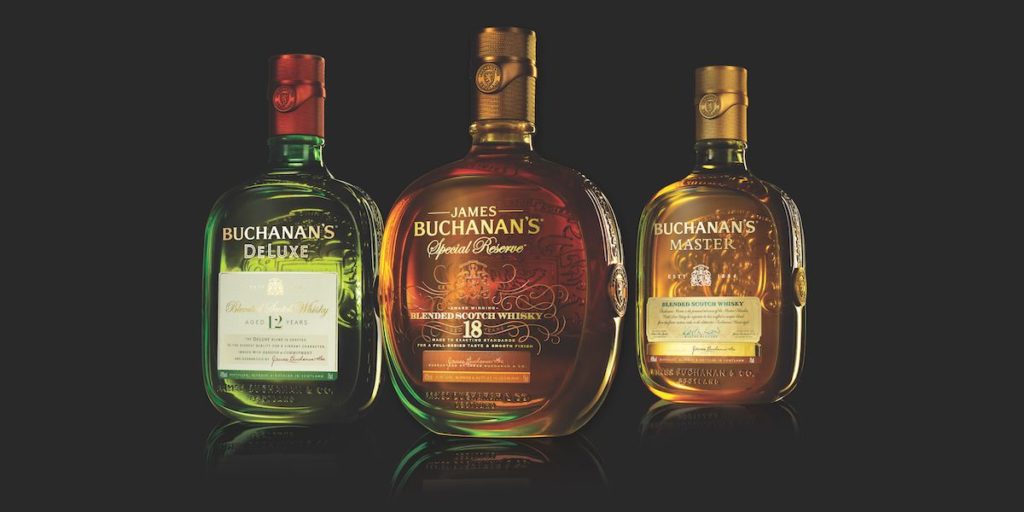 About Buchanan's Whisky
Buchanan's whisky is a midrange blended scotch label under the Diageo group of companies. The blend is most popular in Latin America, with a niche following in the United States.
When was Buchanan's Whisky Made?
The brand traces its origins to the UK in the late 1800s. Canada-born Scotsman James Buchanan created Buchanan's Whisky in the United Kingdom where he grew up in the 1860s. Seeing that there was an untapped market for Scotch in Britain, Buchanan created Scotch blends sweeter and smoother to appeal to the British market.
Buchanan's blend was a hit, and his business eventually grew to supply the House of Commons exclusively. As the popularity of his scotch blend grew, Buchanan developed scotch blends for mass-market sales. These blends eventually became the modern Deluxe Aged 12 Years Blended Scotch and the Special Reserve Aged 18 Years Blended Scotch.
Who Owns Buchanan's Whisky?
Buchanan's Whisky has been operated by James Buchanan & Company since 1884. It was acquired by Distillers in 1925 and was subsequently under the Guinness brand in 1986 when Distillers was acquired by Guinness. Eventually, in 1997 Guinness and Grand Metropolitan formed liquor conglomerate Diageo, where James Buchanan & Company is one of the subsidiaries.
Where To Buy Buchanan's Whisky
Buchanan's whisky can be bought from major retailers like Walmart, CVS, Walgreens, Safeway, Costco, and Kroger. You can also find Buchanan's from liquor stockists such as Total Wine, Bevmo, and Drizly.
How is Buchanan's Whisky Made?
Buchanan's whisky is a blended Scotch whisky. That's a mouthful, so we'll break it up into those different terms. A Scotch is a whisky made anywhere in Scotland and primarily composed of barley.
Blended Scotches combine Scotches of different types —- from malted Scotches to grain Scotches — and age all of them in an oak barrel for at least three years. Often, it will blend a malted barley whisky to a grain whisky, with the ratios varying from one distiller to another. Usually, the scotches used to make the blend will vary in their ages, and a listed period in a bottle — such as the Buchanan's DeLuxe Aged 12 Years — means that the youngest whisky in the blend has been aged for at least 12 years and makes up 20% of the blend.
Because of the unique characteristic of blended Scotches, they come out tasting maltier and peatier than their pure Scotch cousins.
Dalwhinnie Distillery Tours
As Buchanan's whisky is a blended whisky, no one specific distillery is directly connected to it. However, fans of Buchanan's can visit the Dalwhinnie Distillery in the Scottish Highlands. Dalwhinnie Distillery produces single malts used in Buchanan's whiskies, and they provide distillery tours seven days a week except on Christmas Day (25 – 26 December) and New Year's Day (1 – 2 January).
Buchanan's Whisky Prices
| Item | Alcohol (ABV) | Size | Price |
| --- | --- | --- | --- |
| Buchanan's DeLuxe Aged 12 Years Blended Scotch Whisky | 40% (80 proof) | 750ml | $32 |
| Buchanan's Special Reserve Aged 18 Years Blended Scotch Whisky | 40% (80 proof) | 750ml | $88 |
| Buchanan's Red Seal Blended Scotch Whisky | 40% (80 proof) | 750ml | $165 |
| Buchanan's Select 15 Years Old Blended Malt Scotch Whisky | 40% (80 proof) | 750ml | $60 |
| Buchanan's Master Blended Scotch Whisky | 40% (80 proof) | 750ml | $52 |
Buchanan's Whisky Buying Guide
64 cal/serving
The Deluxe Aged 12 Years Blended Scotch Whisky is one of the more affordable 12-year whiskies in the market. With the price point, it's hard not to enjoy the 12-year, as it goes well over the palate neat, on the rocks, or in a cocktail. At first whiff, the whisky gives off medicinal, alcoholic notes with hints of peat that may be overwhelming for first-time whisky enjoyers. Tasting notes include vanilla, caramel, floral, and citrus flavors which then finish off with a malty aftertaste.
Depending on personal preference, the 12-year may not be for everyone. However, this may be appreciated by an older generation of whisky drinkers where whisky with a similar profile as the Buchanan's Deluxe Aged 12 Years was the staple.
97.2 cal/serving
The Special Reserve Aged 18 Years Blended has similar tasting notes as the 12-year, with more caramel and citrus notes and less floral. Some drinkers may enjoy the 18-year for being a smooth, no-nonsense whisky, but more experienced scotch drinkers may find the tasting palate simple and leave more for wanting considering the price point.
The 18-year can be enjoyed as a sipping whisky, on the rocks, or neat. With its smooth flavor profile, it can also be used for cocktails.
98 cal
The Red Seal blended whisky contains a full and rich flavor profile. Tasting notes have vanilla, dried fruits, and hints of chocolate. The Red Seal tastes watery, which makes it a bit disappointing considering that this is one of the more premium products in Buchanan's catalog.
With that, the Red Seal is best enjoyed on the rocks or mixed with cocktails.
96 cal/serving
The Select 15 Years Old Blended Malt gives off a malt, floral, fruity, and smoke nose. On the palate, the 15-year gives off floral, fruity, and buttery tasting notes with hints of spice and grain in its aftertaste.
This makes the Select 15 Years Old a good whisky for beginner drinkers and experienced whisky hobbyists alike, with its unintimidating flavor profile and easy drinking experience, allowing it to be drunk neat, on the rocks, or in cocktails.
98 cal/serving
The Master Blended Scotch Whisky is a modern creation made by Buchanan's master brewer Keith Law. The blend takes in whiskies from different Scottish regions to make the blend, resulting in a well-balanced blended Scotch.
The Master has citrus, caramel, and butter aromas, with some tasters noting leather, vinegar, and chocolate notes. The palate has caramel, oak, citrus, nuts, and oak notes and finishes on an oily and smoky caramel aftertaste.
Water doesn't work well with the Master Blend due to its more oily flavor profile. It's best enjoyed neat, and if you want it on the rocks, you're going to have to invest in some whisky rocks to avoid the inevitable when the ice melts as you sip.
The Best Way(s) to Drink Buchanan's Whisky
Whiskies under the Buchanan's Whisky label are sealed with plastic. Opening a bottle simply requires pulling the tab to remove the seal around the cap. After removing the seal, hold the bottle firmly and twist it counterclockwise to open the whisky.
Scotch such as Buchanan's Whisky can be enjoyed neat (just by itself) or on the rocks. Although the term on the rocks generally means over ice, you may invest in actual rocks for your whisky called whisky rocks. Whisky rocks are to be stored in a freezer, where they are chilled to the same temperature as ice cubes and are added to your drink, allowing your scotch to be cooled without it getting diluted.
Buchanan's Whisky can be used to create a variety of Scotch-based cocktails:
Highball — a classic whiskey cocktail that anyone can whip up with lots of ice, sparkling water, and lemon.
Rob Roy — the quintessential scotch cocktail. Enhance the flavors of your scotch with vermouth and bitters on the rocks
Rusty Nail — throw in ice, whiskey, and honey together for an easy and tasty whisky mix.
Alternatives to Buchanan's Whisky
The Johnnie Walker Black is one of the most popular blended scotches in the market. The Black label blend is similar to Buchanan's 12-year: vanilla notes intertwined with fruit and butterscotch and finished with a smoky aftertaste.
Chivas Regal 12-Year-Old Whisky
Chivas Regal is another old-school favorite that's a staple in most home bars and pubs. The Chivas 12-year has a sweeter and fruitier palate (notes of honey, citrus, and nuts) than the Buchanan's 12 -year, making it an excellent introductory whisky for beginners.
Label 5's 12-year blend is a more minor player than Johnnie Walker and Chivas, but it provides a unique flavor profile in the 12-year scotch blend department versus its competitors. The 12-year has tasting notes of vanilla and some fruit, but it also has chocolate notes, making a tasty, complex sip for a relatively low price point.