About Crown Royal Canadian Whisky
Royal isn't just in the name of Crown Royal Canadian Whisky, it's in the heritage. A blend of some of the best whiskies in all of Canada, and even in all of the Commonwealth, Crown Royal is as popular and widespread as it is for a reason.
The History of Crown Royal
Crown Royal got its beginning as a gift to the Queen and King of England in 1939. You see, no British monarch had made the trek across the Atlantic to visit Canada before, so when word got around that King George VI and Queen Elizabeth were making the journey, a distiller set out to create the perfect blend of whiskies to showcase to the royal couple what Canada had to offer.
He experimented with the 600 of best barrels until he came to a blend consisting of more than 50 whiskies that was smooth as butter and became known as "Crown Royal". He outfitted it in a cut glass decanter and presented it in a royal purple bag with gold stitching, and that purple bag is still emblematic of the brand today.
Crown Royal was released to the USA in the 1960's, it became the top selling Canadian Whisky on American shelves and has been unrivaled since.
How Crown Royal is Made
With Crown Royal, it's essential that the grain mash bill include native grains that can withstand the frigid temperatures known to the region, so 80% of the grain comes from Manitoba, right outside the Crown Royal distillery. Crown Royal uses these grains to produce 5 different recipes in 12 distilling columns to create whiskies that will mix into their blends.
A master blender oversees the distillation and aging process, and when they have determined a whisky is aged to perfection it is pulled for blending. The blender tastes each whisky before, as, and after they're blended, ensuring all the character the temperamental weather produced shines through.
Where to Buy Crown Royal
Because Crown Royal is the number one selling Canadian whisky on the market, it is available in virtually every bar, restaurant, liquor store, and market. Look for it in the liquor store where alcohol sales are controlled by the state, or in your corner store or market (like Kroger, Walmart, or Costco) where market sales are legal.
Crown Royal Canadian Whisky Prices
Item
Alcohol (ABV)
Size
Price
Signature Series
Crown Royal Deluxe
40% (80 proof)
50ml
$2.70
375ml
$9.00
750ml
$27.00
1L
$46.00
1.75L
$63.00
Crown Royal Rye
45% (90 proof)
750ml
$40.00
Crown Royal Black
45% (90 proof)
750ml
$30.00
Crown Royal Blender's Mash
40% (80 proof)
750ml
$35.00
Master Series
Crown Royal 18-Year
40% (80 proof)
750ml
$500.00
Crown Royal XR
40% (80 proof)
750ml
$600.00
Crown Royal XO
40% (80 proof)
750ml
$60.00
Crown Royal Reserve
40% (80 proof)
750ml
$55.00
Crown Royal Wine Barrel Finished
40.5% (81 proof)
750ml
$80.00
Crown Royal Winter Wheat
45% (90 proof)
750ml
$75.00
Retired Limited Edition Series
Crown Royal Texas Mesquite
40% (80 proof)
750ml
$150.00
Crown Royal Honey
35% (70 proof)
750ml
$35.00
Crown Royal Cornerstone
40.3% (80.6 proof)
750ml
$100.00
Crown Royal Maple
40% (80 proof)
750ml
$35.00
Crown Royal XR Red
40% (80 proof)
750ml
$650.00
Flavored Series
Crown Royal Apple
35% (70 proof)
375ml
$3.50
750ml
$35.00
1L
$54.00
1.75L
$70.00
Crown Royal Peach
35% (70 proof)
750ml
$35.00
1L
$54.00
Crown Royal Vanilla
35% (70 proof)
750ml
$35.00
1L
$54.00
Crown Royal Salted Caramel
35% (70 proof)
750ml
$41.00
Ready-to-Drink Cocktails
Crown Royal Peach Tea
7%
4 x 12 oz
$15.00
Crown Royal Washington Apple
7%
4 x 12 oz
$15.00
Crown Royal Whisky and Cola
7%
4 x 12 oz
$15.00
Crown Royal Whisky Lemonade
7%
4 x 12 oz
$15.00
Crown Royal is by nature a blended whisky, and all their whiskies are composed of different blends, finishing processes, flavors, and more. Let's explore a basic overview of all Crown Royal serieses to help you make an educated purchase.
This series is composed of the standard Crown Royal whiskies that aren't going anywhere. Crown Royal Deluxe is the same flavor from 1939, and it's what you'll be served if you ask for a Crown Royal at a bar or restaurant. The others are described by their names, whether their distinctive feature is a special cask finish, a special grain, or a dark flavor profile as in Crown Royal Black.
These whiskies are produced by the master blender with extra care, and cost anywhere from a little more than the signature series to a great deal more. Depending on the rarity of the whisky or the number of years it's aged, the signature series sets itself apart from the signature series and is released in limited quantities.
Crown Royal's flavored whiskies are well-known for tasting pure and fresh. They promise not to be sickly sweet, high in sugar, or taste artificial, and they are great for chilled shots or easy cocktail recipes with an added flavor.
The Crown Royal retired series are no longer distributed to stores and can be found, if you're lucky, where some are left on a shelf at your liquor store, or more likely from a collection sale. These are special and distinctive, and there's no set price for them. They'll cost what the seller can get for them, as they're no longer in stores.
The Best Way(s) to Drink Crown Royal Canadian Whisky
Crown Royal is a perfect mixing liquor. It's smooth, doesn't compete too much with flavors of a cocktail, and has great depth of character to add to a mixed drink. Here are some of the best ways to mix and order Crown Royal.
Crown Royal Cocktails
1) Apple Bomb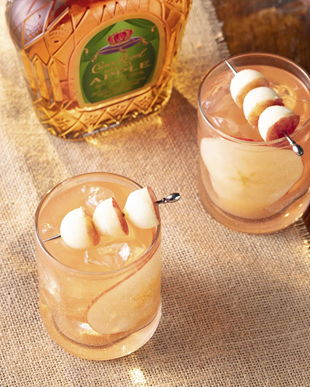 1.5 oz. Crown Royal Regal Apple
3 oz. pineapple juice
1 oz. cranberry juice
Combine Crown Royal, pineapple juice, and cranberry in a shaker. Shake well. Strain into a glass filled with ice.
2) Blackberry Whisky Lemonade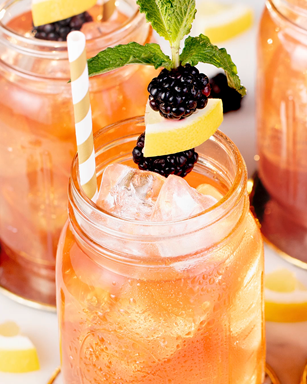 2 oz Crown Royal Fine De Luxe
2 oz Lemon Juice
1.5 oz Blackberry Simple Syrup
2 oz Tonic Water or Sparkling Wine
Garnish with Mint, Lemon, and Fresh Blackberries
In a shaker with ice, add Crown Royal, lemon juice, blackberry simple syrup. Shake and strain into an ice-filled glass and top with tonic water or sparkling wine. Garnish with a skewer of Mint, Lemon, and Fresh Blackberries.
3) Clementine and Ginger Old Fashioned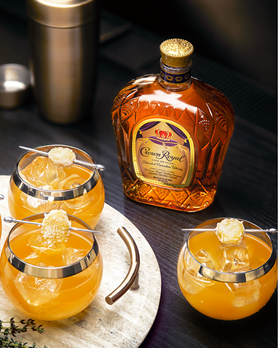 1 thick slice clementine
2 thin slices fresh ginger
.5 teaspoon sugar
2 dashes cocktail bitters
2 oz Crown Royal Fine De Luxe
ice, for serving
Muddle the clementine, ginger, sugar and bitters in a glass. Add Crown Royal and stir. Top with ice and garnish with a piece of candied ginger.
4) Crown Manhattan Nightcap
2 oz Crown Royal Deluxe
1 oz tiramisu liqueur or coffee liquor
.25 oz sweet vermouth
.5 oz amaro
2 dashes chocolate bitters
Brandied cherries for garnish
Combine ingredients in a mixing glass and add ice. Stir until well-chilled (20-30 seconds) and strain into a chilled coupe. Garnish with brandied cherries. Optionally garnish with a chocolate truffle or top with coffee-infused cream.
5 Best Things to Mix with Crown Royal
Crown and Coke: Crown isn't too harsh for the strong fizz of a coke, and the utterly smooth flavor of Crown Royal matches the sweet flavor of cola perfectly. After all, Crown Royal made a ready-to-drink cocktail out of it, so it must be good.
Lemonade: Nothing mixes as refreshingly with whisky as does lemonade. On a hot summer day this will quench any thirst.
Ginger beer: Crown Royal is somewhat delicate for a whisky, so ginger beer adds a nice punch and a complimenting spice.
Sour: Much like lemonade, the citrus in sour balances the burn of whisky. However, sour is a better option for those who don't want a diluted Crown Royal, but rather a splash of added flavor..
Soda water: If you want to taste the delicate flavors of a Crown Royal, add either a splash of soda for a little fizz, or top off a highball.
Alternatives to Crown Royal
Pendleton Whisky- $25: Pendleton is an Oregon-made Canadian whisky named for the Pendleton Round-Up, the most famous rodeo in the world. It's a blend of Canadian whiskies finished in Oregon and topped with glacier water.
Bear Face Triple Oak Canadian Whisky- $37: This Canadian whisky blend is award-winning for its use of three different types of oak for finishing. It's bold and rugged, just like the Canadian wilderness.
JP Wiser's 18-Year Blended Canadian Whisky- $57: This whisky is carefully aged for eighteen years, and it's intended to live on your top shelf for special occasions. It's somehow managed the balance between delicate and hot, complex and smooth.
Canadian Club Whisky- $70: This distillery is more than 150 years old, and it's number two in sales next to Crown Royal. Canadian Club is versatile, easily mixed in a premium cocktail or sipped on the rocks.
Windsor Canadian Whisky- $95: Windsor Whisky is known to be the smoothest in all of Canada. It's easy to sip and isn't hot going down, making it easy to sip neat or on the rocks.
Obtainium Canadian Whisky- $230: Obtainium is a blend of light whiskies, easy on the tongue, feeling like velvet on the way down. It's created to highlight every complexity without any harsh tannins or notes to cover them up.