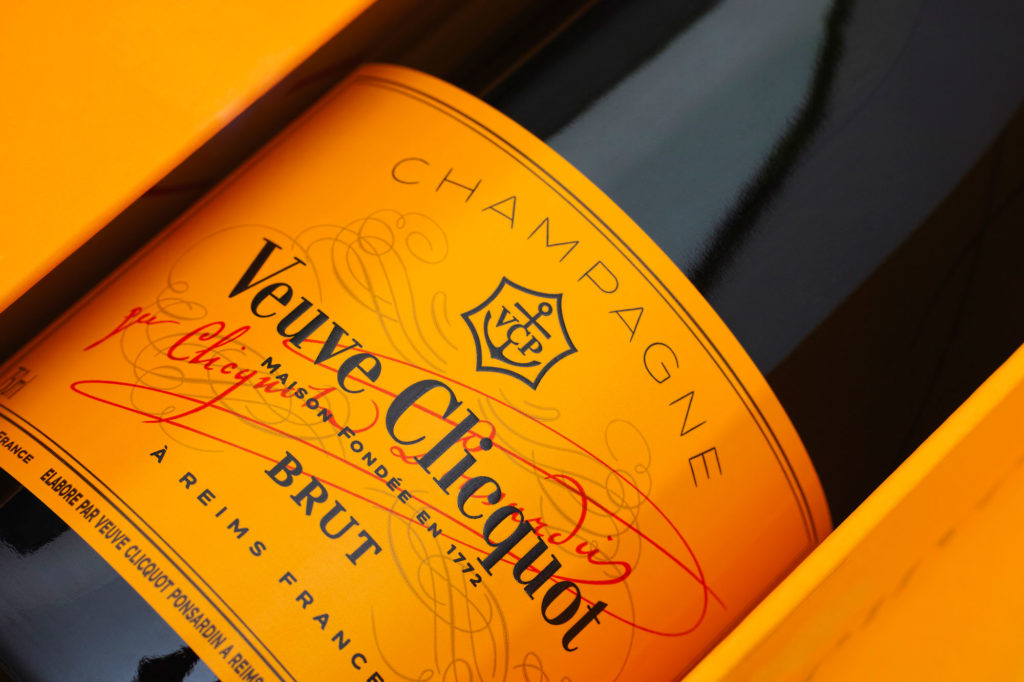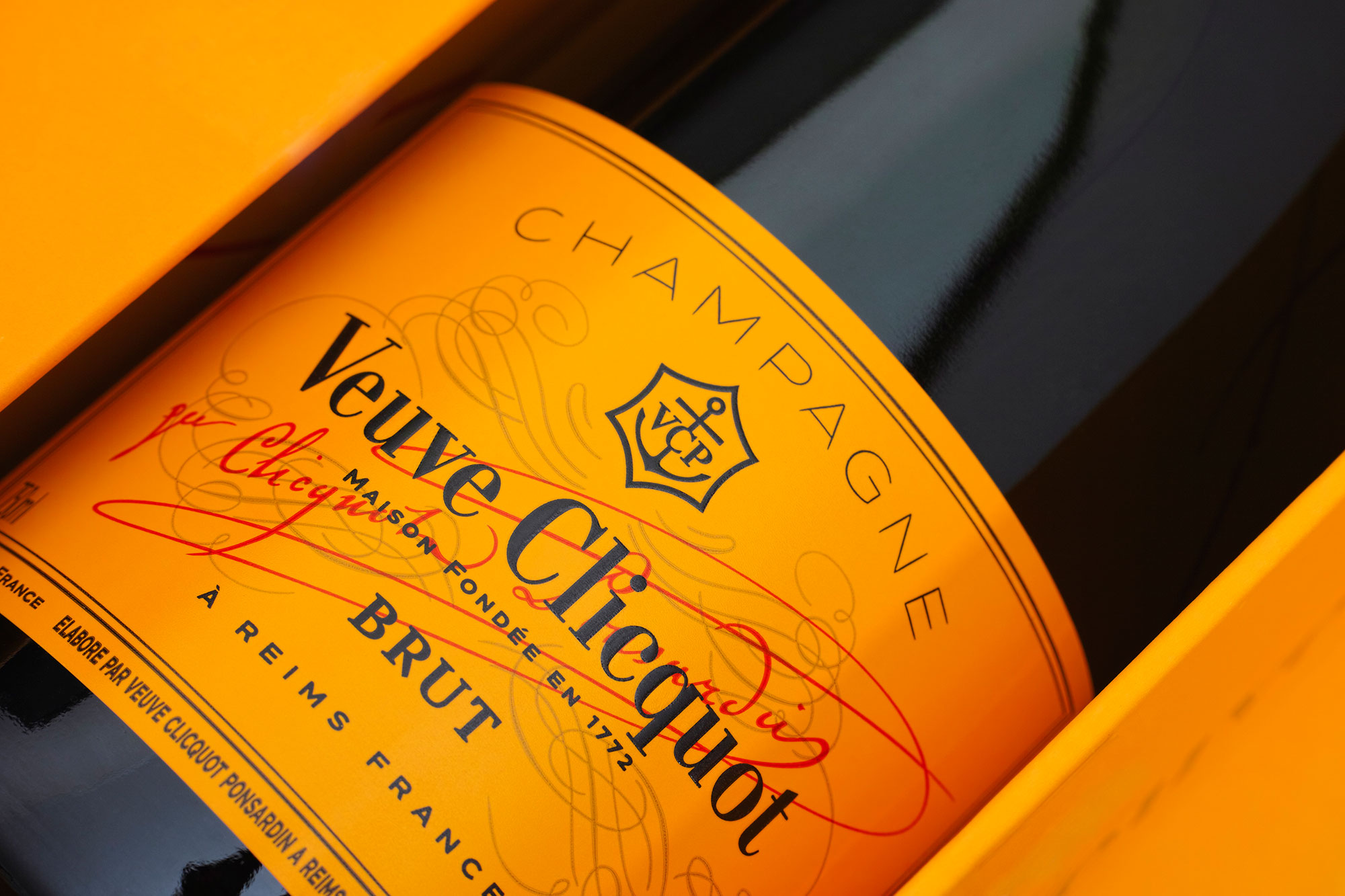 About Veuve Clicquot Ponsardin
Veuve Clicquot is a well-known Champagne built on the foundation of a unique origin story.
The Clicquot House was founded in 1772 by Philippe Clicquot. In 1805, the heir to the Clicquot House passed away and his widow was left to decide what to do with the business. Madame Clicquot chose to take over the business at the age of 27, becoming one of the few businesswomen of her time.
Five years later, Madame Clicquot created the first vintage Champagne, and the rest was history for this prestigious label.
The Yellow Label is the most recognizable of the Veuve Clicquot Champagnes, and is composed of 50 to 60 different crus. It is composed of three grape varietals: Pinot Noir, Meunier, and Chardonnay. The blend is predominantly Pinot Noir at 50%, with a split of Meunier and Chardonnay at 20% and 30%, respectively.
Other labels of this Champagne use the same grape varietals at different percentages. At a minimum, the Champagne is aged in the cellar for at least 30 months before distribution.
Where to Buy
Veuve Clicquot is quite accessible and can be purchased from several physical stores as well as online. Whole Foods, Trader Joe's, Costco, and even Target sell at least the Yellow Label, and a few will even carry the more expensive vintages. Total Wine & More carries Veuve Clicquot in their storefront as well as online.
Veuve Clicquot Champagne Prices
Item
Style
Alcohol (ABV)
Size
Price
Veuve Clicquot Brut Yellow Label
Dry
12%
375ml
$31.99
750ml
$51.97
Veuve Clicquot Extra Brut Extra Old
Brut
12%
750ml
$89.99
Veuve Clicquot Rosé
Rose
12.5%
750ml
$74.97
Veuve Clicquot Demi-Sec
Demi-Sec
12%
375ml
$39.49
750ml
$64.99
Veuve Clicquot Rich
Doux
12%
750ml
$69.99
Veuve Clicquot Vintage 2008
Brut
12%
750ml
$89.97
Veuve Clicquot Vintage Rosé 2008
Rose
12%
750ml
$94.99
Veuve Clicquot Vintage 2012
Brut
12%
750ml
$90.90
Veuve Clicquot Vintage Rosé 2012
Rose
12%
750ml
$94.99
Veuve Clicquot Cave Privée 1990
Brut
12%
750ml
$287.00
Veuve Clicquot Cave Privée Rosé 1990
Brut Rose
12%
750ml
$341.00
Veuve Clicquot Cave Privée 1989
Brut
12%
750ml
$294.00
Veuve Clicquot La Grande Dame 2012
Brut
12%
750ml
$212.00
Veuve Clicquot Champagne Buying Guide
Veuve Clicquot has a variety of labels and vintages, each touting distinct flavor and style.
The Yellow Label is the signature of the brand. It is aged for a minimum of three years, and gives a fresh and balanced finish. The nose gives hints of vanilla and white fruit, and it pairs well with salty rich foods like Parmesan cheese and salmon.
Extra Brut Extra Old blends reserve wines from the Yellow Label. The first iteration of this label was made in 2013, but in 2019 a second vintage was made. The 2019 bottles have vintages aged no less than five years, and up to 15 years. This version offers a more complex nose of ripe fruit and frangipane.
The Veuve Clicquot Rosé mimics the Yellow Label by way of production, using 50 to 60 crus at a similar ratio of Pinot Noir to Meunier to Chardonnay. To fully achieve the quality to standard for this Champagne, 30 to 45% of the crus are of Reserve wines. This Champagne is fresh and full-bodied with tasting notes of ripe strawberry.
Suggested Pairings: Tuna, duck, beef carpaccio
The Demi-Sec uses a blend of at least 50 individual wines. The predominant grape remains Pinot Noir in this blend, but the percentage of Meunier and Chardonnay is tweaked to be more Meunier than Chardonnay. It is aged for a minimum of three years and gives rich notes of ripe fruit and toast.
Suggested Pairings: Blue cheese, panettone, brioche
Veuve Clicquot Rich is the label most unlike the others. This sweet Champagne uses 40% Meunier to 45% Pinot Noir with only 15% Chardonnay. This blend plus the addition of sugar leads to a sweet Champagne intended to be served over ice and mixed into cocktails.
Suggested Pairings: Fresh fruit
Veuve Clicquot 2008 and Veuve Clicquot 2008 Rosé are the 65th vintage of the house. For this vintage, 5% of the wines hailed from wooden casks aged in forests in Central France. This distinct treatment gives this vintage tasting notes of spice and vanilla and gives the blend an overall toasty aroma. For the Rosé, 14% Bouzy red Pinot Noir was added.
Suggested Pairings: Brut – Scallops, white fish, mushrooms. Rose – Duck, beef, tuna, mimolette
The Veuve Clicquot 2012 and Veuve Clicquot 2012 Rosé vintage are the 66th vintage. It is made from Grands and Premiers exclusively with Chardonnay being the second-highest percentage of the blend. Similar to the 2008 vintage, this vintage uses wines aged in wooden casks. For this vintage, 11% of the wines are taken from wooden casks. The Rosé in this vintage uses 13% Bouzy red Pinot Noir.
Suggested Pairings: Brut – Veal, crawfish, smoked scallops. Rose – Lobster, duck, abalone
The Cave Privée 1990 and Cave Privée 1990 Rosé vintage are blended from 17 Crus coming from all Grands and Premiers. It is composed primarily of black grapes, Pinot Noir and Meunier, with 33% Chardonnay to finish. It is a dynamic vintage with notes of citrus and vanilla. The Rosé uses 17% Bouzy red Pinot Noir.
Suggested Pairings: Brut – Octopus, Parmesan, lobster. Rose – Lamb, duck, Italian ham
The Cave Privée 1989 is described as being a dry vintage as a result of the weather the vines underwent during production for this label. Due to the constraints of the weather, this blend is made of 66% Pinot Noir and 33% Chardonnay, with no Meunier. This vintage includes 25 Grands and Premiers Crus.
Suggested Pairings: Risotto, turbot, chanterelles
La Grande Dame is a 2012 blend named to pay homage to Madame Clicquot. It is composed of 90% Pinot Noir and 10% Chardonnay from primarily Grand Crus.
Suggested Pairings: Lobster, poultry, hard cheese
The Best Way(s) to Drink Veuve Clicquot Champagne
Like most Champagnes, Veuve Clicquot is best served chilled in a Champagne glass. It pairs well alone and with a wide variety of foods. The Yellow Label is also an excellent accompaniment to a splash of orange juice for a tasty mimosa.
Alternatively, when drinking Veuve Clicquot Rich, there are a lot of great ways to enjoy this label. This variety of Veuve Clicquot was intended to be paired with other ingredients to create Champagne cocktails. It can be enjoyed by pairing with ice and a fresh ingredient like citrus fruit, cucumber, or ginger.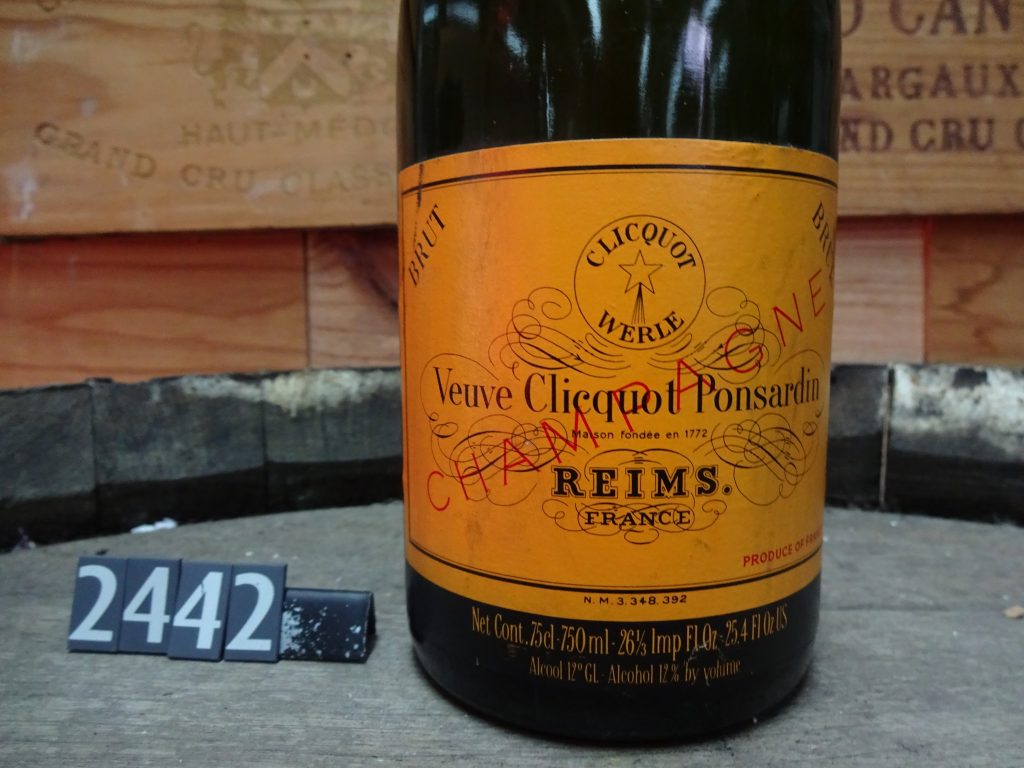 Champagne alternatives to Veuve Clicquot
Andre: Andre Brut uses a blend of white varietals from California. It is fruity and dry on the palate. It is priced at $6.47.
Moët: Moët and Chandon Imperial Brut is produced in Champagne, France. It has tasting notes of dried pineapple, white peach, and biscuit. It is priced at $14.99.
Bollinger: Bollinger Brut Special Cuvée is produced in the Champagne region of France using a variety of crus from the same year. It is considered a dry Champagne with tasting notes of citrus. It is priced at $73.99.