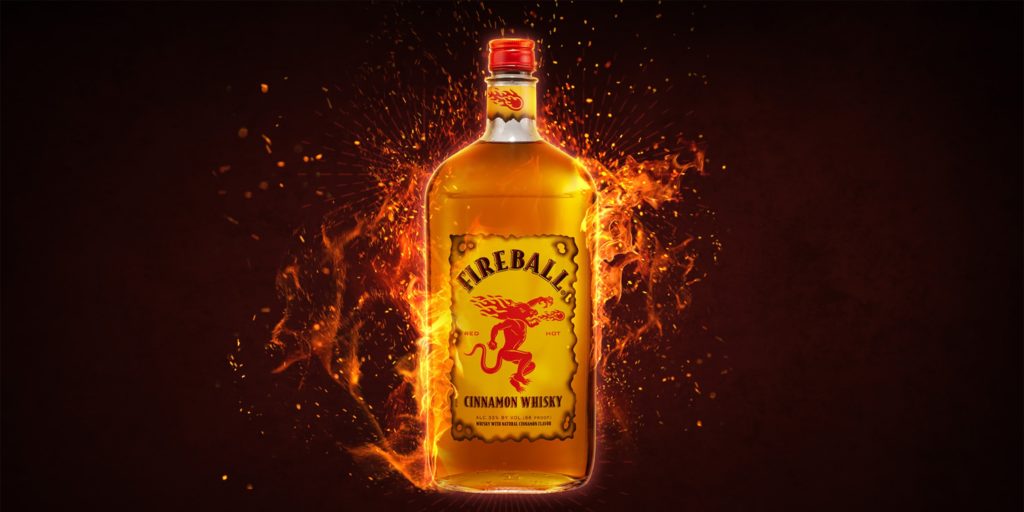 About Fireball Whisky
The catchphrase of Fireball Whisky — "Tastes like Heaven, burns like Hell" — is an ode to its distinct sweet and spicy taste, like being on fire. In fact, others describe it like cinnamon gum on fire.
This liqueur is popular with college kids who enjoy taking shots at parties. It's even featured in Pitbull's song, "Fireball", where some of the lyrics go — "We gon' drink drinks and take shots until we fall out. Like the roof on fire."
Although it's branded as a whisky, it's technically NOT a whisky.A whisky must have an alcohol content of at least 40% ABV. Fireball Whisky is just at 33% ABV which puts it in the category of flavored whiskies.
How is Fireball Whisky Made?
Fireball Whisky is more of a pre-mixed cocktail than a distilled spirit. Its base is Canadian whisky infused with natural cinnamon flavors and sweeteners. Whisky aficionados may not appreciate Fireball, but young hedonists love it.
As to how long it's aged and what its exact ingredients are, this information is unknown. We just know that it uses whisky that's mashed, distilled, and aged in Canada. Although most Canadian whiskies are fermented from rye, they can also use other grains like corn and malted barley.
There are no distillery tours for Fireball Whisky. However, Sazerac also owns distilleries like Buffalo Trace Distillery which is open to visitors.
Where to Buy Fireball Whisky?
Fireball Whisky is available all over the United States and Canada. You can buy them at Walmart, Walgreens, Target, Safeway, and Ralphs. Or at liquor stores like Total Wine. For other parts of the globe, they have international distributors. Alternatively, you can also order online through their retail partners like Drizly and ReserveBar.
Fireball Whisky Prices
Item
Alcohol (ABV)
Size
Price
Fireball Cinnamon Whisky
33% (66 Proof)
50ml
$0.97
100ml
$1.93
200ml
$4.19
375ml
$8.39
750ml
$16.79
1L
$21.99
1.75L PET
$28.34
Fireball Carrier Pack
33% (66 Proof)
6 x 50ml
$7.69
6 x 100ml
$13.19
Fireball Whisky Peel and Party Shots
33% (66 Proof)
6 x 25ml
$3.29
8 x 25ml
$6.99
Fireball Whisky Party Bucket
33% (66 Proof)
20 x 50ml
$21.99
Fireball x Lemonade
10% (20 Proof)
16 oz.
$2.49
Fireball x Apple
10% (20 Proof)
16 oz.
$2.49
Fireball Whisky Buying Guide
Since Fireball is more popular as a party drink, the 66-proof Fireball is also sold in packages perfect for group consumption.
Fireball will also be releasing more products this year, like the Fireball Whisky 42 Proof, for instance. The product was made for the Ohio market which can only sell spirits with lower alcohol content. It can be bought at approximately 6,000 stores in Ohio.
Fireball's flagship product is the 66-proof Fireball Whisky. Its price is very affordable which costs just $16.79 for a 750-mL bottle.
Fresh lemonade mixed with a little of the Fireball Whisky by just about 10% ABV.
Apple-favored juice mixed with a little of the Fireball Whisky by just about 10% ABV.
A pack of 6 50-mL or 100-mL bottles of Fireball Whisky in cardboard carrier packaging. This is perfect for a small group of drinkers, like drinking with your closest circle of friends.
The ultimate party pack that consists of 30 25-mL shots of Fireball Whisky. You can start the party shots no matter where you are.
A bucket filled with 20 pieces of 50-mL bottles of Fireball Whisky. There is even more room for ice to keep your drinks cool long enough for the party to last.
What Does Fireball Whisky Taste Like?
The most common distinction of Fireball Whisky is its very sweet taste, overpowering cinnamon smell, capped with a strong and spicy whisky finish. If you've tasted the Atomic Fireball candy, that's how Fireball Whisky tastes like but with a fiery kick of red hot cinnamon. The upside if you drank too much would be a fresh cinnamon breath.
However, there are also not-so-enthusiastic reviews from whisky aficionados. But this is quite expected already since Fireball Whisky is technically not a whisky — it just contains whisky. The alcohol content is not that strong, but the spicy cinnamon flavor gives it the fireball-burning sensation.
Is Fireball Whisky Illegal in Europe?
No, it's not. In 2014, Fireball agreed to recall its products from the mentioned European countries, but its American stocks weren't affected.
As of today, all versions of Fireball Whisky (regardless of location) is propylene glycol-free. And it certainly doesn't contain antifreeze which makes it 100% safe to drink — in moderation, of course.
History of Fireball Whisky
Although Fireball Whisky is very popular especially with millennials in the drinking age, it wasn't always the case. Fireball started its roots in the 1980s with a Canadian company called Seagram. It was only available back then in Canada as "Dr. McGillicuddy's Fireball Whisky". When its popularity didn't sustain for long, Seagram sold the brand over to an American-owned company called Sazerac Company.
With renewed branding as "Fireball Cinnamon Whisky" in 2007, it gained popularity after Sazerac's creative marketing ploys. They started offering free shots at bars and posting Fireball drinking contests on social media sites like Twitter and Facebook. As a result, its sales boosted and even outranked Jameson Blended Irish whisky. Sazerac also owns a few other brands of spirits like Pappy Van Winkle, Buffalo Trace, and Southern Comfort, among others.
The Best Way(s) to Drink Fireball Whisky
Fireball Whisky is famously taken as party shots in bars. So definitely, the best way to drink it is through ice-cold shots.
But still, there's no stopping you from mixing it with other drinks to make cocktails such as:
Fireball Whisky mixed with ginger ale or apple cider
A shot of Fireball Whisky mixed with grenadine, apple cider, and ginger ale. Serve in a cocktail glass garnished with a maraschino cherry.
A holiday cocktail made with Fireball Cinnamon Whisky mixed with raw sugar, eggnog, and amaretto liqueur. Garnish with cinnamon stick, freshly grated nutmeg, and rim the glass with ground cinnamon.
More cocktail recipes with Fireball Whisky can be found in their website's Recipe.
Alternatives to Fireball Whisky
Fireball Whisky makes a pretty big name for itself in the flavored whisky category. But if you're looking for other flavored whiskies with higher alcohol content, the list below can also be great alternatives:
Cinerator Hot Cinnamon whisky — a hot-cinnamon infused American whiskey with a much higher proof than Fireball at 91.1 proof (45.55% ABV).
Sinfire Cinnamon Whisky — a Canadian cinnamon-flavored whisky just like Fireball but at a slightly higher proof at 70 (35% ABV).
Jim Beam Kentucky Fire Bourbon whisky — Kentucky straight bourbon whiskey with hot cinnamon spice. It also has the characteristic taste of the Fireball candy, but the whiskey spirit is stronger compared to Fireball's.
Jack Daniel's Tennessee Fire Flavored whiskey — Jack Daniel's Old No. 7 whiskey blended with red hot cinnamon liqueur made from real cinnamon.