About Kirkland Vodka
Inspired by its desire to offer good quality products to its clients, Costco created a product line named "Kirkland" in 1995. The name "Kirkland" was derived from the company's original Washington state headquarters.
In the wine and spirit category, Costco offers Kirkland Vodka as their signature brand. It has two varieties to offer — Kirkland Signature American Vodka and Kirkland Signature French Vodka.
Who Made Kirkland Vodka?
Based on the Alcohol and Tobacco Tax and Trade Bureau (TTB) records, LeVecke Corporation makes Kirkland Brand Vodka for Costco. Unlike other retailers, Costco does not produce or grow any of the goods it sells. Instead, it works with suppliers to create a quality product at the most affordable price.
LeVecke Corporation is one of the world's most prominent producers of wine, beer, and spirits. William R. LeVecke started his family-owned beer distribution business in 1949 in Southern California. Over 7 decades, it has grown into a global brand builder, successfully manufacturing and importing its brands.
They continue to manufacture private label products for their primary retailers like Vons, Safeway, Supervalu, Kroger, and Costco. They've also worked with big stars such as when they promoted America's Outlaw Bourbon Whiskey by collaborating with Jackyl lead singer and Full Throttle Saloon star, Jesse James Dupree. LeVecke Corp also owns PAU Maui Vodka, which is the world's only pineapple vodka.
Where To Buy Kirkland Vodka
Kirkland Vodka can only be purchased with a Costco membership card at any Costco store, except for the following states — Arizona, California, Colorado, Connecticut, Delaware, Hawaii, Indiana, and Kentucky.
Other than Costco, vodka lovers may purchase Kirkland Vodka online through BottleRover, Drizly, Instacart, PJ's Wine & Spirits, Total Beverage, Drinktuscany.com, Lakeside Liquor, Legacy Wine and Spirits, and Bevy's Liquor World.
What is in Kirkland Vodka?
The Kirkland Signature American Vodka, manufactured in Mira Loma, California, undergoes 6 distillation processes.
The Gayant Distillery, on the other hand, produces the French version of the Kirkland brand using distillation techniques that were sourced from the famous neighboring Cognac houses in the area. According to the bottle label, it went through 5 different distillation processes. Given that Kirkland's French vodka is distilled in Europe, LeVecke may be only serving as a bottler and distributor for this brand, rather than the distiller.
There is little information about the ingredients and nutritional value of Kirkland Vodka. The only information available on the bottle is that it contains 40% ABV (80 proof) and its distillation process. Although, Costco Australia mentioned that Kirkland Signature American Vodka uses heartland grain and pure spring water through a six-time distillation process.
How Much Does Kirkland Vodka Cost?
Kirkland Vodka is available in 2 different bottles. The French brand, packaged in a red-labeled bottle, has a smooth and elegant finish. On the other hand, the American version comes with a minimalist bottle with a blue label.
Kirkland Vodka Prices
| Item | Alcohol (ABV) | Size | Price |
| --- | --- | --- | --- |
| Kirkland Signature American Vodka | 40% ABV / 80 proof | 1.75L | ~$16 |
| Kirkland Signature French Vodka | 40% ABV / 80 proof | 1.75L | ~$19 |
Kirkland Vodka Buying Guide
It is made from only the finest 100% American heartland grains and pure spring water, resulting in a vodka that is unparalleled in its quality.
As the American grains are loaded into a cooking chamber and blended with purified spring water before heating, the starch is converted to glucose. The mixture (known as the mash) is kept in a fermentation tank. Yeast is then added, and the mixture is allowed to ferment for about 2-4 days, during which time the sugar is transformed into alcohol.
Once it has been heated, it is transferred to 6 distillation columns and further distilled to remove any remaining fermentation products.
Vodka enthusiasts say that Kirkland Signature American Vodka has a certain resemblance to Tito's vodka, one of the most famous American spirits on the market. But Kirkland and Tito's are separate brands made by different manufacturers. Tito's Vodka is manufactured in Austin, Texas by Fifth Generation, Inc.
It undergoes column distillation rectification 5 times before passing through 2 separate filtrations to achieve the highest level of purity and ultimate refinement. Through this technique, they produce one of the smoothest vodkas available on the market.
Kirkland Signature French Vodka is a premium French Vodka with a crystal-clear appearance. Aromatic notes of citrus and vanilla combine to create a delicate citrusy flavor on the palate. Pleasant and refreshing citrus flavors are complemented in the mouth by smooth notes of cereal.
The identity of the distiller behind Kirkland Signature French Vodka sparked a controversy in the wine and spirits industry. This particular vodka category was associated with Grey Goose. Costco remains silent in the face of all the rumors swirling around the market.
But when Joe McCanta, Grey Goose's Global Head of Education, was asked by USA TODAY about the viral claim, he said it was false. A private label of Kirkland vodka is not produced or marketed by Grey Goose Vodka.
A 2016 VICE report says that Kirkland Signature's French Vodka uses the same water source as Grey Goose, particularly in the Gensac Springs region in France. But despite its similarities, Kirkland's French Vodka frequently beats Grey Goose in blind taste tests, which is another compelling reason for all the attention it receives. Kirkland garnered an overall score of 88 to Grey Goose's 82.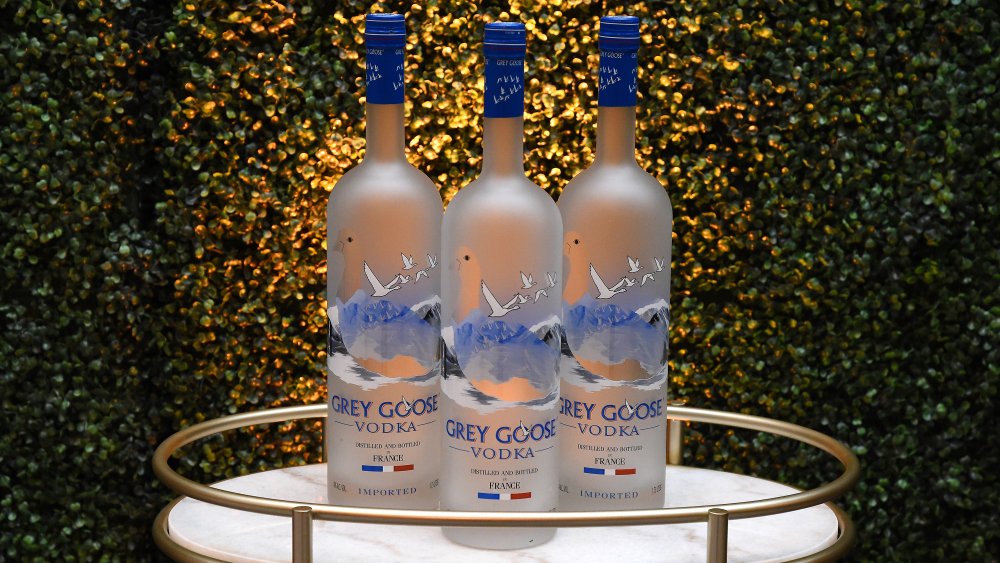 How Good is Kirkland Vodka?
Kirkland Vodka is your go-to vodka if you're looking for an affordable yet high-quality spirit. Here are some of the customer reviews written by vodka consumers.
Tastings in their review of Kirkland American Vodka states that,

Overall, Kirkland Signature French Vodka is the most popular vodka brand in Costco. This smooth and bright liquor can compete with famous vodka brands in terms of quality and price affordability.
The Best Way(s) to Drink Kirkland Vodka
Kirkland Vodka can be consumed straight by a vodka enthusiast. Its main caveat though is the biting finish which may be too harsh for some people since it is unflavored. But if used as a cocktail mixer, you'd get perfect blends. Below are some of the different ways you can prepare Kirkland Vodka.
By pairing it with Kirkland vodka cocktail – This ready-to-freeze cocktail comes in 3 delicious flavors serving as a perfect blend for Kirkland vodka. These new Kirkland cocktail ice pops are available in all Costco stores.
Hairy Navel – In a glass, mix 1 oz. orange liqueur, 1 oz. Kirkland vodka, and 1 oz. peach liqueur. Fill it up with orange juice and serve with ice.
Chocolatey Espresso Martini – Pour 1 shot of espresso over ice to chill. Combine 1 shot of espresso, 1 shot of Kirkland vodka, and 1 shot of chocolate liqueur with ice in a cocktail shaker. Fill a martini glass with ice and serve.
Moscow Mule – In a beer mug, mix 1 oz. lime liqueur, 1 oz. Kirkland vodka and then fill it with ginger beer. Best served on the rocks.
Alternatives to Kirkland Vodka
In the wine and spirit industry in the United States, Several companies have made a name for themselves due to the popularity of vodka.
The gluten-free vodka is made entirely of corn and distilled using old-fashioned copper pot stills, a process inspired by the distillation methods used to make fine single-malt scotches and high-end French cognacs. Tito's has a smooth and flawless clean finish.
Copper pot stills, charcoal filters, and lined tanks give this vodka a distinct flavor and a long-lasting finish. Combine club soda, a cucumber ribbon, and a sprig of mint for a refreshing Soda with a Cucumber Mint cocktail, which can be served on its own or as an ingredient in another drink.
Absolut Vodka's rich, the full-bodied flavor is a testament to its purity, as it is made with only natural ingredients and contains no added sugar. It has a light grain flavor with hints of fruit and a clean finish.
Compared to these well-known brands, Kirkland Vodka has a significant advantage. For one, Kirkland Signature American Vodka resembled the taste of Tito's Vodka at a lower price. On the other hand, Kirkland Signature French Vodka is the best option for a great-tasting vodka at a reasonable price.