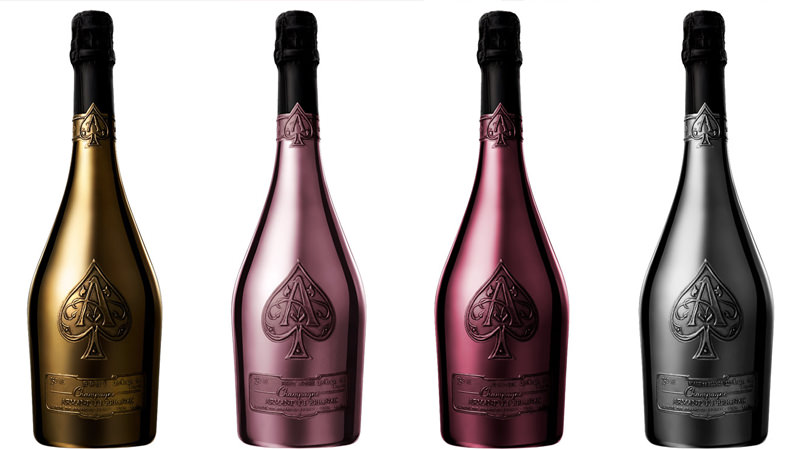 About Ace of Spades
Armand de Brignac Champagne, popularly known as Ace of Spades champagne or sparkling wine, is a product of Cattier from France. It's easy to find in most stores by its gold design with labels that resemble an Ace of Spades. The winery was started by the Cattier family, who developed a line of products between the 1940s and 1950s.
This brand was later bought by Jay-Z, who acquired the winery in 2014. The Ace of Spades sparkling wine series is one of the most recently famous wines released from Armand de Brignac.
Armand de Brignac is a well-established winery, which provides a solid reputation and trust in the product. It's a widely popular sparkling wine at parties and intimate dinners. For this reason, many people will pay the price for Ace of Spades for their next celebration or special event.
Places you can buy Ace of Spades
You can purchase the wine from online retailers, including winechateau.com, premierchampagne.com, and wine.com. Wine Chateau's brick-and-mortar stores also carry the brand, and you may find bottles of Armand de Brignac in various shops and small retailers, depending on availability. Jay-Z's Champagne brand is one of the most expensive due to its limited quantity and successful marketing, which places this sparkling wine in high demand.
Ace of Spades Champagne Prices
| Item | ABV (Alcohol by Volume) | Size | Price |
| --- | --- | --- | --- |
| Ace of Spades Champagne Brut Gold | 12.5% | 750ml | From $308 |
| Ace of Spades Champagne Demi-Sec | 12.5% | 750ml | From $448 |
| Ace of Spades Rose Champagne | 12.5% | 750ml | From $420 |
| Ace of Spades Silver Blanc de Blanc Champagne | 12.5% | 750ml | From $703 |
| Ace of Spades Silver Blanc de Noirs Champagne | Varies | 750ml | From $999 |
| Armand de Brignac Limited Edition Green Bottle Champagne | Varies | 750ml | From $307 |
| Armand de Brignac Green Ace of Spades Brut | 12% | 750ml | From $409 |
| Armand de Brignac NV | Varies | 750ml | From $327 |
| Armand de Brignac Brut Rose | Varies | 750ml | From $499 |
Ace of Spades Champagne Buying Guide
This champagne is considered the classic or traditional wine in this range of products. Tasting notes include apricot, mixed berries, and peach with hints of citrus, with solid orange. It's ideally paired with freshwater fish or roasted quail.
This sparkling wine features a treat with its sweet notes of English candy, compote fruits, and citrus flavors. It's perfectly paired with spicy foods, sharp cheese, and baked desserts.
Armand de Brignac Rose consists of sweet flavors with a hint of floral, sweet almonds, currants, and strawberries. This wine pairs well with duck confit, veal, and salmon.
You'll find this wine offers a buttery flavor combined with pastry notes that include hazelnut, pear, and gingerbread. Guava, peach, and gooseberry are also intense flavors you'll notice on the palate. Blanc de Blancs is great with grilled seafood and cheese.
There are plenty of flavors to enjoy in this sparkling wine, including blackberry, apricot, butter, and gingerbread. There are floral hints with strawberries, light tobacco, orange, chocolate, and plum. This wine pairs well with many entrees, especially a rack of lamb.
All Armand de Brignac champagne options are perfect for fine dining and quality desserts, whether you're preparing a meal at home or enjoying a dinner party with friends.
The Best Way(s) to Drink Ace of Spade Champagne
The Armand de Brignac line of champagne is ideal for a wide range of cuisine, from a rack of lamb and seared scallops to baked desserts, pastries, and spicy foods. You'll find each bottle in this line of products is ideal for specific dishes or types of food, from a full-course meal to an appetizer or light dessert.
Ace of Spades Champagne is a great wine to sip at a cocktail party or create your favorite mimosa drink. It's also popular for special occasions or corporate events and often opened to celebrate an engagement, anniversary, or new milestone.
It's a great wine to purchase and store in your home cellar for five or more years, especially if you're looking to invest in a line of champagne to enjoy at a later date.
Which Ace of Spades Champagne is good for mimosas?

While any Ace of Spades champagne drink is ideal for a mimosa, the Ace of Spades Gold Brut is one of the top choices for this popular beverage. It's the ideal option for your next weekend brunch, special occasion, or vacation with family or friends.
For many people, enjoying one of the Armand de Brignac champagne drinks on its own is preferred, especially at a formal party or New Year's Eve celebration. In some cases, you may want to have more than one type of Ace of Spades on hand for guests to create their own mimosa or sip their favorite brand by itself to enjoy the delicate notes and flavors.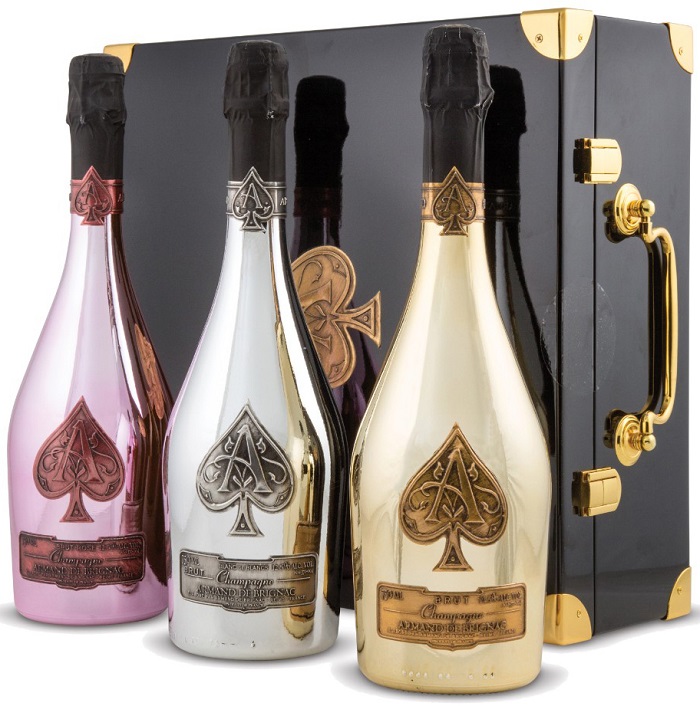 Armand de Brignac champagne has developed into one of the top lines of sparkling wine to enjoy at formal parties and functions.
Champagne alternatives to Ace of Spades
If you're looking for comparable champagne that's either similar to Armand de Brignac or less expensive, you'll find some great options from your local wine retailer or online shop.
Moet: offers a great line of champagne drinks that start at around $50, which is ideal for your next party or corporate event. This line of wine is affordable because most Moet champagne beverages are made from non-vintage grapes, though some drinks contain a blend that includes some vintage varieties.
Dom Perignon: Considered one of the most popular and expensive wines, Dom Perignon is a glass of luxury champagne that's best suited for a rare occasion or event. It's considered a symbol of high status, and a bottle can start at $185, with the potential to cost significantly more, depending on the type or blend of champagne you buy.
Cartier: This line of champagne was created by Chateau Cartier, which offers a price range starting around $268. Cartier champagne enjoys a solid reputation for producing excellent sparkling wines for a variety of occasions. The company was established in the early 1930s and has since become popular worldwide, offering a large selection of wine and champagne drinks.