About Sauza
If you love Sauza tequila you can thank the three Don Sauza's. Let's rephrase that–if you love tequila at all, you can thank the three Don Sauza's. The father, son, and grandson trio, Don Cenobio, Don Eladio, and Don Francisco Sauza pioneered the crowd-pleasing spirit.
In 1873, Don Cenobio Sauza opened his first distillery, La Perseverancia. Thirty years later, Don Eladio took it over, keeping it afloat amidst the Mexican Revolution. During this time, he recognized tequila was unique to Mexico and a central point of the country's culture.
Eladio's passion for both tequila and Mexico established him as the first global ambassador of tequila at which point he released Casa Sauza®. Don Francisco later convinced the Mexican government to establish Jalisco, Mexico as the sole source of true tequila, demonstrating Sauza's quality. As the years passed, Sauza quickly became a top-selling product.
Before it hits the shelf, Sauza tequila is created by gently extracting then cooking the nectar from blue Weber agave. This method preserves agave's crisp character and is most apparent in Sauza's Signature Blue Silver, Signature Blue Reposado, and Conmemorativo Añejo collection. Sauza is produced with 100 percent agave, making for a bold yet smooth taste.
Where can you buy Sauza Tequila?
Today, nearly every liquor and general grocery store sells Sauza. If you're making a tequila run, head to Target, Walmart, or Total Wine & More. Sauza is also readily available online. Delivery apps like Drizly, Instacart, and Minibar will drop off a bottle directly on your doorstep.
Sauza Tequila Prices
Item
Type
Origin
Aged For
Alcohol (ABV)
Size
Price
Sauza Hacienda Silver
Blanco
Jalisco, Mexico
Unaged
40% (80 proof)
375ml
$8.99
750ml
$10.99
1L
$22.99
Sauza Hacienda Gold
Gold
Jalisco, Mexico
Unaged
40% (80 proof)
50ml
$1.99
200ml
$4.99
375ml
$4.99
750ml
$10.99
1L
$13.99
1.75L
$29.99
Sauza Signature Blue Silver
Blanco
Jalisco, Mexico
Unaged
40% (80 proof)
750ml
$14.99
1.75L
$29.99
Sauza Signature Blue Reposado
Reposado
Jalisco, Mexico
2 months
40% (80 proof)
750ml
$18.99
1.75L
$29.99
Sauza Conmemorativo Añejo
Añejo
Jalisco, Mexico
18 months
40% (80 proof)
750ml
$22.99
1.75L
$39.99
Sauza Cucumber Chili
Flavored
Jalisco, Mexico
Unaged
35% (70 proof)
750ml
$14.99
1L
$24.99
The Sauza bottle you select will depend on your preference. We'll identify what makes each varietal unique along with their best uses to help guide your decision.
This Blanco bottle is affordable and pairs well with most cocktails, making it the go-to spirit for margaritas. Hacienda Silver's blue agave mix supplies an apple taste and aroma, followed by a slightly bitter citrus flavor. If you're on the prowl for a simple but pleasing tequila to start the party, opt for Sauza Hacienda Silver.
Sweet from start to finish, Hacienda Gold is ideal for both sipping and mixing. Dominant caramel and blue agave flavors make the tequila go down a little too easy. Slight notes of pepper and oak balance out the bottle without disrupting the sweet finish. Try Hacienda Gold in a holiday cocktail or as a nightcap!
100 percent agave backed by subtle-bodied herbs creates a warm, quick, and balanced finish. A spiced aroma complements this bottle's sweet agave and citrus taste. Signature Blue Silver is a highly versatile spirit perfect for classic or creative margaritas.
This item's composition is similar to Sauza Hacienda Silver and Gold but contains 100 percent agave. Don't be fooled by the bold herbal and spiced scent. As soon as the spirit hits your lips you'll taste agave followed by sweet lingering notes of brown sugar. Blue Reposado is perfect for both refreshing and sweet cocktails.
Crafted from 100 percent blue agave and aged for 18 months in medium toasted American oak barrels, Conmemorativo Anejo's strong aroma and taste go down smooth. The enticing, amber-colored spirit provides a smoked wood and pepper flavor with slight hints of vanilla. This item's well-defined body balances out sweet mix-ins.
Naturally flavored with chili and cucumber, this mixto tequila provides a crisply fresh yet spicy taste. The chili flavor is known to pack a lasting punch, so consider balancing out the tequila with a refreshing cocktail if you're sensitive to heat.
The Best Way(s) to Drink Sauza Tequila
If your Sauza bottle brags "100% agave," consider sipping it straight, first. You may be surprised at how smooth it goes down! If you prefer a buffer with your tequila, try out one of the following Sauza recipes.
Tequila Sunrise: Combine 2 parts Sauza Hacienda Silver, 3 parts cranberry juice, 1 part lime juice, and 1 part orange juice in a shaker and shake then pour over ice. Complete the drink with the fruit of your choice. We suggest citrus fruits such as oranges, grapefruits, lemons, or limes.
Citrus Margarita: Combine ice, 1 part Sauza Hacienda Gold, 2 parts orange juice, 2 parts lime juice, 2 parts agave nectar, and ½ part orange liqueur in a shaker and shake then strain into your glass. Garnish with or toss in an orange wheel!
Blue Margarita: Combine ice, 2 parts Sauza Signature Blue Silver, 2 parts lime juice, 1 part DeKuyper Triple Sec Schnapps Liqueur, and ½ part DeKuyper Blue Curacao Liqueur in a shaker and shake then strain into a glass. Decorate your cocktail with some salt and lime.
Jalisco Tea: Combine 1 part Sauza Signature Blue Reposado, 2 parts your choice of ice tea, 1 part DeKuyper Peachtree Schnapps Liqueur, 1 part lemon juice, and ½ part simple syrup in a shaker and shake then pour over ice. Complete the refresher with a lemon wedge.
Mexican Eggnog: Combine ice, 1 ½ part Sauza Conmemorativo Añejo, 1 part your choice of bourbon, and 3 parts eggnog in a shaker and shake then strain into a glass. Dress up the sweet concoction with your favorite holiday spice like cinnamon or pumpkin spice.
Cucumber Chili Margarita: Combine ice, 1 ½ part Sauza Cucumber Chili, 1 ½ part orange liqueur, ½ part lime juice, and a pinch of cayenne pepper in a shaker and shake then strain into a glass. Line the rim with fresh cucumber and salt.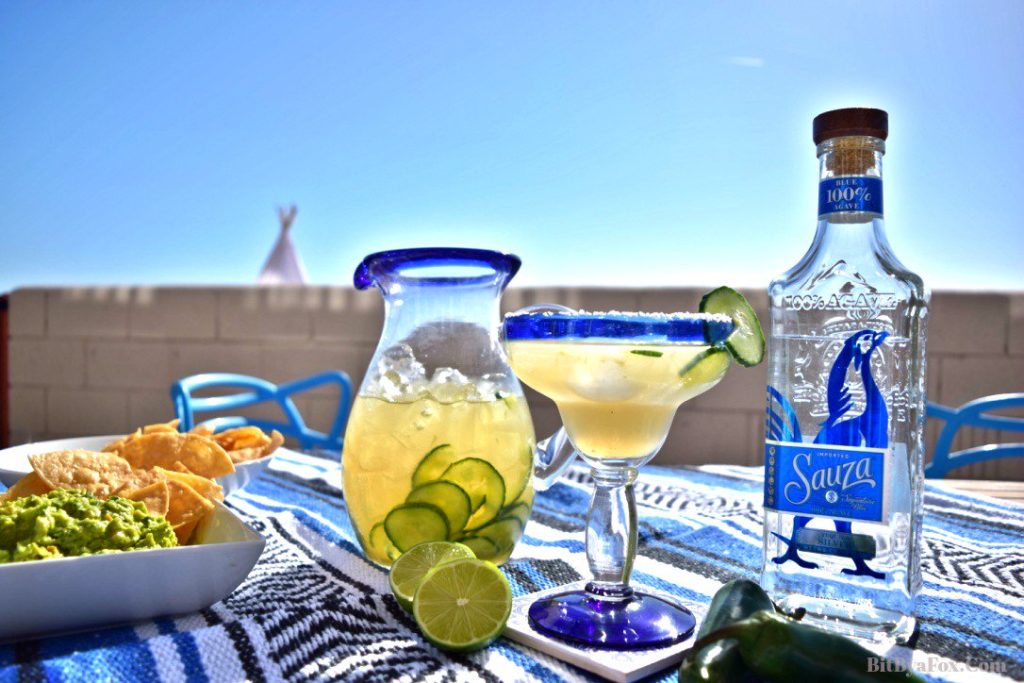 5 Best Things to Mix with Sauza Tequila
Citrus: Mix Sauza tequila with citrus-flavored juice or soda, such as lime juice or Squirt, for a refreshing combination of sweet and sour.
Club Soda: Combine a flavored tequila, like Cucumber Chili Sauza with club soda to settle the spirit's bitterness without masking the taste of tequila.
Bloody Mary: Add tequila to your bloody mary instead of vodka to amp up the spice.
Agave Syrup: You can never have too much, agave! Squeeze in some agave syrup to smooth out tequila's robust finish.
Vermouth: Mix vermouth with tequila, and you'll have a Manhattan with some edge!
Tequila Alternatives to Sauza Tequila
Espolon tequila is available in a blanco, reposado, añejo, and añejo x flavor. Harvested from the blue Weber agave in Jalisco, Mexico, Espolon is also NOM certified. The liquor contains a slightly sweeter and fuller-bodied composition than Sauza. However, like Sauza, it pairs well with most mixers and is an excellent additive to cocktails. A 750ml ranges from $26.99 to $99.99.
Best known for their Blanco item, Casaamigos has multiple bottles on the market. Like Sauza, Casamigos is grown in Jalisco, Mexico, and produced from 100 percent blue Weber agave. Although a slightly pricier alternative, the spirit contains the same citrus finish as many of the Sauza varieties. The primary difference between the two is that Casamigos ages each bottle for at least two months. A 750ml bottle ranges from $39.99 to $69.99.