About Belvedere Vodka
Vodka is produced all over the world with any number of grains or starches as the sugar component, distilled using hundreds of different methods, and has a different heritage in each region. But nowhere is more proud of its Vodka heritage than Poland where many rules and regulations are in place to adopt the name "vodka" on a liquor, and no brand is more proud of its Polish origins than Belvedere Vodka.
How Belvedere Vodka is Made
Belvedere relies heavily on its master distillers to showcase the complexity of Polish rye grain. The secret they use is heat: rye and water mixed under heat, using a complex system of science and art to transform the mixture and unlock its hidden potential.
Belvedere master distillers understand that when using such a simple recipe, precision is everything: no added ingredients can save the flavor if things go awry. They also understand that for a Polish rye vodka to be truly excellent, the rye must be sourced and traced sustainably from Polish farms. That's why 100% of the rye in Belvedere is supplied by eight Polish farming partners. Not only does this pay homage to Polish tradition, but it allows the distillers full understanding of and familiarity with the subtleties of the grain they use.
Belvedere is also committed to sustainability, as they've adopted these three tenets: green energy consumption, organic practices, and sustainable packaging.
Where to Buy Belvedere
Belvedere is the world's best-selling super-premium vodka, and it's available everywhere liquor is sold. You can reliably find it in the vodka aisle at your local liquor store or market, like Costco and Kroger. You can also locate it near you online using drizly.com.
Belvedere Vodka Prices
Item
Alcohol (ABV)
Size
Price
Polish Rye Vodka
Belvedere Vodka
40% (80 proof)
50ml
$1.90
375ml
$10.00
750ml
$22.00
1L
$36.00
1.75L
$49.00
Belvedere Heritage 176
40% (80 proof)
750ml
$35.00
Single Estate Polish Rye Vodka
Belvedere Single Estate Rye: Smogory Forest
40% (80 proof)
750ml
$37.00
Belvedere Single Estate Rye: Lake Bartezek
40% (80 proof)
750ml
$39.00
Infused Polish Rye Vodka
Belvedere Organic Infusions Vodka: Blackberry & Lemongrass
40% (80 proof)
750ml
$34.00
Belvedere Organic Infusions Vodka: Lemon & Basil
40% (80 proof)
750ml
$34.00
Belvedere Organic Infusions Vodka: Pear & Ginger
40% (80 proof)
750ml
$34.00
Limited Edition Polish Rye Vodka
Belvedere Summer Vodka
40% (80 proof)
750ml
$53.00
Belvedere Bespoke Silver Saber Vodka
40% (80 proof)
750ml
$49.00
Belvedere Intense Vodka
40% (80 proof)
750ml
$32.00
Belvedere has expanded beyond its original Polish Rye Vodka, so here is a summary of their different lines of vodka to help you make an informed purchase.
Belvedere has two basic fixtures in their rye vodka collection: Belvedere Vodka and Belvedere Heritage 176. Belvedere Vodka is the signature vodka Belvedere is most known for, as it's been awarded countless recognitions for its impeccable flavor, sustainability, and purity. Heritage 176 is a nod to the old days, when the rye was fired before distillation, producing a full-bodied, complex flavor.
Belvedere also has a range of vodkas that highlight single estates. All of Belvedere's vodkas are produced from only 8 agricultural rye partners in Poland, but these vodkas highlight single estates and play into the nuances the flavors at these estates provide. If you're interested in terroir-driven spirits, these are for you.
Belvedere's flavored vodkas aren't your usual flavored liquor. They have no added sugars or artificial flavors, and they maintain Polish ordinances that no unnatural additives are included. The flavor infusions are created using organically grown ingredients that are infused into the distillation process, creating an unsweetened vodka that's full of natural flavor.
Belvedere, though devoted to Polish vodka heritage, is also committed to innovation. They consistently rotate in new limited edition vodkas to try focusing on different seasonalities, occasions, and proof strengths. Try one of their limited editions to suit your occasion and palate.
The History of Belvedere
The history of vodka in Poland dates back more than 600 years, and it's as intertwined in Polish heritage as anything. So in 1993, when Eddie Phillips, heir to liquor giant Phillips Beverages, endeavored to create the first ever luxury vodka it was no wonder he took to Poland to learn from the culture who did it best.
Most of the world recognized all vodkas as equal, and the consensus was that there was no purpose for a luxury product because it would be nothing but an overpriced ethanol-infused liquid. But Phillips knew better, and he knew that Poland had the answer to a true super-premium vodka: rye. In Poland, there are only eight ingredients allowed in vodka (a choice of five Polish grains, including rye, Polish potatoes, yeast, and water). And in Poland, the nuance created by the use of these different ingredients is embraced rather than overlooked.
The distillery where Belvedere is made was founded in 1910, and it's from this distillery that Phillips drew expertise. They were experts in rye vodka-making tradition, so it's no surprise that Belvedere, named after the Polish presidential estate, was an instant hit in the West. Even though they didn't know the story behind the vodka, Westerners could recognize that the flavor was worth the premium price.
The Best Way(s) to Drink Belvedere Vodka
Belvedere, thanks to its purity in flavor and aroma, is one of the easiest vodkas to mix and drink. Here are some of the best ways to mix Belvedere.
Belvedere Cocktails
1) Belvedere Classic Martini
2 oz / 60ml Belvedere Vodka
.25 oz / 7.5ml Dry Vermouth
Combine ingredients in a mixing glass and stir over ice until very cold. Strain into a chilled martini glass and garnish with a pink grapefruit twist.
2) Heritage Cocktail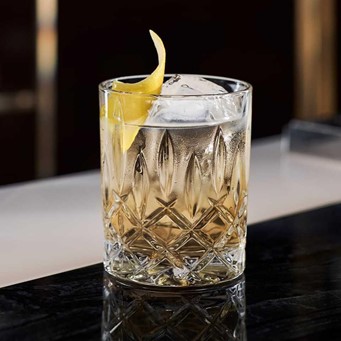 2 oz / 60 ml Belvedere Heritage 176
.5 oz / 5 ml Honey Syrup
3 dashes Walnut Bitters
Lemon Twist
Stirred into a rocks glass over large chunk of ice or large cubes.
3) Belvedere Kombucha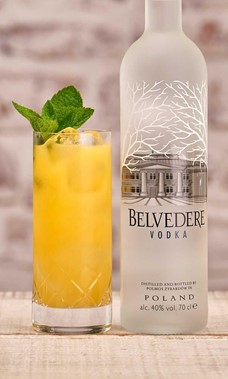 1.5 oz / 45 ml Belvedere
1 oz / 30 ml Mango Puree
4-5 Mint
.25 oz / 10 ml Honey
1 oz / 30 ml Lemon
3 oz / 85 ml Kombucha
Place all ingredients into a shaker except for kombucha. Shake with ice and strain into a tall glass over fresh ice. Top with kombucha and garnish with mint sprig.
4) Cocktail 176
1.5 oz / 50 ml Belvedere Heritage 176
.5 oz / 10 ml Benedictine
.5 oz / 10 ml Sweet Vermouth
1 dash Grapefruit Bitters
Grapefruit Twist
Stirred into a coupette glass and garnished with a grapefruit twist.
5 Best Things to Mix with Belvedere
Soda water: To dilute Belvedere for drinking while maintaining all the delight of the spirit, mix it with soda water. It's calorie free, and if you mix it with Belvedere's organic infusions you have an instant, complex cocktail on your hands.
Sour: Sour is known for being a well-rounded citrus catch-all. The thick consistency is perfect against the fresh flavor of a pour of Belvedere.
Tonic: Tonic is a classic vodka mixer for its savory, mineral-rich flavor profile that's unadulterated by the pure taste of vodka. If you're a fan of tonic, vodka is the perfect mixer.
Cranberry juice: The light flavor of cranberry juice compliments the subtle rye profile of Belvedere seamlessly.
Ginger beer: The spicy, potent flavor of ginger beer mixed with vodka has a double-dilution effect. The pure flavor of vodka takes the edge off the ginger beer spice, and the ginger beer dilutes the ethanol in Belvedere. There's a reason the Moscow mule is so popular, and it's because vodka and ginger beer are made for each other..
Alternatives to Belvedere Vodka
Luksusowa Polish Potato Vodka- $15: Luksusowa makes Polish potato vodka, as potatoes are one of the six acceptable starches used in Polish vodka. It's interesting to try this potato vodka against the rye of Belvedere.
Chopin Vodka- $22: Chopin is another polish vodka, but they specialize in producing vodkas with different base ingredients. They have potato, rye, and wheat vodkas.
Polugar No. 1 Rye and Wheat Vodka- $50: This Polish vodka is made using both rye and wheat for a blend of these subtle flavors.
Ocean Organic Vodka- $89: Rather than Poland, this vodka is made in Maui. It's also the only vodka made of sugar cane, and it's mixed with mineral-rich water deep beneath the earth's surface. The minerals lend a very unique flavor profile for something completely different.