About Hennessy
When it comes to fine spirits, it's hard to ignore a name like Hennessy.
The brand has been making its world-renowned cognac since the mid-1700s when Irishman Richard Hennessy opened his first cognac distillery. His spirits quickly became popular in Ireland and Europe before spreading across the rest of the globe.
The company eventually passed from Richard to his son James and through several more generations of the Hennessy clan.
Nowadays, Hennessy is a top name when it comes to fine cognacs. Grapes from the Charente region of France give Hennessy its signature sweet and fruity notes, while aging in oak barrels lends boldness and complexity to the flavor.
Since its inception, the Hennessy brand has grown to produce a wide variety of carefully crafted collections. Both their standard and limited edition lines are popular amongst cognac connoisseurs worldwide.
Hennessy Prices
Item
Type
Aged For
Alcohol Content
Sizes
Price
Hennessy VS
Cognac
2.5 years
40% (80 Proof)
375mL
$17.99
750mL
$33.99
1L
$49.99
1.75L
$74.99
Hennessy XO
Cognac
30 years
40% (80 Proof)
750mL
$199.99
Hennessy Black
Cognac
5 years
40% (80 Proof)
750mL
$39.99
Hennessy VSOP Privilege
Cognac
15 years
40% (80 Proof)
750ml
$51.99
Hennessy Paradis
Cognac
130 years
40% (80 Proof)
750ml
$799.99
Hennessy Master Blender's Selection No 3
Cognac
7 years
43% (86 Proof)
750ml
$99.99
Hennessy Master Blender's Selection No 4
Cognac
5 years
43% (86 Proof)
750ml
$89.99
LIMITED EDITIONS
White Hennessy
Cognac
2 to 50 years
40% (80 Proof)
750ml
$235.99
Richard Hennesy
Cognac
40 to 200 years
40% (80 Proof)
750ml
$4499
James Hennesy
Cognac
10+ years
40% (80 Proof)
1L
$224.99
Hennessy Ellipse
Cognac
15 years
40% (80 Proof)
700ml
$11,000
Hennessy Very Special, or VS, is the company's most popular collection. With a rich, smoky flavor and an affordable price point, it makes a good choice for both beginners and experts to enjoy. Artist collaborations and annual special editions make Hennessy VS one of the brand's most exciting and dynamic collections.
The original recipe of Maurice Hennessy, XO dates back to 1870. Its complex flavors hit in seven different stages, often referred to as an Odyssey. Sweetness gives way to spiced heat, gradually finishing with more mellow notes of oak and chocolate.
First introduced in 2009, this cognac is a top choice for connoisseurs and mixologists alike. The spirit ages in older oak barrels for a mellow finish. Hennessy Black boasts a smooth, relatively mild flavor that works perfectly in cocktails and mixed drinks.
This expertly crafted blend boasts a perfect balance of bold, harmonious flavors for a complex and exciting tasting experience. More than 60 different eaux-de-vie from the Cognac region of France work together to create a smooth, somewhat sweet taste profile.
Paradis is one of Hennessy's more expensive collections, as cognac is aged for an impressive 130 years in old casks. It has a light yet well-balanced flavor, with notes of plum and honeysuckle. Thanks to the lengthy aging process, Paradis displays a rich copper color and a distinctively smooth mouthfeel.
This limited-edition, single-batch cognac marks the first blend by Master Blender Renaud Fillioux de Gironde. Cognac connoisseurs know this blend for its rich, nutty flavor, including notes of vanilla, praline, and roasted hazelnuts, while higher alcohol gives the spirit a thicker, more velvety mouthfeel.
This series of unique limited-edition releases also comes from the mind of Master Blender de Gironde. A playful yet complex blend, this cognac boasts a spicy, aromatic flavor. It contains fruity notes of apricot and candied orange. Like the No 3 selection, people prize the Master Blender's Selection No 4 for its smooth, supple mouthfeel.
Hennessy Pure White gets its name from its light gold color and exceptional clarity. The spirit has a relatively subtle aroma that belies the complexity of the blend. Floral and fruity notes make this cognac an ideal choice to pair with appetizers, desserts, or sweet cocktails.
This rare cognac embodies everything that the Hennessy brand has stood for since its inception more than 250 years ago. It combines some of the rarest and most complex eaux-de-vie used in the Hennessy lineup to create a bold, complex tasting experience.
This limited-edition cognac serves as a tribute to the son of the brand's founder and an important figurehead in the history of the Hennessy company. It boasts a smooth, silky taste with both fruity and nutty notes.
The Ellipse collection first hit the limelight in 2006, with only 2000 bottles produced at the time. It's one of the rarest and most expensive spirits to come from the Hennessy name. It has a bold, elegant flavor that includes hints of roses and candied fruits.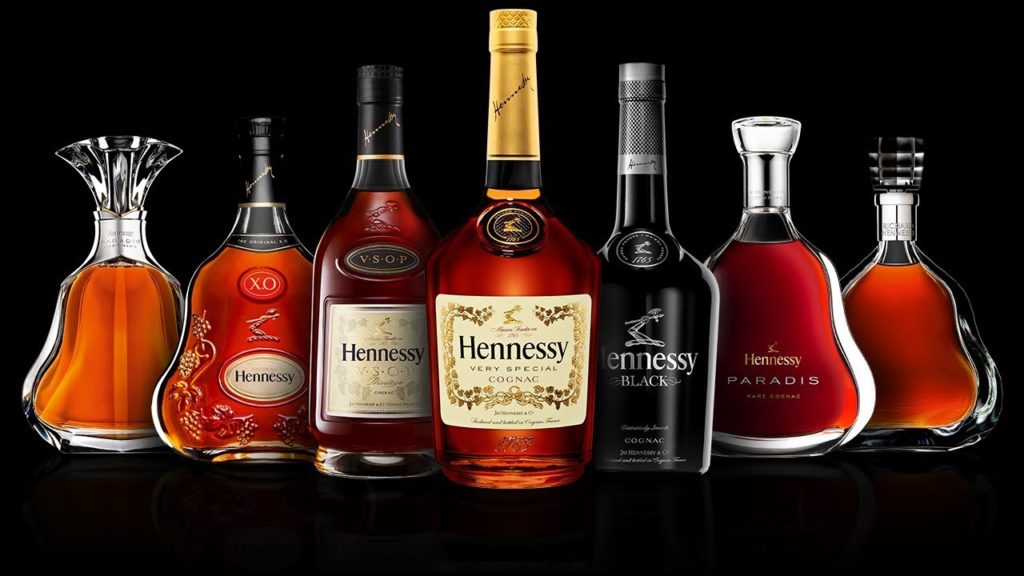 The Best Way(s) To Drink Hennessy
While Hennessy is rich enough to enjoy a glass on its own, many people prefer the cognac as part of a cocktail. The right blend can help to complement and bring out the complex flavors of different Hennessy collections.
1) Manhattan
This cocktail, invented in 1874, has long served as the signature drink of the Manhattan Club. Simply combine Hennessy with sweet Vermouth, Angostura Bitters, and an orange twist for garnish.
2) Sidecar
This classic comes from the Ritz Hotel in Paris and offers a light, refreshing taste. Combine Hennessy cognac with Cointreau, lemon juice, and a dash of orange zest.
3) Old-Fashioned
Though this drink first appeared in Louisville, Kentucky, in 1881, it serves as the signature cocktail of the Waldorf-Astoria Hotel bar in New York City. Combine Hennessy with simple syrup, a dash of Angostura bitters, and top with orange zest.
4) Mint Julep
Mint Juleps are a world-renowned classic that pair perfectly with Hennessy. Combine mint leaves and simple syrup for a light, refreshing cocktail that's ideal for warm evenings.
3 Best Things to Mix with Hennessy
Ice: Pouring Hennessy over ice chills it for a more refreshing beverage. As the ice melts, the extra water helps to bring out the aromas of the cognac for a more intense tasting experience.
Cola: Many people enjoy their Hennessy with a splash of coke or another dark cola. The soda's sweetness can help complement more sour or bitter undertones from some of Hennessy's fruitier collections. The carbonation can also help to heighten the drinker's sense of taste to help detect all of the more subtle notes in a cognac's flavor profile.
Lemon or Orange: Whether you dd juice, zest, or a twist for garnish, the taste of citrus pairs well with Hennessy cognac. Many popular cocktails use lemon or orange to balance the sweeter notes found in Hennessy.
VSOP Cognac Alternatives to Hennessy
A Very Superior Old Pale Cognac, or VSOP reserve, is a type of blend. The youngest brandy must be at least four years old, often making it more mellow than longer aged blends. There are several alternatives to Hennessy VSOP that are comparable in taste, complexity, and smoothness.
XO Cognac Alternatives to Hennessy
The youngest eaux-de-vie must be at least ten years old in an XO blend, adding boldness and complexity to the end flavor.
Several cognac brands make XO varietals that are comparable to Hennessy's famous XO collection. Depending on the brand and the production process, price points can range anywhere from affordable to in the thousands.