About TX Whiskey
American whiskey is one of the few beverages that truly encapsulates the American spirit: innovation, a free spirit, and pride. And those qualities are what drove Leonard Firestone and Troy Robertson to build the first distillery in Fort Worth, Texas, distilling Bourbon whiskey and blended whiskies they love.
TX Whiskey Caps
Firestone and Robertson wanted to infuse every bottle with a story, and they began doing this by taking leather from their old boots, the boots of friends, and the boots of distillery visitors to craft the cap of every bottle.
They wanted these caps to truly speak of western USA craftsmanship, so they hand-make these bottle caps using a puncher to extract a leather circle from the donated material and they secure it to the top of the bottle using a custom wood ring.
Each cap of every bottle is different, making them collectable and special. Each one is a testament to the craftsmanship and story that goes into each bottle of TX Whiskey, and what's even cooler is that you can bring an old pair of your own leather boots to the distillery to have placed on top of a TX Whiskey bottle.
Where to Buy TX Whiskey
TX Whiskey isn't mass produced. It's made in small batches and hasn't yet reached a large scale of production. You might find it in your local store if you're lucky, but it's primarily sold in liquor stores around Texas, Louisiana, and Oklahoma. If you're located in one of those states, it's an almost sure guarantee to pop up in a market near you, and you might even find it in the likes of Costco and Kroger.
TX Whiskey Prices
Item
Alcohol (ABV)
Size
Price
Blended Whiskey
TX Blended Whiskey
41% (82 proof)
375ml
$19
750ml
$35
1L
$44
1.75L
$67
Bourbon Whiskey
TX Straight Bourbon Whiskey
45% (90 proof)
750ml
$43
TX Barrel Proof Bourbon Whiskey
63.4% (127.4 proof)
750ml
$45
TX Barrel Finish Bourbon Whiskey
50.8% (101.6 proof)
750ml
$48
TX Bottled in Bond Straight Bourbon Whiskey
50% (100 proof)
750ml
$48
Firestone & Robertson produce several varieties of TX Whiskey, even going as far as to differ entirely in style. They offer blended whiskey, Bourbon whiskey, and a couple of other styles so read on for help in choosing which TX Whiskey is best for you.
This is Firestone & Robertson's most-sold whiskey. It's a blend of whiskeys produced to capture a consistent flavor bottle after bottle. It's smooth with a long finish and no burn, and you'll pick up flavors of banana in addition to those of vanilla and caramel that come standard to whiskeys.
All of Firestone & Robertson's TX Bourbons are produced using their TX Straight Bourbon Whiskey as the backbone. TX Bourbon Whiskey is crafted using Texas-only ingredients, including their own strain of yeast using Texan pecans. The TX Barrel Proof Bourbon, TX Barrel Finish Bourbon, and TX Bottled in Bond Straight Bourbon are all variations of this recipe, distilled or finished based on specially added processes and elements.
The TX Whiskey Story
TX Whiskey was born in 2012 of a shared passion two dads had for distillation. They independently began touring distilleries, gathering information, and learning about the industry before realizing their paths had been crossing all along at the distilleries they toured.
These men already shared a play-group where their children would routinely get together, but they had no idea they each shared a vision for opening Fort Worth's first distillery. But when they realized they shared this dream, all bets were on.
Over a few years' time, Leonard Firestone and Troy Robertson founded Firestone & Robertson Distilling Co. where they began to produce TX Whiskeys, a range of blended whiskeys that would display the craftsmanship, attention to detail, and innovation of the Great State of Texas.
One of the duo's favorite elements of whiskey is its history: every bottle tells a different story, whether it's of a cowboy rodeo heritage as with Pendleton Canadian Whisky or of the corn trail to Kentucky as with Jim Beam Kentucky Bourbon. So it was no surprise when Firestone and Robertson chose an old prohibition-era warehouse not far from downtown Fort Worth, the perfect location to tell their story.
The Best Way(s) to Drink TX Whiskey
TX Whiskey is crafted to stand alone neat or mix into a cocktail flawlessly. Here are some of the best ways to mix TX Whiskey.
TX Whiskey Cocktails
1) TX Cider
2 Parts TX Whiskey
3 Parts Apple Cider
Garnish with sliced apple and cinnamon sticks
Combine all ingredients for a single or batched serve. Garnish with sliced apples and cinnamon sticks. Can be served cold or hot.
2) TX Whiskey Ranch Water
2 parts TX Whiskey
3 parts Sparkling Water
0.5 part lime juice, or to personal taste preference
Combine all ingredients over ice and stir. Then enjoy!
3) TX Punch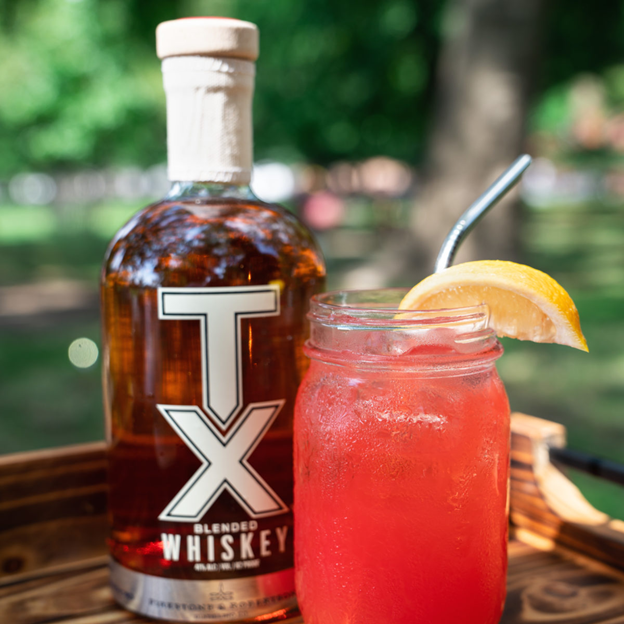 2 parts TX Whiskey
2 parts Punch
0.5 parts Lemon Juice
1 Lemon Wedge garnish
Mix ingredients over ice and stir. Add lemon wedge garnish and enjoy!
4) TX Smoked Bourbon Old Fashioned
2 parts TX Bourbon
0.25 parts Smoked Simple Syrup
Handful of Wood Shavings (we use wood from used TX Bourbon barrel staves)
2 dashes of Angostura Bitters
Place a handful of wood chips on a plank of thick wood or ceramic platen. We prefer shavings from a bourbon barrel stave, but you can also use Pecan, Oak, Peach, or Hickory. Use a torch to fire them up until they just begin to light. Place glass over the chips to snuff the fire and leave for a minute to soak the smoke while making the cocktail. Mix cocktail ingredients together in a separate glass with ice and stir. Flip smoked glass over, immediately add fresh ice and strain cocktail into smoked glass.
6 Best Things to Mix with TX Whiskey
Sweet tea: This one is a little off-kilter, but so is the idea of Texas Bourbon whiskey. Sweet tea is one of the best kept secrets in the world of whiskey mixers, and you won't regret the refreshing, smooth flavor of sweet tea mixed with any of TX's whiskeys.
Lemonade: Whiskey sour is a true classic, but using lemonade instead of sour in a highball glass is the Texas way to do it.
Soda water: For something refreshing and a little bubbly, try pouring soda water over TX in a highball.
Ginger ale: Ginger ale will go with any of TX's whiskeys, but especially with TX Straight Bourbon Whiskey's strong, smoked flavor.
Apple cider: This one is unique enough to trick your friends into thinking you've mixed them a mixologist's dream, but easy enough to keep the drinks flowing all night long.
Alternatives to TX Whiskey
Devil's River Small Batch Texas Bourbon Whiskey- $26: This Texas whiskey is another testament to the locale: the spirit of the water runs deep in Devil's River Whiskey, distilled from the water of the river with the same name: Devils River.
Balcones Texas Pot Still Bourbon- $39: Like TX Whiskey, this Balcones Bourbon is made with purely Texas ingredients in a pot still. The flavor is a bit more bold than TX, but it's another great addition to your Texas whiskey collection.
Treaty Oak Ghost Hill Texas Bourbon Whiskey- $80: Treaty Oak, named for a type of tree native to Texas, blends art and science to capture the unique flavors of their whiskey. One of the more innovative spirits distillers in Texas, their Bourbon won't let you down.
Garrison Brothers' Single Barrel Texas Straight Bourbon Whiskey- $100: This comes straight from the oldest legal whiskey distillery in all of Texas, capturing the essence of the state. It's bold, hot, and top shelf.
Crown Royal Texas Mesquite Blended Canadian Whisky- $160: This whisky is produced in Canada, blended from some of the best Canadian whisky batches, but is infused with smoke from genuine Texas mesquite wood.