About Tito's Vodka
Texas liquors seem to carry some of the best stories in the world of spirits, and that's saying something considering the fact that the first legal distillery there didn't open until the 1990's when Bert "Tito" Beveridge opened Mockingbird Distillery, the home of Tito's Vodka.
A History of Tito's
Tito Beveridge's background had nothing to do with alcohol. After growing up comfortably in Texas, he completed a bachelor's of science at University of Texas in geology and went into the oil business. That career led him all around the Americas until he decided he was ready to settle back in Texas and switch specialties to work in groundwater, then pivoting into the mortgage industry.
A jack of all trades, by 1993 Tito was also known in his circle as the "vodka guy" because he had been flavoring vodka for his friends and their parties, earning himself a reputation he never imagined would follow him into a multi-billion dollar spirits empire.
Tito's corn mash recipe, filtered four times by hand-made copper stills to complete purity, was a hit with those he shared it with, but he needed a bigger platform. He'd organized his priorities as a business, perfected his recipe, and standardized his distilling process, but he needed to get the name out there in a bigger way.
He struggled for years to bring recognition to his brand, putting in the legwork to pitch his vodka to restaurants, clubs, and party-goers, but Tito had his big break in 2001 when he brought home double gold at the San Francisco Spirits Competition for Tito's signature pure, clean flavor.
Where to Buy Tito's
Tito's is one of the most readily available craft liquors on the market. It's available in all 50 US states and in most countries around the world. It's few and far between for there to be a liquor store that doesn't carry Tito's, so you can locate it at your local liquor store or liquor aisle (think Costco, Walmart, Publix, etc.).
Tito's Vodka Prices
Item
Alcohol (ABV)
Size
Price
Corn Mash Vodka
Tito's Vodka
40% (80 proof)
50ml
$1.90
375ml
$10.00
750ml
$22.00
1L
$36.00
1.75L
$49.00
Tito's Vodka Buying Guide
Tito's makes one style of vodka: corn vodka that's distilled 4 times and unaged. It's smooth, clean, pure, and high quality. So they've made it easier to narrow down which bottle to get – all you have to choose is your size – but how do you know if Tito's is the right vodka for you in the first place?
Tito's is for consumers who want a no-fuss, simple, pure vodka that's consistently good. The bottle is simple because Tito wants you to pay for what's inside it instead. And the method is more difficult than many vodkas, meaning the master distiller, Tito himself, must be involved in every step of the process. This makes for an incredibly smooth, yet affordable, vodka that mixes well and is also killer on the rocks.
The Best Way(s) to Drink Tito's Vodka
A good vodka doesn't taste like anything. There is no aging process, pulling flavor from a cask. There are no botanicals to add flavor. No special grain mixtures for complexity. Tito Beveridge says it should be flavorless and odorless, a blank slate for the drinking. That makes vodka the liquor of choice when the mixers are the star of the show. So here are some of the best ways to mix and drink Tito's vodka.
Tito's Cocktails
1) Tito's Watermelon Mule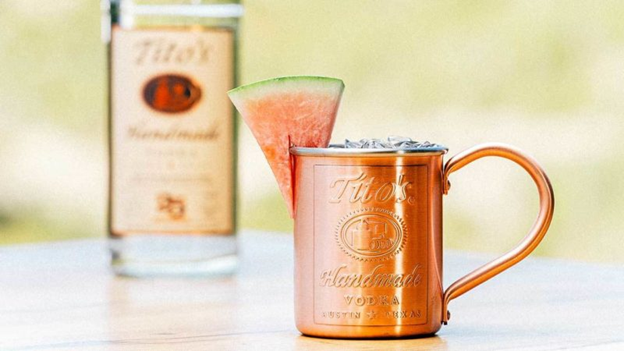 2 oz ginger beer
1 oz watermelon juice
1/2 oz lime juice
Add all ingredients to a Tito's Copper Mug with ice. Stir and garnish with a lime slice.
2) Tito's Cucumber Cooler
3 oz iced green tea
1/2 oz lemon juice
1/4 oz agave, optional
5 cucumber slices, muddled
5 mint sprigs, muddled
Muddle cucumber slices and mint into a shaker. Add Tito's Handmade Vodka, green tea, lemon juice, and ice. Shake and strain over fresh ice. Garnish with a cucumber slice and mint sprig.
3) Tito's Mango Getaway
4 oz coconut water
1 mango, sliced
2 cups ice
Peel and slice mango. Add all ingredients to a blender and blend until smooth. Pour into a glass and garnish with a kiwi or mango slice. Pro-Tip: Out of fresh mango? Not a problem. Mango puree will save the day (and your drink).
4) Tito's Winter Spirit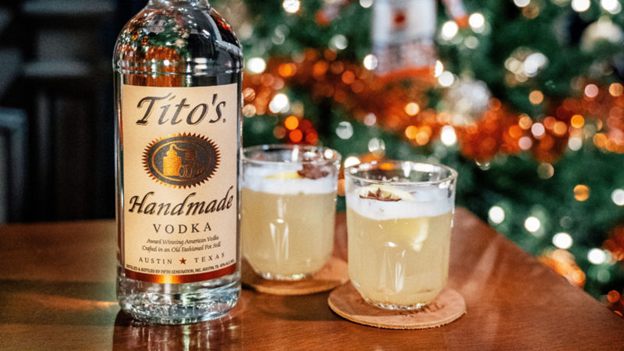 1 egg white
1/2 oz white grape juice
1/4 oz lemon juice
Add all ingredients to a shaker and dry shake for 10 seconds. Add ice and shake again for 5 seconds, or until the shaker becomes cold. Strain into a martini glass. Garnish with a lemon slice and star anise.
5 Best Things to Mix with Tito's
Soda: If you're buying Tito's for its low calorie count, a Tito's and soda might be your best bet. It has some fizz for smooth drinking without any added calories.
Cranberry: One of the most popular vodka mixers is a splash of cranberry juice. Jump-start your body's kidney function to reduce your hangover with just a little cran.
Orange Juice: Also known as the "screwdriver", a Tito's and OJ is an easy citrus boost, great with breakfast or on its own.
Tonic: Tito's has no competing flavors to clash with mineral-rich tonic, and many drinkers prefer this more savory option to juices.
Sprite: If you're a soda lover, you can add vodka to your choice, be it Coke, Sprite, or Dr. Pepper, or anything in between. But Sprite is the most popular for its lemon-lime flavor.
Alternatives to Tito's Vodka
Nikita Corn Vodka: $12- This Ukrainian vodka, using solely corn for starch and entirely gluten free, like Tito's, has a Cold War history and a story of rebellion and gumption.
Black Button Corn Vodka: $16- This American corn vodka is produced in the state of New York. It's sweeter than Tito's, but just as smooth.
Whistling Hare Blue Corn Vodka: $24- Whistling Hare is made of purely blue corn farmed in Colorado. The blue corn produces a sweetness other vodkas can't.
Column 5 Texas Vodka: $25- Column 5 is unique because it focuses on flavor rather than tastelessness. This Texas vodka has flavors of cheesecake and fig bar and it's brisk and light.
Amass Copenhagen Vodka: $35- This corn vodka celebrates Nordic tradition by distilling layers of chamomile, lemon, and marigold into the liquor.
Crystal Head Canadian Vodka: $53- This Canadian corn vodka is four-times-distilled in Newfoundland and is kosher certified.