About Jim Beam
Bourbon whiskey is set apart from any other liquor in the world. It houses a specific grain mash bill, uses a certain type of barrels for aging, and it's the only true solely American liquor in the world. One could say it's America's claim to fame among liquor. So what makes Jim Beam the #1 Bourbon whiskey?
Jim Beam has been distilled by the same family for seven generations, and they age it twice as long as Bourbon regulation requires. It's affordable, yet elegant. Complex, yet smooth. And its recipe is centuries old.
Jim Beam, being one of the first Kentucky Bourbons in the world, is known as one of the leaders on the Bourbon front, so the regulations surrounding Bourbon are based in part on Jim Beam's recipe. Bourbon must contain a mash bill primarily composed of corn, and it must be aged in charred American oak barrels for at least two years.
These are all factors that have contributed to it being the number one best selling Bourbon on the planet. But let's explore the history of the brand Jim Beam Bourbon Whiskey.
Where to Buy Jim Beam Kentucky Bourbon
Jim Beam is the most-sold Bourbon whiskey in the world, and it's available literally everywhere Bourbon is sold. If your local market carries liquor, it's probably there. Stores like Costo and Publix carry the brand regularly, and you can find it locally using sites like drizly.com.
Jim Beam Kentucky Bourbon Prices
Item
Alcohol (ABV)
Size
Price
Kentucky Straight Bourbon Whiskey
Jim Beam Kentucky Straight Bourbon Whiskey
40% (80 proof)
50ml
$2.70
375ml
$12
750ml
$26
1L
$35
1.75L
$46
Kentucky Straight Bourbon Whiskey
Jim Beam Double Oak Twice Barrelled
43% (86 proof)
750ml
$33.00
1L
$40.00
Jim Beam Black Extra Aged
43% (86 proof)
750ml
$39.00
1L
$40.00
Jim Beam Single Barrel
47.5% (95 proof)
750ml
$50.00
1L
$70.00
Jim Beam Rye
45% (90 proof)
750ml
$25.00
1L
$43.00
Jim Beam Devil's Cut
45% (90 proof)
750ml
$32.00
1L
$53.00
1.75L
$73.00
Flavored Whiskey
Jim Beam Kentucky Fire
25% (50 proof)
50ml
$1.40
750ml
$19.00
1L
$24.00
1.75L
$38.00
Jim Beam Peach
32.5% (65 proof)
50ml
$1.40
750ml
$19.00
1L
$24.00
1.75L
$38.00
Jim Beam Orange
32.5% (65 proof)
50ml
$1.40
750ml
$19.00
1L
$24.00
1.75L
$38.00
Jim Beam Red Stag
35% (70 proof)
50ml
$1.40
750ml
$19.00
1L
$24.00
1.75L
$38.00
Jim Beam Honey
35% (70 proof)
750ml
$19.00
1L
$24.00
1.75L
$38.00
Jim Beam Vanilla
35% (70 proof)
50ml
$1.40
750ml
$19.00
1L
$24.00
1.75L
$38.00
Jim Beam Apple
35% (70 proof)
50ml
$1.40
750ml
$19.00
1L
$24.00
1.75L
$38.00
Special Releases
Jim Beam Bourbon Cream
15% (30 proof)
750ml
$23.00
Old Tub
47% (94 proof)
750ml
$26.00
Jim Beam Repeal Batch
43% (86 proof)
750ml
$17.00
Highball To-Go
Jim Beam and Ginger Highball
5%
12 oz x 4 pk
$10.00
Jim Beam Classic Highball
5%
12 oz x 4 pk
$10.00
Jim Beam is composed of a constant line of bourbons and some special releases and flavored options. Here is some information that will help you buy the right Jim Beam for you.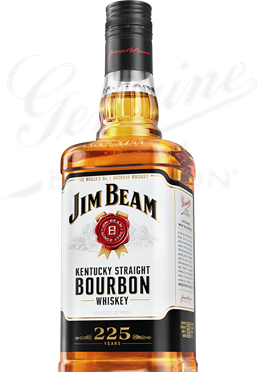 This is Jim Beam's top seller and most iconic Bourbon. It's a classic Kentucky Bourbon style whiskey, and it's based on the original recipe from Jacob Beam's original distillery.
Jim Beam offers other classic Bourbons: a line of refined Bourbons with different grain mash bills, aging processes, and other distinctive features. These are generally more expensive than the Kentucky Straight Bourbon, but have some unique features that make them collection-worthy.
Jim Beam's flavored whiskeys have the Jim Beam Kentucky Straight Bourbon base with added flavors and ingredients for easy mixing. There are a range of flavors to choose from, and some limited flavors seasonally.
Each year Jim Beam releases some limited editions that will never again be offered from the distillery. Some of these harken back to old recipes, historic stories of the distillery, or are seasonal offerings.
Highballs To-Go are pre-mixed cocktails in a can. Jim Beam offers Jim Beam and Ginger, which is Jim Beam Kentucky Straight Bourbon mixed with ginger ale, and Jim Beam Classic, which is Jim Beam Kentucky Straight Bourbon mixed with seltzer water.
The Best Way(s) to Drink Jim Beam
Jim Beam is made for easy sipping and easy mixing. Here are some of the best ways to mix Jim Beam.
Jim Beam Cocktails
1) Jim Beam Bourbon Cream Hot Chocolate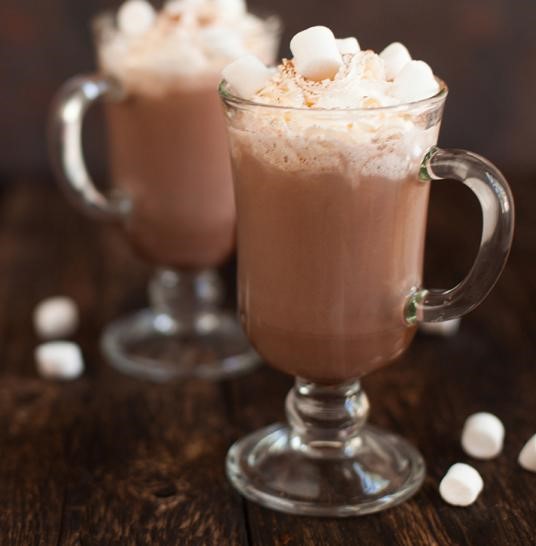 Stir together the cocoa mix and hot water in a mug. Add Bourbon Cream and give it another quick stir. Top with cinnamon, whipped cream or marshmallows.
2) Jim Beam Orange Ginger Sour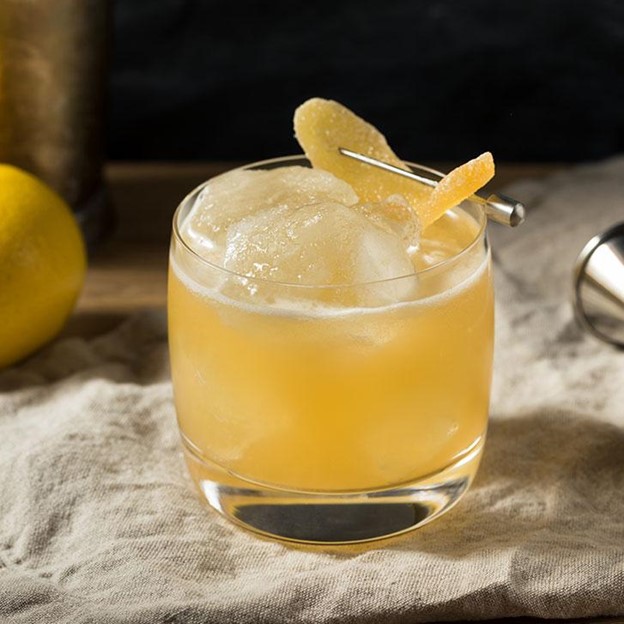 First, make your ginger syrup. Bring ginger, sugar and water to a simmer in a small saucepan. Stir until sugar has dissolved, then simmer for 30 minutes. Strain out the ginger and let the syrup come to room temperature. For the cocktail, combine all ingredients in a cocktail shaker with ice. Shake until well chilled and strain into a cocktail glass over ice.
3) Jim Beam Orange Mule
Squeeze and drop a lemon wedge into a cocktail shaker with ice. Add all ingredients (except the ginger beer) and shake. Strain into a collins glass or mule mug over ice. Top with ginger beer and gently stir.
4) Jim Beam Red Stag Highball
Build over ice in a highball glass
5 Best Things to Mix with Jim Beam
Soda: Jim Beam has so many flavored offerings, and the classic Jim Beam Kentucky Straight Bourbon itself has a wonderful distinctive flavor. Pour soda over any of Jim Beam's flavored or unflavored Bourbons for a drink that instantly seems fancier than it is.
Cola: Nothing is more classic than a Jim Beam and Coke. Nothing.
Ginger Ale: Whiskey and ginger ale go together like peas and carrots, but way more fun.
Ginger Beer: For something that packs more of a punch than ginger ale, try Jim Beam with ginger beer. It's more ginger forward, which really compliments the smoked flavors in Kentucky Bourbon.
Sour: A whiskey sour is a well-known simple cocktail, but it's at its peak with Jim Beam Kentucky Bourbon. The smooth, sweet, smoky flavors of Kentucky Bourbon with the citrus flavors in sour meld perfectly.
The History of Jim Beam
Jim Beam began in 1795 and is still going strong, basing its foundation on family values and respect for the generations that came before, laying the framework for this giant in the liquor industry.
The Boehm family immigrated to the 13 American colonies from Germany in 1740, Americanized their name to Beam, and settled in what is now central Kentucky. They recognized the climate and limestone-laden soil in Kentucky as perfect for farming corn, and they set up shop as corn farmers shortly thereafter.
During this time, the American government was offering incentives to farm corn, so families would bring the whisky recipes that had been passed down from Scotland, Ireland, or Germany and began applying them to the corn they were incentivised to grow, and this is how Bourbon whiskey was born, and this is when Jim Beam Bourbon Whiskey came onto the map.
Jacob Beam quickly recognized that distilling bourbon would be an extremely lucrative way to make use of all the corn his family had been growing, so he began selling it and Old Jake Beam Sour Mash quickly became a local favorite. There were over 2,000 whiskey distilleries in Kentucky at the time, so this was no small feat.
Jim Beam, a descendent of Old Jake, took over the family business in the early 1900's, only to be pushed out of business by prohibition in the 1920's. This was the only period in United States history that the Beam family ceased to produce Bourbon, and they quickly discovered that they weren't much good at anything else.
Jim had given up the rights to the old family business's name, and when he rebuilt his distillery (by hand in 120 days, might we add), he rebranded to Colonel James B. Beam Bourbon.
Jim, having experienced the first-hand upheaval caused by prohibition, never left it to chance again. He built the distillery bigger and stronger this time around, and he took the signature strain of yeast home every weekend "just in case". And when he passed the torch to his son, Jeremiah, Jeremiah rebranded the Bourbon into Jim Beam in honor of his father, becoming the family brand we know and love today.
Alternatives to Jim Beam Whiskey
Evan Williams Bourbon- $16: Evan Williams is another classic in the world of Bourbon, and it's a good, more affordable alternative to Jim Beam. It's a great introduction into the style of Bourbon if you aren't sure it's for your palate and not ready to commit to more expensive options.
Old Forester Bourbon- $29: Old Forester is a strong, 100 proof Bourbon with a strong flavor but a smooth mouthfeel. The taste is complex as is the heritage.
Maker's Mark Bourbon Whiskey- $30: Maker's Mark is a Bourbon staple, bottled at barrel strength from single barrels. Each bottle is labeled with information from the barrel, making it an automatic collectable and an unadulterated Bourbon classic.
1792 Bourbon- $35: Named for the year Kentucky achieved United States statehood, this Bourbon has a strong commitment to the heritage of Kentucky Bourbon.
Very Old Barton- $75: Very Old Barton is inspired by the history of Kentucky, distilled and bottled in Kentucky, and crafted under the supervision of Kentucky master distillers.