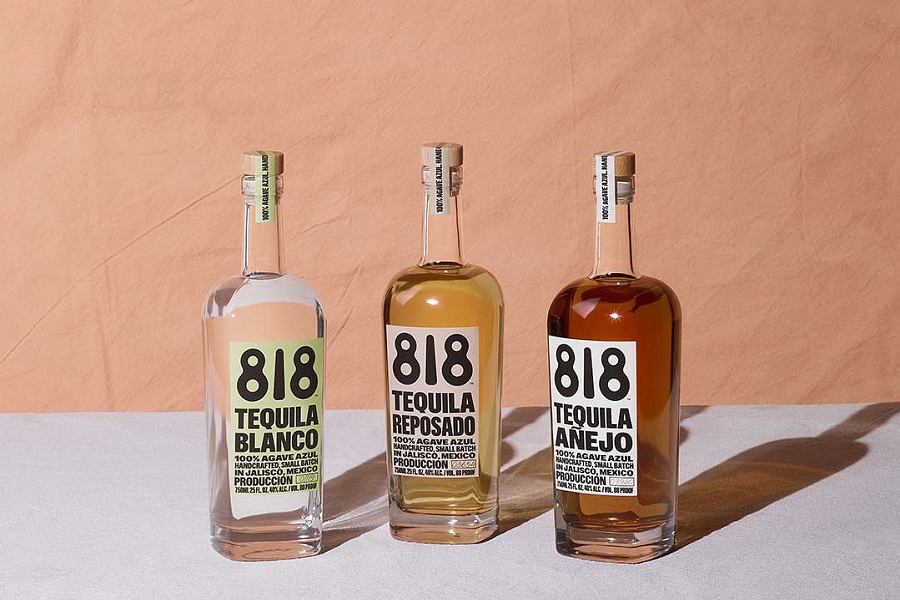 About 818
818 is a new brand in the tequila market, having launched in the spring of 2021. 818 was famous before its first batch was released, due to its celebrity founder, Kendall Jenner.
Jenner created 818 to appeal to a younger generation of tequila drinkers and aimed toward creating a fun and natural drinking experience. 818 is also committed to producing tequila sustainably and responsibly and is focused on ensuring that its supply chain, packaging, and distribution are as sustainable as possible.
818's tequila is produced out of a family-owned and operated distillery in Jalisco, Mexico. All 818 is made with 100% Blue Weber agave. 818 tequila is usually described as crisp and sweet across all three of its available varieties (Blanco, Reposado, and Añejo).
Because 818 has the backing of a major celebrity, it's available very widely in the United States for such a young brand. They offer a tool where interested customers can enter their location and see locations selling nearby. 818 is working on widening its global distribution throughout 2021 and 2022.
818 Tequila Prices
| Item | Type | Origin | Aged For | Alcohol (ABV) | Size | Price |
| --- | --- | --- | --- | --- | --- | --- |
| 818 Blanco | Blanco | Jalisco, Mexico | <60 days | 40% (80 proof) | 750ml | $50-55 |
| 818 Reposado | Reposado | Jalisco, Mexico | 60 days to 1 year | 40% (80 proof) | 750ml | $60-65 |
| 818 Añejo | Añejo | Jalisco, Mexico | 1-3 years | 40% (80 proof) | 750ml | $70-75 |
818 is currently available in three varieties: blanco, reposado, and añejo. All go through the exact same distillation process in Jalisco, Mexico. The significant difference between the three varieties is the aging process. Blanco is considered unaged, reposado is aged in American whiskey barrels for up to one year, and añejo is aged in French and American oak barrels for one to three years.
818 Blanco is distilled in copper pots and made from a blend of agave from Mexico's lowlands and highlands. This leads to a clean, citrusy flavor that lends itself well to cocktails.
818 Reposado is created from that same blend of agave but undergoes aging in American oak barrels after the distillation process. The aging process takes between 60 days and a year and is monitored by 818's master distillers to determine completion. This gives the finished tequila a light amber color and brings notes of vanilla and toffee from the barrels. This reposado drinks very smoothly.
Like the other varieties, 818 Añejo comes from blended agave, but this tequila is aged for between one and three years in French and American oak barrels. This process imparts a much more complex flavor and darker color to the tequila. Tasters have noted notes of caramel, almond, and roasted vanilla. Because the aging process for 818 Añejo takes so much longer, it's created in much smaller batches and can be more expensive.
The Best Way(s) to Drink 818 Tequila
As a premium tequila, 818 is good enough to drink on its own if you want. It's also great with just a squeeze of lime. Here are some other ideas, though, for great 818-based cocktails.
Berry Mint Kenny
You're not going to start a tequila company without knowing some good cocktail recipes, and this one is particularly delicious. 818 Blanco mixes with strawberry puree, fresh lime juice, and agave syrup before being topped with a splash of sparkling water and a garnish of mint leaves. You don't need a salt rim to enjoy this complex cocktail!
Cucumber Spritz
This drink is similar to a mint julep but much fresher and brighter due to using 818 Blanco and cucumber. The tequila is muddled with cucumber slices and mint leaves before being finished with fresh lime juice and simple syrup. This one is perfect for a day at the beach.
Kenny's Favorite Marg
Kendall Jenner's favorite margarita recipe is a winner and a twist on the classic. 818 Reposado comes together with your favorite orange liqueur (we like Grand Marnier or Cointreau, but triple sec works), lime juice, and agave syrup.

The twist to this one is using tajin salt. This has a more savory quality than regular sea salt and brings out the rich flavors and bitterness of the margarita. It's a treat whenever you're looking to start a good night.
Paloma
A Paloma is a classic tequila cocktail, and the quality of 818 takes it to a whole new level. Palomas are made with grapefruit soda, or, if you can't find that, grapefruit juice and soda water. Add a shot of 818 Blanco and a splash of simple syrup, and you're done! It's an incredibly refreshing drink.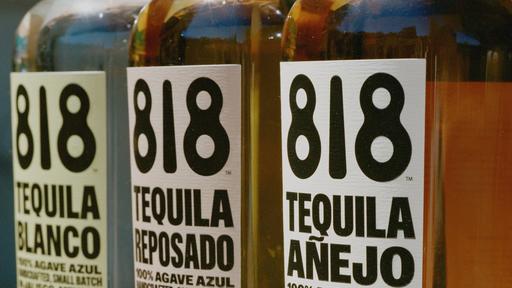 5 Best Things to Mix with 818 Tequila
Lime Juice: Lime and tequila are perfect partners. Whether as part of a sipping flight or a margarita, lime juice and 818 are a great match.
Agave Syrup/Nectar: The natural sweetness of agave nectar mixed with tequila brings out all the spirit's great flavors.
Grapefruit Juice: Perfect for a Paloma, the bitterness of grapefruit juice brings out the sweeter notes of 818.
Club Soda: An 818 with club soda and lime juice is a perfect, refreshing drink. It's suitable for any time of year and can come together in a flash.
Strawberry: Whether it's in a puree or sliced, adding a hint of strawberry to your 818 is a great plan.
Tequila Alternatives to 818 Tequila
Tequila Rose: Tequila Rose is an exciting alternative to 818. This cream liqueur mixes strawberry, tequila, and cream, which can be used in various cocktails. It's readily available for approximately $20, but because it's not tequila, it may not have the versatility of 818.
Espolon: Espolon is a well-known and popular tequila brand. Created in the hills of Los Altos, Mexico, Espolon is enjoyed in a wide variety of cocktails. At between $20 and $25 per 750ml bottle, it is significantly cheaper than 818. However, we do not recommend Espolon as a sipping vodka.
Teremana: Teremana is another newer tequila brand with celebrity backing. Co-founded by Dwayne "The Rock" Johnson, Teremana hit shelves in 2020. Its' Blanco and Reposado are well-regarded and are widely available in the $30 range. Teremana works excellent in cocktails, but 818 offers a slightly better experience as a sipping tequila.
Casamigos: This tequila is also associated with a celebrity, having been co-founded by actor George Clooney before being sold. Casamigos is considered a luxury tequila brand and is best enjoyed in a simpler cocktail or on its own. Casamigos has a similar price to 818 at around $50 per 750ml bottle.