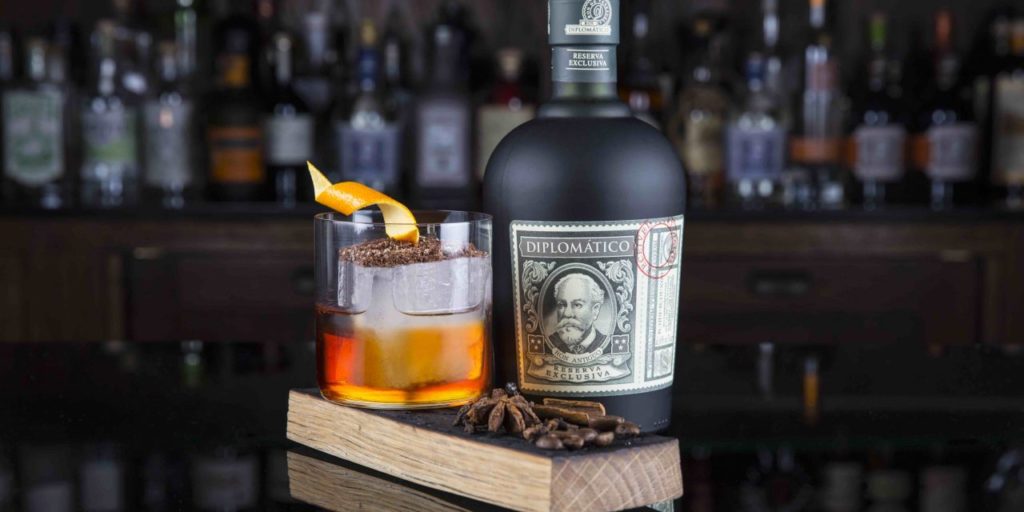 About Diplomatico Rum
Diplomatico is a brand operated on family values. Once owned and operated by Seagram's International, it was sold to a group of Vinezuelan private entrepreneurs and is now 100% privately owned and operated, primarily overseen by the Ballesteros family. These rums are top shelf and have deep roots in the traditions of South American rum.
History
Known by the Spanish speaking locale as Ron Diplomatico (or Diplomatico Rum in English), Diplomatico's primary values are family and quality. From the harvesting of cane sugar to the distribution of each masterfully produced bottle, each step of production is overseen by Diplomatico.
Before Diplomatico was bought by locals in 2002, Diplomatico was produced by Seagram's, a giant in the liquor industry who produced the rum from its inception in 1959. But when a group of local entrepreneurs bought the brand from Seagram's, they maintained the quality of the product and imbued the brand with a respect for the individuals who bring the product to life, vowing to treat them like family.
How Diplomatico is Made
Ron Diplomatico is produced of three primary types of sugarcane: Romana, Venezuela and Canal Point. These sugarcanes are made into molasses and honeys, with molasses used for light rums and honeys used to produce more complex varieties.
After fermenting the sugarcane, Diplomatico uses three distillation processes: continuous column stills for light rum, batch kettle for darker rums, and pot stills for their complex varieties. Most of the rums are aged in whiskey barrels with a sherry barrel finish, and their most exclusive varieties are aged again in a variety of barrels to optimize flavor.
What Makes Diplomatico Top Shelf?
Diplomatico isn't cheap. Unlike mass-produced rums, Diplomatico's commitment to fair compensation, top-tier ingredients, and careful production work together to formulate an exquisite drinking experience with a price point to match.
Where to Buy Ron Diplomatico
Diplomatico Rums can be found online and in most major liquor retailers. It isn't found in most grocers or markets like Costco and Kroger (where market liquor sales are legal), but if your local liquor store routinely stocks top shelf rums you are likely to find some of Diplomatico's rums there.
If you would like to be guaranteed stock, however, consider purchasing for delivery from ReserveBar.com or BlackwellsWines.com where you're guaranteed stock for all of Diplomatico's varieties.
Ron Diplomatico Prices
| Item | Style | Alcohol (ABV) | Size | Price |
| --- | --- | --- | --- | --- |
| Traditional Range | | | | |
| Diplomatico Mantuano | Dark | 40% (80 proof) | 750 ml | $32 |
| Diplomatico Reserva Exclusiva | Dark | 40% (80 proof) | 750 ml | $48 |
| Diplomatico Planas | White | 47% (94 proof) | 750 ml | $35 |
| Prestige Range | | | | |
| Diplomatico Ambassador | Dark | 47% (94 proof) | 750 ml | $300 |
| Diplomatico Single Vintage | Dark | 43% (86 proof) | 750 ml | $155 |
| The Distillery Collection | | | | |
| Diplomatico No. 1 | Dark | 47% (94 proof) | 750 ml | $95 |
| Diplomatico No. 2 | Dark | 47% (94 proof) | 750 ml | $85 |
| Diplomatico No. 3 | Dark | 47% (94 proof) | 750 ml | $80 |
Ron Diplomatico Buying Guide
Diplomatico Rums can be divided into three ranges: the Traditional Range, Prestige Range, and Distillery Collection. These ranges each constitute a variety of styles, but each is categorized by its production process and quality.
The most accessible range of Ron Diplomatico, and a great place to start if you're not completely sold on the brand, is the Tradition Range from Diplomatico. This range is made of Diplomatico's only white rum as well as two darker rums, each unique in its flavor. While the styles are different, however, all the rums in this line are formulated using a mixture of all three of Diplomatico's distillation processes and are designed to be affordable yet delectable.
With a mid-tier price point, Diplomatico's Distillery Collection highlights flavor above all else, each rum in the collection distinct from the others. No. 1 focuses on a fruity, sweet flavor profile made from a unique distillation process usually reserved for whiskeys, produced from fermented sugarcane honeys. No. 2 utilizes sugarcane molasses to produce a well balanced flavor profile incorporating both oak and floral notes. And No. 3 makes use of a copper pot still distillation and new oak barrel aging process to formulate a "pure" rum flavor profile.
This collection of rums is nothing short of top shelf, and it's reserved for aficionados and connoisseurs of fine rums. Diplomatico's Ambassador is its darkest rum, aged for 12 years in oak and finished in sherry casks producing a complex flavor profile that's reminiscent of cigars and raisined fruit. The Single Vintage, however, is aged in whiskey barrels and similarly finished in sherry casks, but instead produces aromas and flavors of smooth vanilla and almond.
The Best Way(s) to Drink Ron Diplomatica
Diplomatico Cocktails
1) Diplomatico Orange Cocoa Ritual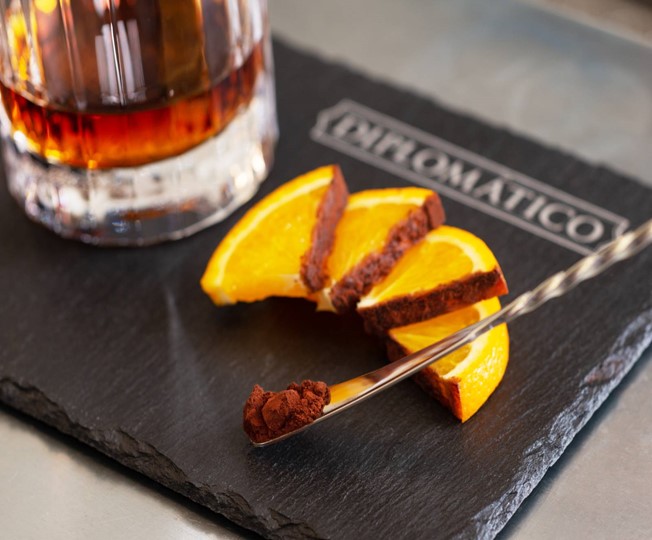 60 ml Diplomático Reserva Exclusiva
One piece of orange
Raw cocoa powder unsweetened
Divide an orange slice into quarters and dip each quarter into cocoa powder. Alternate sipping Diplomático Reserva Exclusiva neat and enjoying a dipped orange slice. The pairing is an experience in itself.
2) Diplomatico Pineapple Old Fashioned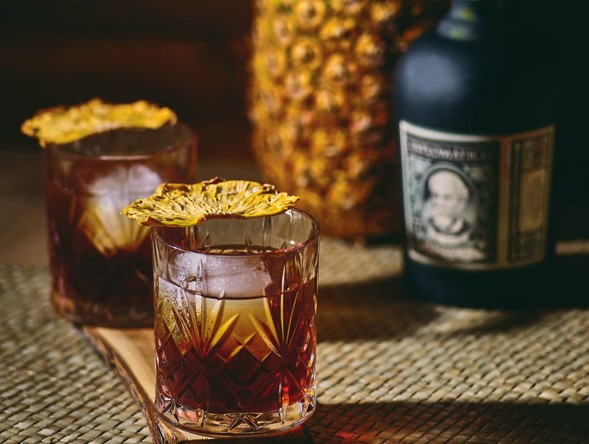 1.5 oz Diplomatico Reserva Exclusiva
¼ oz pineapple simple syrup
2 dashes Angostura Bitters
Dried pineapple slice for garnish
In a mixing glass pour liquids over ice. Stir 30-40 rotations. Pour over large cube of ice in old fashioned glass. Garnish with dried pineapple slice.
3) Diplomatico Sidecar
1.5 oz Diplomatico Reserva Exclusiva
¼ oz Cointreau
½ oz lime juice
Shake ingredients hard with ice until icy cold. Strain into a coupe with a sugar rim.
4) Diplomatico Mantuano Pajarito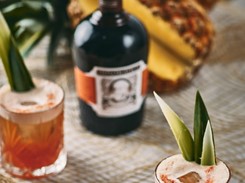 1.5 oz Diplomatico Mantuano
½ oz bitter liqueur of choice
½ oz pineapple puree
¼ oz simple syrup
3 dashes Angostura bitters
Shake ingredients hard on ice. Strain into an old fashioned glass with a large cube of ice. Garnish with pineapple fronds.
5 Best Things to Mix with Diplomatica
Neat: All of Ron Diplomatica's rums are designed to be enjoyable on their own, neat at room temperature. This is the best way to drink if you enjoy examining the flavor profiles of each rum.
On the rocks: Drinking Diplomatico on the rocks is a toned-down way to enjoy its many aromas and notes, while still having a chilled experience.
With soda water: For the simplest of rum cocktails, mix Diplomatico with soda water. The bubbles make it easy on the stomach and just diluted enough.
With coconut water: Coconut water compliments Diplomatico's dark rums while adding some anti-hangover nutrients.
Splash of pineapple juice: Pineapple juice is known to cut through the alcohol-bite of liquor and the flavor is a great compliment to dark and white rum.
Alternatives to Diplomatico
Ron Zacapa no. 23- $50
Dictator Rum 12 year- $60
Flor de Cana Rum 18 year- $77
Bacardi Gran Reserva Limitada Rum- $95