About Maker's Mark Bourbon Whiskey
Seldom does a liquor reinvent an industry, but that's exactly what Maker's Mark did. While Bourbon has existed for centuries as a predominantly corn and rye mash distillation, Maker's Mark came on the scene in the 1950's with a flair for innovation and a penchant for flavor, and they changed everything.
The Maker's Mark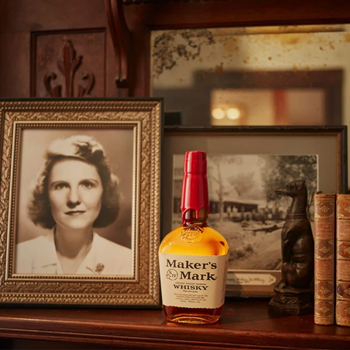 The iconic wax drip and seal on top of every bottle of Maker's Mark was the idea of none other than the other half of this founding duo: Margie Samuels. She knew that to thrive in the expanding world of Bourbon a bottle must be set apart, and it must display the history behind it. To their knowledge, Bill was a fourth generation distiller, and she knew this fact would lend credence to the whiskey, so she used it as the seal that bound the Bourbon.
Thus, every bottle comes with the emblem "SIV", representing the fourth generation Samuels distiller, pressed into its seal. The Samuels later discovered that Bill was in fact a sixth generation distiller, but SIV was already ingrained as part of the brand, and it stuck.
Where to Buy Maker's Mark
Although Maker's Mark is known for its top shelf quality, it's actually found at some very accessible price points and is distributed everywhere Bourbon is sold. Therefore, it's common to find it in markets like Costco, Walmart, and in most liquor stores where Bourbon is popular. To locate it near you, visit drizly.com.
Maker's Mark Bourbon Whiskey Prices
Item
Alcohol (ABV)
Size
Price
Original Bourbon Whiskey
Maker's Mark
45% (90 proof)
50ml
$4.00
750ml
$40.00
1L
$46.00
Maker's Mark 46
47% (94 proof)
750ml
$43.00
Cask Strength Bourbon Whiskey
Maker's Mark 101
50.5% (101 proof)
750ml
$40.00
Maker's Mark Cask Strength
54.5% (109 proof)
750ml
$50.00
Special Releases
Maker's Mark Private Selection
55% (110 proof)
750ml
$81.00
Maker's Mark Wood Finishing Series
54.55% (109.1 proof)
750ml
$25.00
Maker's Mark Buying Guide
Maker's Mark comes in a small line of good quality Bourbons. There are a few to choose from, and they're all crafted with a specific flavor profile in mind, so here is a guide to help you choose the best one for your palate.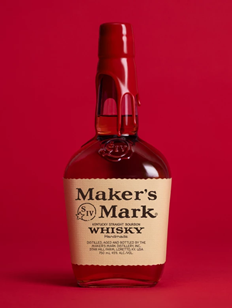 Maker's Mark has two original flavors in their range: Maker's Mark and Maker's Mark 46. The original Maker's Mark is Bill's original recipe, using winter wheat to achieve that sweet vanilla flavor. And 46 is the final realization of his wildest dreams: It's the original Maker's Mark finished to perfection in french oak.
Maker's Mark offers two higher-proof whiskies: Maker's Mark Cask Strength and Maker's Mark 101. The Cask Strength is never diluted, taken straight from the cask. And 101 rings in at 101 proof, a high-proof bourbon that puts hair on your chest in the smoothest of ways.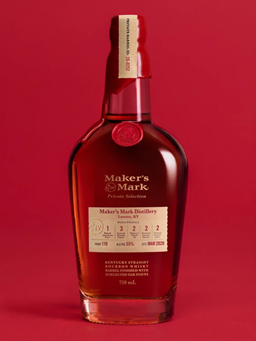 There's the original Maker's Mark, consistently produced with that reliable delicious flavor year after year. And then there's the special releases, produced with new expressions in mind. The Private Selection is focused on new cask expressions, and Private Selection is a cask strength bourbon that undergoes a series of 10 casks for finishing.
A Maker's Mark History
Maker's Mark came to be in 1953 when Bill Samuels, Jr. and Margie Samuels, a dynamic duo in the history of Bourbon whiskey, embarked on a journey to recreate his family's 170-year-old whiskey recipe and market it in a way that had never before been done. Bill was a fourth generation distiller and Margie had a knack for marketing. Together they became unstoppable.
By recreating the family recipe for market, he didn't mean to emulate the family's recipe. He literally meant to recreate it from scratch, better and distinct from any other Bourbon whiskey in history. So he set it on fire in a bucket, and he caught the drapes and his daughter's hair on fire in the process. The Maker's Mark brand literally began in flames.
Once the recipe was destroyed, Bill needed to innovate in order to save time. He didn't have time to experiment with grain mash bills, different recipes that would ferment, distill, and age over the next few years. He needed to settle on a mash bill soon, so he decided to experiment with baking bread. He used a plethora of different mixtures of grain, baked them, and tasted them, imagining them as whiskey.
One thing Bill was committed to was the reinvention of the traditional rye plus 51% corn mash bill that came standard in Bourbon. He wasn't fond of the spicy taste of rye and wanted to create a Bourbon that went down smoother. And as he baked bread after bread using different grains in different proportions, he settled on the addition of winter wheat into his mash bill, replacing rye and creating a Bourbon mash that held a delicate sweetness: the very quality that has propelled Maker's Mark to the level of fame it now enjoys.
The Best Way(s) to Drink Maker's Mark
Maker's Mark is carefully crafted to enhance the smooth flavors of bourbon while eliminating the raw, spicy qualities of the rye typically found in Bourbon mash. Thus, it's recommended that you try Maker's Mark at least once on its own- neat. But it makes some great cocktails too, so here are some of the best ways to mix Maker's Mark.
Maker's Mark Cocktails
1) Maker's Mark 46® Manhattan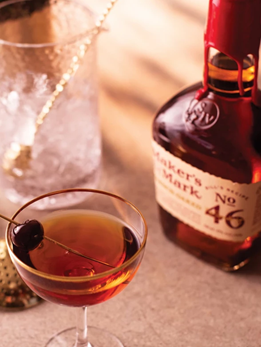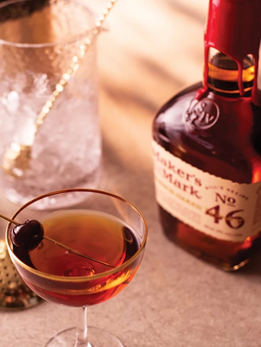 2 parts Maker's Mark 46® Bourbon
1 part sweet vermouth
2 dashes Angostura® aromatic bitters
Luxardo® cherry for garnish
Combine ingredients over ice in a mixing glass. Stir and strain into a chilled cocktail glass neat or on the rocks. Garnish with a Luxardo® cherry.
2) Maker's Mark Cask Strength Boulevardier
1-1/2 parts Maker's Mark Cask Strength
3/4 parts Campari® Liqueur
3/4 parts sweet vermouth
Orange peel for garnish
Add all ingredients to a cocktail mixing glass or other stirring vessel. Add ice. Stir for 30 seconds. Using a cocktail strainer, strain into a serving glass over ice. Garnish with an orange peel.
3) Kentucky Buck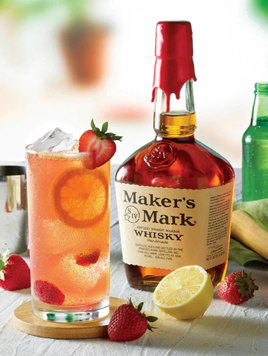 2 parts Maker's Mark Bourbon
1/2 part fresh lemon juice
2–3 whole strawberries, hulled
1 dash Angostura® Bitters
Ginger beer
Fresh strawberry for garnish
Muddle strawberries in a shaker. Add Maker's Mark, lemon and bitters and shake. Strain into an ice-filled glass. Top with ginger beer. Garnish with a strawberry.
4) Bourbon Spritz
1 part Maker's Mark Bourbon
1 part Aperol®
3/4 parts freshly squeezed lemon juice
Splash of simple syrup
Prosecco
Orange peel
Fill a wine glass with ice and layer in Maker's Mark®, Aperol®, lemon juice and syrup. Top with Prosecco and garnish with an orange peel.
5 Best Things to Mix with Maker's Mark
Since Maker's Mark is such a flavor-conscious liquor, it's best to add mixers that complement the bourbon, so here are five single mixers that make for a killer instant Maker's Mark cocktail.
Sour: A whiskey sour is a classic, especially with the delicate flavors of a good Maker's Mark. The sour eliminates the flavor of the ethanol while juxtaposing the sweet, smooth flavors of the winter wheat.
Soda water: Soda water instantly dilutes a liquor without competing with the flavor, while adding some bubbly to zhuzh it up just a bit, which is perfect for this Bourbon whiskey.
Rocks: A large cube of ice is known to instantly chill a nice pour of liquor without watering it down too much. It's effortless and classy, just like Maker's Mark.
Water: A good bourbon is always enhanced by a splash of water. It helps the aromas breathe and the flavors expand.
Ginger beer: A splash of ginger beer goes a long way, and it's especially suited for Maker's Mark. The spicy ginger has no rye to compete with and creates a well-rounded flavor.
Alternatives to Maker's Mark Bourbon Whiskey
Jim Beam Kentucky Straight Bourbon Whiskey- $19: Jim Beam is the oldest brand of Bourbon there is, and the flavor is emblematic of Bourbon itself. In fact, most of the requirements around Bourbon today are founded upon this recipe, so it's a great introduction into the style of Bourbon.
1792 Small Batch Bourbon Whiskey- $35: This one will put hair on your chest. In contrast to the winter wheat utilized in Maker's Mark, this Bourbon uses mostly rye besides the 51% corn required in a Bourbon mash. So it's spicy, sour, and hot.
Buffalo Trace Bourbon Whiskey– $42: Buffalo Trace has been in production, using the same recipe, for 200 years. It tastes rugged as an homage to the buffalo trails that paved the way for settlers to find the first Wild West: Kentucky.
Woodford Reserve Double Oaked Bourbon Whiskey- $60: This bourbon, like Maker's Mark, is smooth and supple. But what makes Woodford Reserve so unique is that it's aged twice, each time in a separate charred oak barrel. This extracts extra soft, sweet oak flavors.
Blanton's Single Barrel Bourbon Whiskey- $250: If you've tried some of these other Bourbons and have found yourself to be a real fan of the style, don't pass up a pour of Blanton's when you get the chance. It's rare, carefully crafted, and straight from single barrels.