About Uncle Nearest Whiskey
Uncle Nearest Whiskey is the most-awarded Tennessee bourbon of 2019 and 2020. Despite being a novice in the whiskey industry, it became a fast-growing brand because it celebrates the legacy of America's first African-American master distiller — Nathan "Uncle Nearest" Green.
But who is Uncle Nearest, anyway?
The Story of Uncle Nearest
Uncle Nearest was a black slave working in a distillery for Rev. Call's farm. On that same farm, the brilliant Jack Daniels was mentored by Uncle Nearest with his unique charcoal filtering process — which was a water-cleaning technique West Africans did. After the Civil War when Green became a free man, Daniels bought the farm and hired Green as his first master distiller.
Uncle Nearest Inc. is a company owned by a Black CEO woman named Fawn Weaver with an all-female executive team since 2017. Weaver isn't related to Green or Daniels — she was merely interested in Green's story. But with the help of Daniel's descendent, Sherrie Moore, Weaver founded Uncle Nearest Inc. To this day, she works closely with Green's descendent as the Master Blender. Meanwhile, Moore is the Director of Whiskey Production.
Where to Buy Uncle Nearest?
Currently, Uncle Nearest is sold in 50 states in the U.S., and 12 countries. You can find them in over supermarkets like Target, Kroger, Whole Foods, Trader Joe's, and Walmart. You can also order online with their partner online retailers through Reserve Bar, Drizly, Passion Spirits, Total Wine & More, Minibar, and Spirit Hub.
How is Uncle Nearest Whiskey Made?
Uncle Nearest is made from corn and rye that's distilled, aged, and bottled in Tennessee at the Nearest Green Distillery. The bourbon whiskey is aged in American oak barrels in a non-temperature-controlled environment and undergoes a post-aging double filtration method.
True to Green's legacy, Uncle Nearest Whiskey still uses the Lincoln County Process. It's the classic method that Green taught Daniels. It's inspired by a common technique used among slaves in West Africa on how they filter their water and purify their food. This filtration technique is what made Uncle Nearest's irresistible smoothness.
You can visit Nearest Green Distillery located at 3125 Highway, 231 N Shelbyville, Tennessee. Book your tickets for the weekends only, since the facility is a working distillery and farm during the weekdays.
Uncle Nearest Whiskey Prices
| Item | Alcohol (ABV) | Size | Price |
| --- | --- | --- | --- |
| 1856 Premium Aged Whiskey | 50% ABV / 100 proof | 750ml | $59 |
| 1884 Small Batch Whiskey | 46.5% ABV / 93 proof | 750ml | $49 |
| 1820 Single Barrel Edition | 55.1% ABV / 115.1 proof | 750ml | $120 |
Uncle Nearest Whiskey Buying Guide
The 1856s are a blend of Uncle Nearest whiskeys, where the age of each whiskey added to the blend ranges from 8 to 14 years.
Uncle Nearest's 1884 whiskeys are blended whiskeys, hand-picked by Uncle Nearest founders and curated by Master Blender, Victoria Eady Butler — a 5th generation descendant of Uncle Nearest himself. Victoria signs the back of each bottle of 1884, making it a collector's item for whiskey and history enthusiasts alike.
All 1820 Single Barrel Edition whiskeys are aged upwards of 11 years, stored in barrels with a minimum cask strength of 108. They must get the approval of Uncle Nearest's founders and whisky professionals. With the stringent selection process, only 1% of the total Uncle Nearest whisky production is bottled as 1820s, making it the most exclusive label under the Uncle Nearest brand.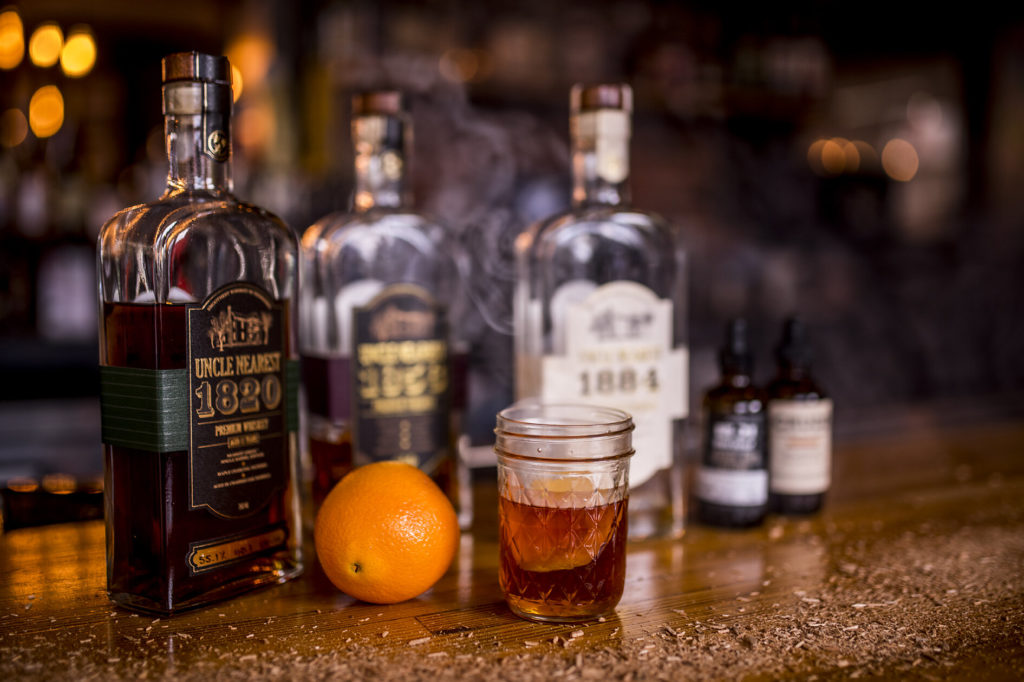 How Good is Uncle Nearest Whiskey?
Uncle Nearest's product portfolio is a mix of affordable and premium, catering to consumers of varying budgets and preferences. As all the whiskeys under their label are Tennessee whiskeys, some bourbon fans may find them to have a milder flavor profile due to the additional filtration step in whiskey production.
Because Uncle Nearest's portfolio is curated to three distinct products, newbies to Tennessee whiskey and longtime enjoyers alike will find something that meets their fancy.
1856 Premium Aged Whiskey
1856s have a golden hue, sweet & floral palate (notes: spice, maple, fruit, caramel), and a vanilla aftertaste. The spice is noticeable but isn't hot, providing balance to the predominantly sweet palate of the whiskey. With a proof lower than most bourbon blends, 1856 makes a nice, everyday sipping whiskey for those who can take the heat.
1884 Small Batch Whiskey
The 1884 Small Batch Whiskey boasts a bright gold color, fruity & sweet palate (notes: banana, charred oak, vanilla, caramel), and cinnamon & spice after taste. 1884 has nuanced notes but is relatively a more simple bourbon blend compared to the 1856. Although it's enjoyable for drinking neat, it doesn't work well when diluted as the flavors are drowned out. Overall, 1884 makes an enjoyable but forgettable drink on its own, but a superb main attraction for bourbon cocktails.
1820 Single Barrel Edition
The 1820 Single Barrel edition has a gold-amber color, smoke & vanilla nose, a spicy & nutty palate, followed by a warm and smoky aftertaste. Compared to its siblings, the 1820 has the most complex flavor that commands its price point, opening up various notes and flavors neat or on the rocks. Bourbon beginners may find it difficult to start with this edition due to the predominantly "darker" flavors and notes, but the 1820 is a welcome break from the predominantly caramel flavor of the other whiskeys in the Uncle Nearest line.
The Best Way(s) to Drink Uncle Nearest Whiskey
Uncle Nearest Whiskey can be enjoyed neat (on its own), on the rocks (with ice), or mixed in a cocktail.
Here are some classic cocktails to enjoy Uncle Nearest whiskey with
Bourbon Sour — A variation of the whiskey sour, bourbon sours provide tarty, sweet notes that contrast with the bourbon's spicy palate.
Hot Toddy — Bourbon is mixed with honey, lemon, and hot water to make a cocktail that's hotter than usual.
Mint Julep — A simple three-ingredient cocktail (four if you count the ice) that lets you whip a drink in five minutes, tops.
Alternatives to Uncle Nearest Whiskey
George Dickel Single Barrel — This contains nearly the same tasting notes as the 1820 single barrel at only a fraction of the cost.
Jack Daniel's Old No. 7 — Arguably the whiskey everyone's heard of, Jack Daniel's Old No.7 is a budget and nostalgia favorite with its signature licorice and smoky notes.
Nelson's Green Brier — With notes of chocolate, cinnamon, and caramel, it's no wonder Nelson's Green Brier is a favorite of whiskey sippers. The affordable price for great quality whiskey doesn't hurt either.