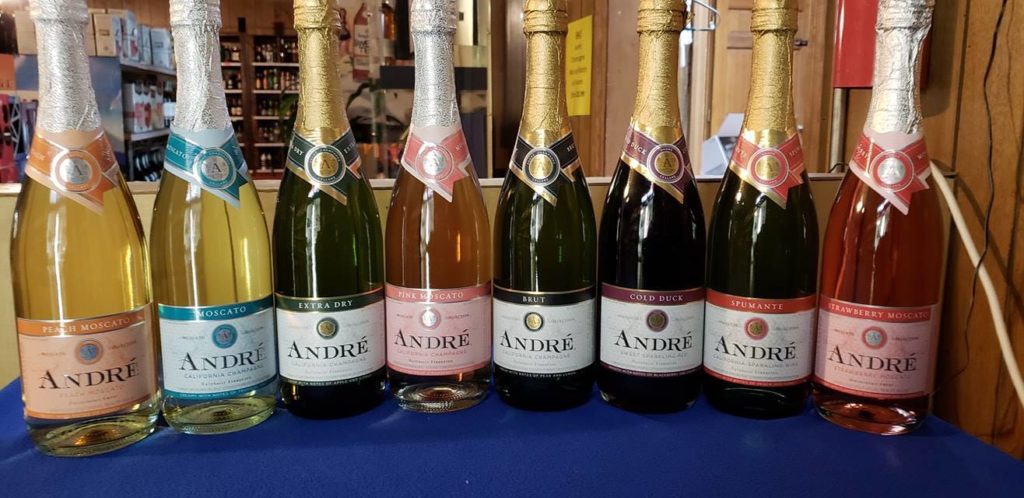 About Andre
Andre Champagne is one of the most popular sparkling wines for celebrating a special occasion or a dinner toast. It's considered a simple, classic, and slightly sweet wine with a crisp, refreshing taste. Andre Champagne began in 1966 and quickly became a popular drink for parties and special events. It's the ideal drink for toasting a new engagement or corporate milestone.
It's a versatile beverage that's available in various flavor blends, and you can purchase your favorite champagne in a bottle or a can. Andre Champagne is created from white grapes grown in California. It's considered an excellent choice for cocktails and mimosas. In addition, you'll find lots of amazing mixed drink recipes to enjoy and experiment with your favorite Andre Champagne flavor.
Places you can buy Andre Champagne
Andre Champagne is available to purchase online at 1000corks.com, drizly.com, and directly from the wine's website at andre-champagne.com. You can also find many varieties of Andre Champagne's wine products at many retailers, including Wal-Mart, Target, and Walgreens. In addition, you'll likely find this sparkling wine in local shops and retailers that carry a popular selection of wines and premium drinks.
Andre Champagne offers a wide selection of blends in flavor and sensation that you can enjoy on its own or as part of your next mimosa.
Andre Champagne Prices
| Item | Alcohol (ABV) | Size | Price |
| --- | --- | --- | --- |
| Andre Brut | 10.5% | 750ml | From $6.99 |
| Andre Brut Can | 9.5% | 375ml | From $3.99 |
| Andre Brut Rose | 9.5% | 750ml | From $6.99 |
| Andre Brut Rose Can | 9.5% | 375ml | From $3.99 |
| Andre Extra Dry | 10.3% | 750ml | From $7.07 |
| Andre Blush | 9.5% | 750ml | From $6.99 |
| Andre Cold Duck Sweet Sparkling Red | 13% | 750ml | From $6.99 |
| Andre White Champagne | 9.5% | 750ml | From $7.99 |
| Andre Moscato | 9.5% | 750ml | From $6.99 |
| Andre Pink Moscato California Champagne | 9.5% | 750ml | From $6.99 |
| Andre Peach | 7.2% | 750ml | From $6.99 |
| Andre Scherer Riesling | Varies | 750ml | From $20.99 |
| Andre California White | Varies | 750ml | From $6.49 |
| Andre Strawberry | 6.5% | 750ml | From $6.99 |
| Andre Spumante | 9% | 750ml | From $6.99 |
Andre Champagne Buying Guide
Each Andre Champagne product features a distinct blend of flavors with a crisp and dry or sweet finish.
Andre Brut offers a dry finish with a blend of lemon and pear flavors. It's an excellent option for a mimosa.
Andre Brut Rose features a strong tart and berry taste, combining a hint of raspberry and cranberry with a dry finish. There are also notes of pear, citrus, apple, and strawberry.
Offering hints of apple and citrus, Andre extra dry provides a blend of pear and apple with a taste that's not too sweet but with just enough sugar to enjoy as a mixed drink. It's a fantastic option for a weekend brunch or party.
The perfect option between red and wine, Andre Blush is sweet enough to enjoy raspberry and honey flavors without too much sugar.
Andre's Cold Duck offers the mid-range of sweet and dry, with hints of cherry and blackberry. This beverage is ideal for small, informal parties and a relaxed night in. It's a tasty wine on its own or as a mixer.
Andre Moscato features a solid tropical taste that leans towards a sweet finish. It's bubbly with strong citrus hints, making it ideal for formal and relaxed occasions during the summer.
This tasty champagne provides rich tones of strawberry and honey with a sweet flavor ideal for an elegant evening of dining or a house party. You'll also detect cherry and orange, which offers a potent blend of sweet mix of cherries and citrus.
Andre Peach is ideal for a brunch or light weekend lunch with friends. This beverage is sweet to taste and the perfect sipping wine to enjoy hints of honey and peach, with slight notes of orange.
This sweet strawberry wine is a fantastic treat for your next outdoor picnic or party, with a slight tone of a watermelon and strawberry flavor blend that's ideal for spicy dishes. You'll also detect pomegranate aromas.
Andre Spumante is slightly sweet with tart flavors, with hints of peach and honey. It's a great bubbly to enjoy with your brunch and a great way to enjoy a sweet treat. It's a beautiful gift idea and a fun party drink.
Food Pairings
There's a great variety of sweet and savory food pairings with Andre Brut champagne, including eggs, cheese, pasta, rice dishes (especially risotto), lobster, almond, and mushroom-based meals. Sweet dishes, appetizers, and desserts to pair with Andre Brut include chocolate-coated espresso beans, figs, berries, and dark chocolate.
The Best Way to Drink Andre Champagne
Andre Champagne offers a great variety of bubbly to sip in the evening with a group of friends for dinner or at a house party or cookout. Many of the sweet varieties of wine are great to pair with spicy food, and the drier options are great on their own or as a mixer.
Weekend brunch is a great way to sip your favorite Andre Champagne beverage or mix with a mimosa or cocktail later in the day. Champagne, in general, pairs well with strong-flavored foods such as dark chocolate, sharp cheddar, smoked meats, egg platters, and seafood entrees.
Which Andre Champagne is good for mimosas?
Most champagne beverages are excellent for mixing with other drinks to create mimosas and cocktails. The best options for mimosas are Andre Brut and Andre Cold Duck Sweet Sparkling Red. While you can mix any Andre Champagne with juice, you'll find these two options make a great blend with orange juice.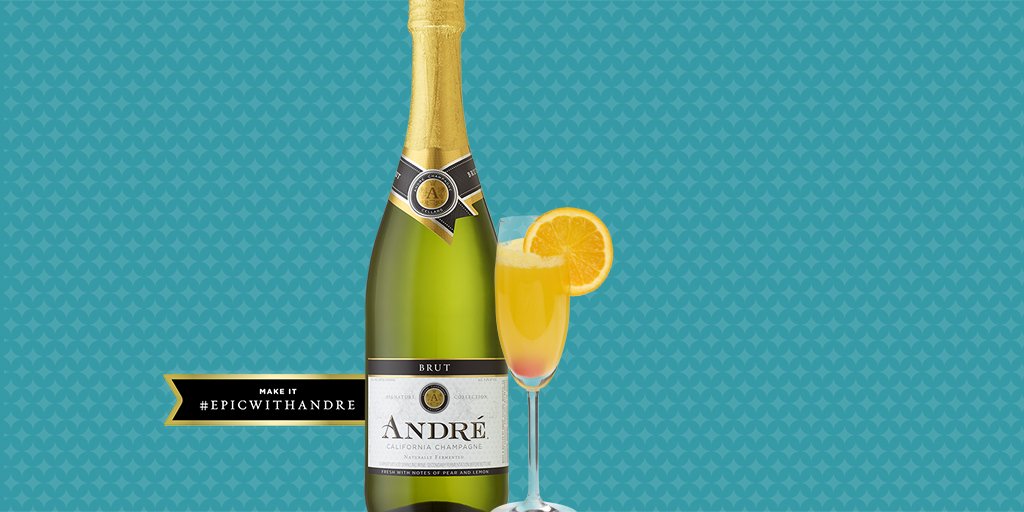 Alternatives to Andre Champagne
Several alternative sparkling wines are comparable to Andre Champagne, with a bit of variance in price:
Chandon – costs around $60 per bottle, and while it's more expensive than Andre, it's considered a popular choice. It's relatively inexpensive compared to other sparkling wines, which often cost over $100
Moet – close in price to Chandon, and usually around the 450 to $60 price range. Both Moet and Chandron are often sold together as part of the same Champagne house. They are excellent for anyone new to champagne.
Cooks Champagne – closer to the price of Andre Champagne, at roughly $7 a bottle. It is considered one of the most popular inexpensive wines in America and originates from California. This brand is also one of the first champagne brands in America and continues to be a favorite choice today.
Korbel – sells for around $10 to $13 a bottle and is another popular choice for celebratory events. This brand offers many similar styles of sparkling wine, like Andre, including Brut and Brut Rose.
Sparkling wine is a popular choice for many occasions and finding the perfect flavor and pairing is easy with the variety of champagne options and brands currently available. Many of these wineries are well-established with excellent products ideal for novice taste, whether you're looking for a sparkling wine to create your next mimosa or celebrate a birthday, anniversary, or corporate event.