About Cincoro
Cincoro Tequila is a premium tequila brand founded in 2019 by five NBA owners, including Chicago Bulls' Michael Jordan. The five friends had dinner together in 2016 and discovered they all loved high-quality tequila, sparking the idea for a tequila brand of their own.
Cincoro is the combination of the Spanish words cinco and oro. Cinco means five, which stands for the five co-founders. Oro means gold and symbolizes how they set out to create a tequila that was the gold standard.
Cincoro Tequila comes in a uniquely shaped glass bottle with five sides for the five owners in a flowing shape larger at the base and narrowing toward the top. The shape resembles the leaf of an agave plant.
All four varieties of Cincoro Tequila consist of 100% Weber Blue Agave, which marks it as a true tequila and not a "mixto" that can contain as little as 51% agave.
Cincoro offers four standard types of tequila:
Blanco – a clear and unaged tequila
Reposado – typically aged several months but less than a year
Añejo – aged for around 2 years
Extra Añejo – ages for over 3 years
Locally, you should be able to buy Cincoro at Walmart, Target, Total Wine or local liquor stores. Many online stores also ship Cincoro to states that allow it like Reservebar.com, Drizly.com etc. You may be able to buy Cincoro Tequila directly from the Cincoro website, though they don't ship everywhere in the US.
Cincoro Tequila Prices
The cost of Cincoro Tequila depends on where you purchase it. Some online liquor sellers offer better prices and discounts you won't find ordering direct or purchasing from local liquor stores.
Item
Origin
Aged for
Alcohol (ABV)
Sizes
Price
Cincoro Blanco
Jalisco, Mexico
0-2 months
40% (80 Proof)
750ml
$70
Cincoro Reposado
Jalisco, Mexico
8-10 months
40% (80 Proof)
750ml
$90
Cincoro Añejo
Jalisco, Mexico
24-28 months
40% (80 Proof)
750ml
$130
1.75L
$390
Cincoro Extra Añejo X – Limited Edition
Jalisco, Mexico
40-44 months
40% (80 Proof)
750ml
$1600
Cincoro Tequila (3 Bottles: Blanco, Reposado, Añejo)
Jalisco, Mexico
40% (80 Proof)
750ml each
$300
If you're trying to decide which variety of Cincoro Tequila to start with, the two most important considerations are your budget and how you plan to drink it. All Cincoro Tequila runs on the sweet side compared to many other brands.
Blanco is an unaged, clear tequila that's usually the least expensive of any brand's offerings and best for mixing in a margarita or other drink that will bring out the liquor's sweet and citrus notes.
If you prefer to spend less, especially if you plan to use tequila in cocktails with several other ingredients, Cincoro Blanco will meet your needs.
Reposado is a variety of tequila with a golden honey color and rich taste that develop during aging, making it suitable for both sipping and use in cocktails.
Cincoro Reposado costs only a little more than Cincoro Blanco and offers a hint of coconut and caramel with a woody finish from the slight aging.
Dark chocolate and maple flavors make Cincoro Añejo a tequila perfect for use in cocktails with only one or two other ingredients where the taste of the liquor gets center stage. Aged over two years, it's an excellent tequila for sipping and costs about twice as much as Cincoro Blanco.
The large 1.75L bottle comes in the same signature shape as other Cincoro bottles with a gold box that makes it perfect for gift-giving.
Cincoro Extra Añejo comes with a premium price tag after being aged over three-and-a-half years. The striking black bottle and the cost make Cincoro Extra Añejo perfect as a bar showpiece and a sipping tequila to be savored during special occasions.
The Best Way(s) to Drink Cincoro Tequila

One of the best ways to drink a premium tequila like Cincoro is chilled and straight, with or without ice, as a sipping tequila. Unlike shots of tequila that people often gulp, premium tequila is balanced enough to stand alone.
Cincoro Tequila also makes delicious drinks substituted for other liquors or used in a cocktail designed around tequila.
1) Classic Margarita
Cincoro Blanco is perfect for a classic Margarita cocktail. If you prefer your drink sweeter, add agave nectar a few drops at a time until it's to your taste. Mix:
4 ounces of tequila
2 ounces of triple sec, like Cointreau
The juice of two limes (about 1.5 parts)
Lime wedges or wheels
Coarse salt to coat the glass rims
2) Old-Fashioned
Whether you prefer your Old-Fashioned with bourbon or rye, you can substitute Cincoro Añejo into the drink for a new twist on an old favorite. You can use a traditional sugar cube instead of the agave nectar, but the sweet nectar adds an authentic Mexican touch to the cocktail. Mix:
2.5 ounces of tequila
.5 ounces agave nectar
2-3 dashes of bitters
A slice of orange peel to serve
3) Paloma
A Paloma is one of the best ways to enjoy Cincoro Tequila and can be made with grapefruit juice and a splash of agave nectar for sweetness with a club soda top-off or your favorite grapefruit-flavored soft drink. Mix:
1 part Cincoro Reposado
2-3 parts grapefruit-flavored soda
Splash of lime, to taste
A wedge of lime on the glass to serve
4) Jalisco Mule
This tequila cocktail is best in a copper mule mug, though a rock glass will work in a pinch. Fill the cup or glass with crushed ice. Over the ice, pour:
The juice of half a lime, or about half an ounce of juice
2 ounces of Cincoro Reposado
3 ounces of your favorite ginger beer
Stir and top with more crushed ice. You can garnish this with lime wedges or wheels.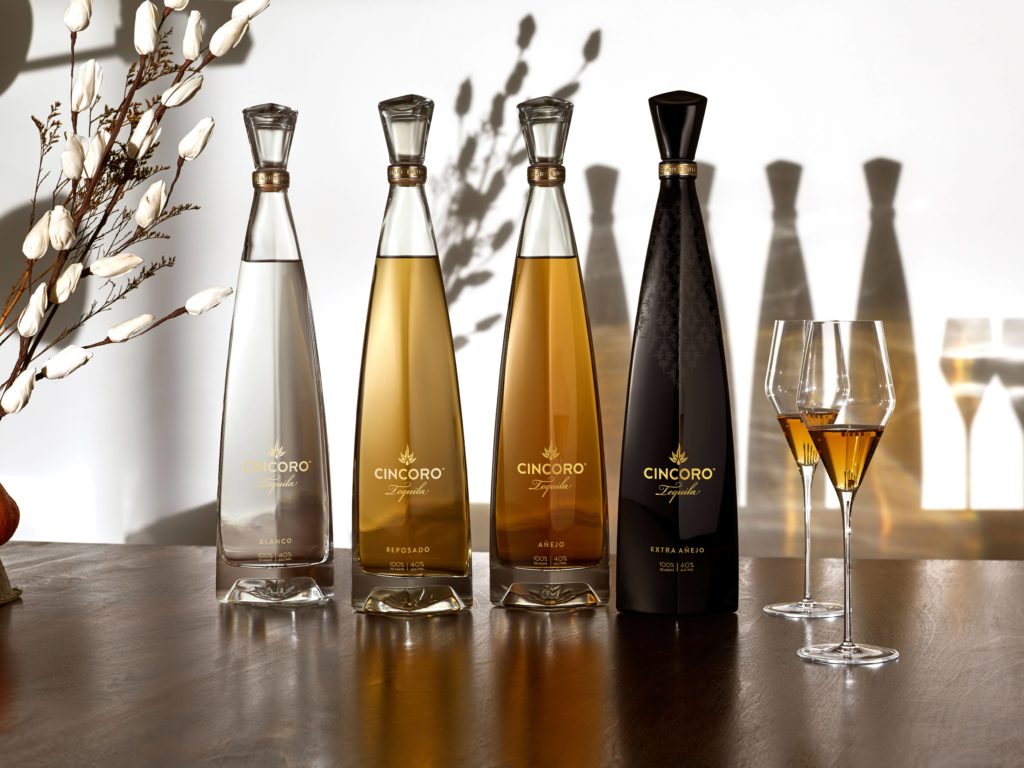 5 Best Things to Mix with Cincoro Tequila
Cincoro Tequila mixes well with ingredients known to balance the flavors of tequila and enhance its properties. Most mixers lean toward being either dry or sweet, so cocktail lovers who prefer one over the other have plenty of options.
Most things that mix well with bourbon, rye, or gin pair nicely with Cincoro Tequila. Cincoro Blanco works best with mixers preferred with gin or vodka, while Cincoro Respado and Cincoro Añejo work best in place of bourbon or rye.
Some of the best mixers for Cincoro Tequila include:
Grapefruit juice or grapefruit soda
Lime juice
Tomato juice
Tonic water or club soda
Ginger ale or ginger beer
Tequila Alternatives to Cincoro Tequila
If you're looking for a 100% agave tequila alternative to Cincoro, Patrón and 818 may fit the bill.
Patrón Tequila: A 750 ml bottle of Patrón Extra Añejo costs about $80, only a few dollars more than the least expensive bottle of unaged Cincoro Blanco. The Patrón line starts at about $40, and their Limited Edition Extra Añejo that's barrel-aged for a decade only costs about $350.
818 Tequila: For a less expensive tequila brand that also has a famous name behind it, try 818 Tequila. Kendall Jenner created this tequila brand that starts at about $45 for 818 Tequila Blanco. The 818 Tequila Añejo costs about $75, or about the same as the least-expensive bottle of Cincoro Blanco.