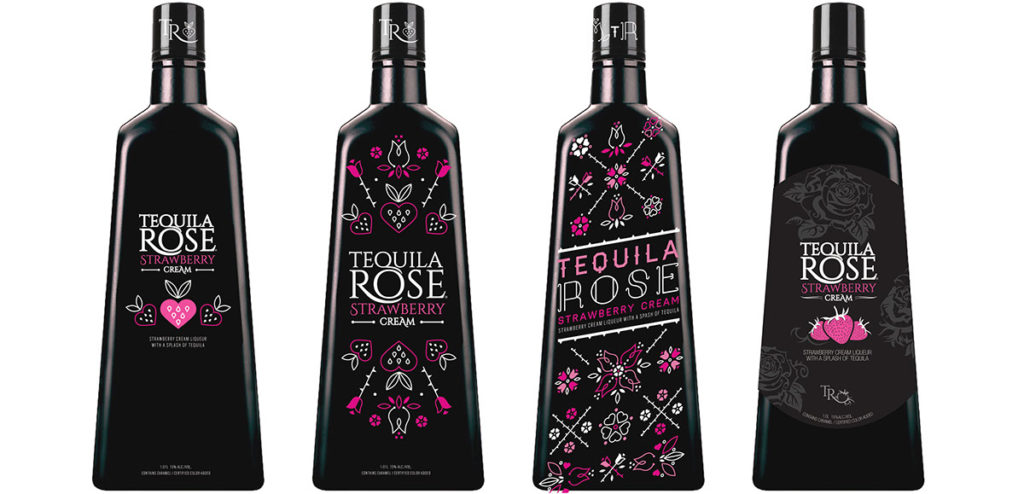 About Tequila Rose
Tequila Rose was launched by the McCormick Distilling Company in 1996. It is the first strawberry cream liqueur and blazed the trail for other cream liqueurs that followed it. Yet the original still dominates the market as the top-selling strawberry cream liqueur worldwide.
McCormick developed Tequila Rose to inspire easy-to-mix, sweet cocktails. The brand is targeted at younger crowds, particularly women. Tequila Rose celebrated its 20th anniversary in 2016 with a unique color-changing bottle. The roses on the bottle turn pink when the Tequila Rose is perfectly chilled.
Tequila Rose is promoted as the perfect Girls Night drink as it makes a variety of sweet, pink cocktails and shots. You will find some delicious recipes for Tequila Rose below.
Is Tequila Rose tequila?
No, Tequila Rose is primarily a strawberry cream liqueur with a splash of Mexican imported tequila as an ingredient. Other ingredients include sugar and real dairy cream. This is a great choice for introducing tequila to your palette since the sweetness of the strawberry is more pronounced than the flavor of the tequila.
Tequila Rose Prices
Item
Origin
Aged
Alcohol (ABV)
Size
Price
Tequila Rose Strawberry Cream
Missouri, USA
None
15% (30 proof)
375ml
$16.99
750ml
$21.99
1L
$45.99
1.75L
$54.99
Gift Set
Various
What is Tequila Rose Like?
Tequila Rose is a sweet, creamy strawberry liqueur. The fruit and cream take the center stage in the flavor profile of this drink. The tequila gives it just a hint of spirit flavor. Many reviewers say that it is like an adult milkshake. It also pairs well with other cream liqueurs and spirits for dessert cocktails.
The makers bottle it in black glass to keep out light and seal it in freshness. Tequila Rose is available in many-size bottles and as gift sets. You'll find the gift sets during the Valentine's Day season.
There are two other versions of Tequila Rose available in the same bottle sizes and comparable prices. These are Tequila Rose Java and Tequila Rose Cocoa. They are coffee and chocolate flavors that are not combined with strawberry. So, if you are looking for that classic strawberry cream flavor, stick with the original.
The Best Way(s) to Drink Tequila Rose
Tequila Rose can be served nearly anyway. A chilled shot is a classic pour for Tequila Rose. Here are three excellent cocktails from the Tequila Rose website.
Strawberry Blonde
4 oz. Tequila Rose
1 oz. Orange liqueur
2 oz. Banana liqueur
1 oz. Spiced Rum
2 oz. Strawberry Purée
-Add ingredients to a shaker and dry shake for 20-30 seconds.
-Add ice and shake with ice for 20-30 seconds.
-Strain into a glass with ice.
-Garnish with fresh strawberry and banana slices.
Strawberry Watermelon Margarita
2 oz. Tequila Rose
1 oz. Tequila
3 oz. Watermelon purée
0.05 oz. fresh lime juice
-Blend ingredients with ice and pour into a glass.
-Garnish with a watermelon slice.
PB&J Martini
Want to go out on a limb with your next cocktail? Try this one that will bring you back to your school days but with a level of adult sophistication.
3 oz. Tequila Rose
0.05 oz Strawberry purée
1 tsp. Peanut butter
-Add ingredients to a shaker and dry shake for 20-30 seconds.
-Add ice and shake for another 20-30 seconds.
-Pour into a martini glass rimmed with peanut butter and strawberry jelly.
Pink Russian
Since Tequila Rose's creamy texture lends well to mixing with other cream liqueurs, here is a fantastic twist on a classic drink. Replace the heavy cream in a White Russian with Tequila Rose for a strawberry twist and tequila kick.
1 oz. Kahlua
1 oz. Vodka
1 oz. Tequila Rose
-Serve in a rocks glass over ice.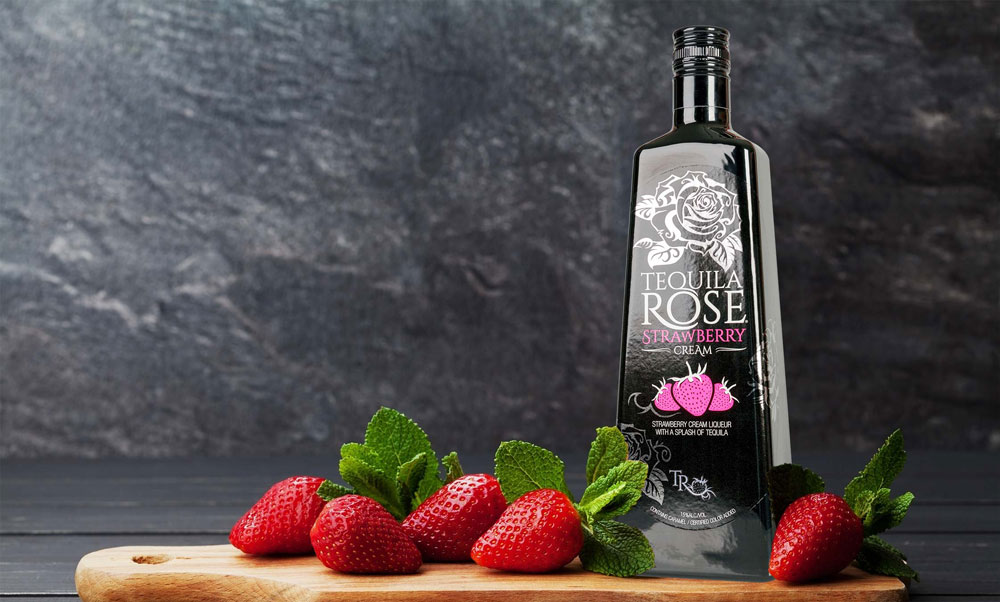 5 Best Things to Mix with Tequila Rose
Tequila Rose is a wonderfully versatile, sweet liqueur. Here are the five best things to mix with Tequila Rose.
Coffee: Because the Tequila Rose is creamy and sweet, it makes the perfect mixer for your coffee over brunch.
Tropical Fruits and Ice: Blend a frozen treat with any combination of fruits and ice. Tequila Rose makes an excellent base for a smoothie with a little bit of liqueur.
Kahlua: Tequila Rose mixes well with other cream liqueurs. Try the Pink Russian recipe above.
Rum: Whether spiced or flavored, the strong strawberry notes of Tequila Rose will balance and blend well with many rums.
Other Fruit Liqueurs: Just like Tequila Rose pairs well with natural fruit for smoothies, it also makes fantastic cocktails that include different fruit flavors such as orange and banana.
Let's answer a few more questions about Tequila Rose.
Tequila Alternatives to Tequila Rose
You may be looking for more tequila flavor than what you get with Tequila Rose. Several cocktails call for adding more tequila to mix with Tequila Rose. Or perhaps you want to bypass the strawberry flavor. Here are four excellent silver tequila alternatives for you.