About Deep Eddy Vodka
Vodka is the simplest, purest liquor in the world. It's virtually odorless and tasteless, making it perfect for flavoring and enjoying socially, and these two facts are the basis of Texas vodka brand Deep Eddy.
Clayton Christopher, Gary Crowell, and Chad Auler began Deep Eddy in 2010, right at the beginning of the early 2010's vodka boom. Until this point, vodka had been largely dismissed by social scenes. It was passe, tired, and uncool. But the founders of Deep Eddy recognized a new wave of Vodka recognition was coming. As premium and craft brands began to emerge, the founders of Deep Eddy took their cue to begin distilling their corn vodka in Texas.
Christopher, Crowell, and Auler knew that with vodka, quality and fun were the key ingredients. Vodka is produced of whatever crop is economical, and the distillation process and flavor are the actually important factors. That's why they chose corn, and that's why their vodka is distilled 10 times for optimal purity of color and flavor.
Named for the oldest pool in Texas, "Deep Eddy", fun is engrained in the very identity of Deep Eddy. They've sponsored hundreds of music festivals and they take care to ensure every product in their lineup can enhance the level of fun in any environment.
Deep Eddy was run by its founders for a few years before they sold the brand to Heaven Hill Distillery, who currently owns, distills, and distributes the brand.
Where to Buy Deep Eddy Vodka
Deep Eddy Vodka is widely available at most bars, restaurants, and liquor retailers. If you'd like to guarantee stock at a store, visit drizly.com to check stores near you. But you'll find it in most liquor stores and supermarkets (where supermarket sales are legal). Walmart, Costco, Publix, and Kroger all have been known to carry the brand, so your odds are good wherever you look for Deep Eddy Vodka.
Deep Eddy Vodka Prices
Item
Alcohol (ABV)
Size
Price
Corn Mash Vodka
Deep Eddy Vodka
40% (80 proof)
50ml
$1.80
375ml
$8.00
750ml
$14.00
1L
$21.00
1.75L
$29.00
Flavored Vodka
Deep Eddy Lime Vodka
35% (70 proof)
50ml
$1.80
375ml
$8.00
750ml
$14.00
1L
$21.00
1.75L
$29.00
Deep Eddy Orange Vodka
35% (70 proof)
50ml
$1.80
375ml
$8.00
750ml
$14.00
1L
$21.00
1.75L
$29.00
Deep Eddy Cranberry Vodka
35% (70 proof)
50ml
$1.80
375ml
$8.00
750ml
$14.00
1L
$21.00
1.75L
$29.00
Deep Eddy Sweet Tea Vodka
35% (70 proof)
50ml
$1.80
375ml
$8.00
750ml
$14.00
1L
$21.00
1.75L
$29.00
Deep Eddy Peach Vodka
35% (70 proof)
50ml
$1.80
375ml
$8.00
750ml
$14.00
1L
$21.00
1.75L
$29.00
Deep Eddy Ruby Red Vodka
35% (70 proof)
50ml
$1.80
375ml
$8.00
750ml
$14.00
1L
$21.00
1.75L
$29.00
Deep Eddy Lemon Vodka
35% (70 proof)
50ml
$1.80
375ml
$8.00
750ml
$14.00
1L
$21.00
1.75L
$29.00
Deep Eddy Canned Cocktails
Deep Eddy Lemon Vodka + Soda
4.5%
12 oz x 4
$12
Deep Eddy Ruby Red Vodka + Soda
4.5%
12 oz x 4
$12
Deep Eddy Vodka Buying Guide
Deep Eddy started with a simple corn mash 10-times distilled clear vodka. It's tasteless, odorless, and no-fuss. This vodka is affordable and mixes well in almost any cocktail, letting the highlight of the beverage be the flavor. It's also great for taking chilled shots, as it goes down smooth with no added notes or flavors.
Deep Eddy shines in its flavored range. These flavors are packed with a punch, lightly sweetened, but still low in carbs, calories, and sugar. They automatically make a complex cocktail when mixed with single mixers like soda water, and they enhance the flavors of new and traditional cocktails as well. Also give these a try for a shot shaken on ice. They'll taste like a mixed shooter.
In 2021, Deep Eddy began producing canned cocktails. They've released two flavors so far, and plan to release more in the coming years. So far, their Deep Eddy Ruby Red and Deep Eddy Lemon vodkas are available in cans mixed with soda water, one of Deep Eddy's recommended ways to drink the liquors. These are for you if you plan to take your Deep Eddy on the go and can't mix a drink wherever you end up.
The Best Way(s) to Drink Deep Eddy
Deep Eddy is meant for mixing. It's odorless and tasteless, which means it mixes seamlessly with any of your favorite concoctions. Here are some of the best ways to mix Deep Eddy for your enjoyment.
Deep Eddy Cocktails
1) Amarillo by Morning
1.5 oz Deep Eddy Cranberry Vodka
.5 oz Lemon Juice
.5 oz Averna Amaro
.5 oz Honey Syrup (Combine equal parts honey and warm water. Stir until mixed.)
Combine all ingredients into ice-filled cocktail shaker. Shake hard and strain into ice-filled rocks glass. Garnish with lemon twist.
2) Classic Bloody Mary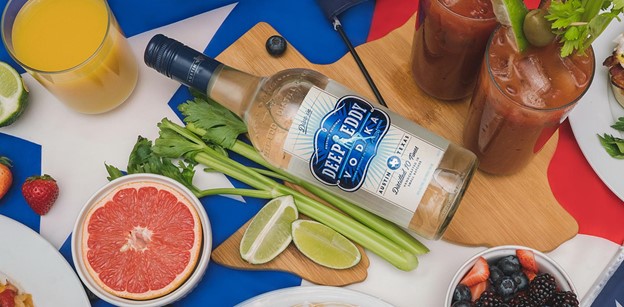 2 oz Deep Eddy Original Vodka
Top with Bloody Mary Mix
Pour Deep Eddy Original Vodka into a Collins glass, add ice and top with Bloody Mary Mix and stir thoroughly. Garnish with celery, lime and olives. Add cracked pepper, hot sauce, Worcestershire sauce, or horseradish to taste.
3) Balancing Act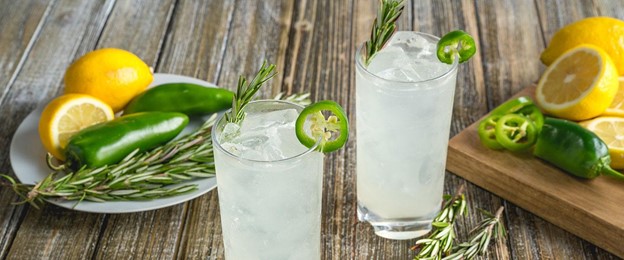 2 oz Deep Eddy Lemon Vodka
2 Slices Fresh Jalapeño
2 Stems Fresh Rosemary
Top with Lemonade
Combine Deep Eddy Lemon Vodka, jalapeño slice, and fresh rosemary sprig into a cocktail shaker and shake vigorously. Strain contents into a Collins glass over ice and top with lemonade. Garnish the cocktail with an additional jalapeño slice and rosemary sprig.
4) Lemon Basil Martini
2 oz Deep Eddy Lemon Vodka
2 Basil Leaves
.25 oz Simple Syrup
Muddle basil and simple syrup in a cocktail shaker. Add Deep Eddy Lemon Vodka and ice then shake and strain into chilled martini glass. Garnish with a basil leaf.
5 Best Things to Mix with Deep Eddy
Deep Eddy makes many flavors and varieties that mix easily with single mixers to seem more complex than they are. Here are the 5 best.
Soda water: Soda water is so good with Deep Eddy's flavored vodkas they've canned and sold it. Mix it with any flavored vodka from Deep Eddy, and if you're into the simple flavor of a vodka soda Deep Eddy's original vodka is also a great substitute.
Lemonade: Most of Deep Eddy's flavors, as well as their 10-distilled original vodka, mix flawlessly with lemonade. Use a flavored vodka for a flavored lemonade, or use the original for a tasteless addition to a refreshing lemonade. You can even try Deep Eddy Sweet Tea vodka for an instant spiked arnold palmer.
Ginger beer: Flavored mules are all the rage, so consider using a flavored Deep Eddy vodka in place of plain vodka and a squeeze of lime for an off-kilter moscow mule.
Pineapple juice: Much like soda water, pineapple juice is known as a catch-all for liquors. It's good mixed with everything, especially Deep Eddy flavored vodkas. The reason pineapple juice is so popular with liquor is it has a knack of cutting through the flavor of ethanol, so this is perfect for a refreshing summer spritz.
Tonic: If you're a tonic person, consider mixing it with Deep Eddy's original vodka. The savory, mineral flavors of tonic stand out well without competition against Deep Eddy's 10-times-distilled vodka.
Alternatives to Deep Eddy Vodka
Smirnoff- $10: Smirnoff is known for its affordability, so this is for you if you're not looking to spend much money. But they have a lot of flavors as well, so make sure to check those out.
New Amsterdam Pink Lemonade Vodka- $15: This American-made flavored vodka is practically a cocktail in its own right. If you've tried and enjoyed Deep Eddy flavored vodkas, you'll love this one.
TexasCraft Sour Pickle Vodka- $19: If you liked Deep Eddy Sweet Tea Vodka for its unique take on flavored liquor, you'll adore this pickle flavored vodka. There's nothing like it, and it packs a flavor punch for new cocktails.
Three Olives Loopy Flavored Vodka- $25: This premium vodka is packed with tropical flavors, so if you are a fan of Deep Eddy, you might like this flavor Deep Eddy doesn't offer.
Tito's Vodka- $27: This Texas vodka, distilled not far from the origin of Deep Eddy, is also produced from corn. If the idea of corn vodka is appealing to you, you'll love Tito's. They don't make flavored vodka, but they've perfected the art of amazing corn vodka.