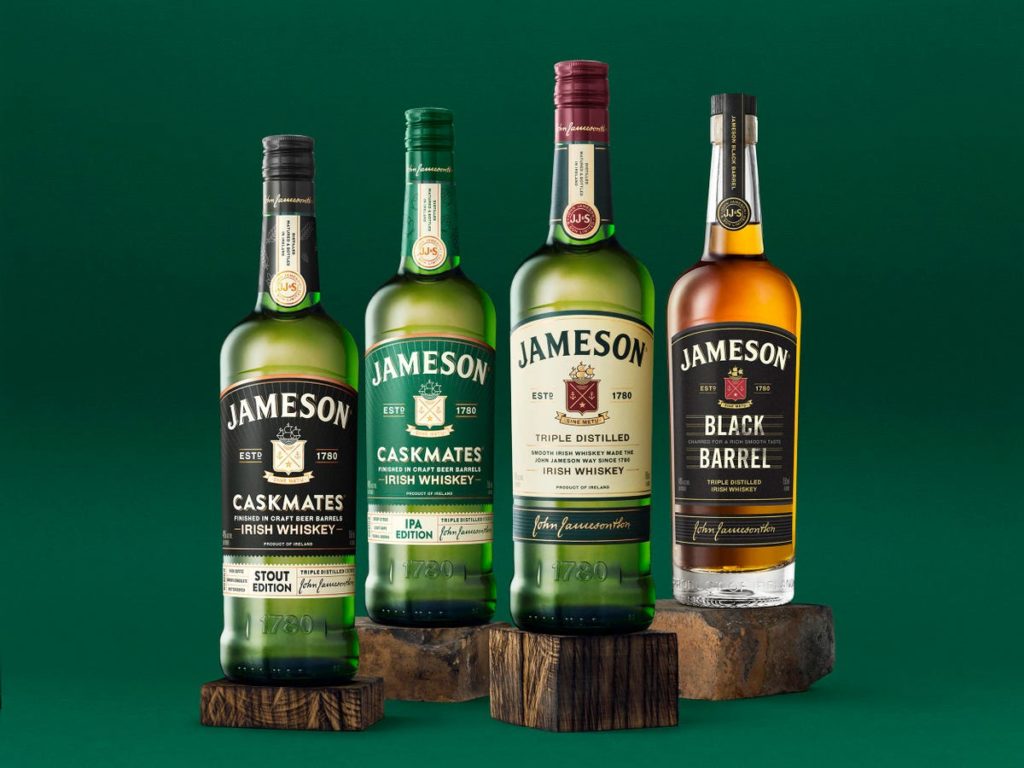 About Jameson Irish Whiskey
According to The Irish Times, Jameson Irish Whiskey sold 8.6 million cases of whiskey in 2020, despite the COVID-19 pandemic. It's so famous that its brand name became synonymous with Irish whiskey. Jameson is known for its exquisitely smooth blended Irish whiskey.
Who Made Jameson Irish Whiskey?
It started in 1780 with a Scotsman named John Jameson who left his stable life in Scotland and got off the boat with his family in Dublin to set up the Bow Street Distillery. At that time, there were already established Irish whiskey brands around. But over the years, Jameson proved to be outstanding.
The Jameson brand is owned by a French company called Pernod Group after it was acquired in 1988. Pernod Group has an extensive portfolio of over 240 spirit brands.
Where Can You Buy Jameson Irish Whiskey?
The Jameson Irish Whiskey is popular across the world. Today, you can find the familiar green bottles of Jameson Irish Whiskey in supermarket chains like Costco, Tesco, Walmart, and Target.
If there are no stocks in your nearby grocery stores, you can also order online. Online retailers like Reserve Bar, Caskers, Drizly, and Instacart can deliver to your home.
How is Jameson Irish Whiskey Made?
With a single distillery to blend all its whiskies, Jameson has full control — "from grain to glass" — of their whiskey production. They blend rich pot still whiskey made from barley (malted and unmalted) with the finest grain whiskey. The exceptional smoothness of the blended Irish whiskey pays off with Jameson's well-known triple distillation process — a legacy that has been carried on up to this day through Head Distiller Brian Nation.
Jameson Irish Whiskey's Ageing Process
An Irish whiskey must be aged in Ireland for a minimum of 3 years. Although Jameson is an Irish whiskey, they also outsource their barrel casks from the U.S. and Spain. These casks were once filled and aged with bourbon and fortified wine before passing them on. That's how the flavors of toasted wood, vanilla, and sweet sherry come out.
Most-Visited Whiskey Distillery Experience
Both of its single distilleries are located in Ireland. Bow St. Distillery at Dublin is where the iconic birthplace of the brand is, while Midleton Distillery at County Cork houses the world's largest pot still.
Tours are available for booking 7 days a week. If you can't visit in person, Jameson also has a virtual tour on their website. No need to fly your way to Ireland — experience the whiskey-making process right at your home.
How Much Does Jameson Irish Whiskey Cost?
A typical Jameson bottle can cost between $20 to $160. The most affordable Jameson product is also the best-selling original blend at 40% ABV (80 proof). The Whiskey Maker Series with much higher alcohol content at 43% ABV (86 proof) costs a bit more around $70/bottle. Meanwhile, the premium product of Jameson is its 18-year old rare whiskey which costs above $150.
The smallest bottle you can buy from Jameson is a miniature 50-mL bottle. Jameson Family Miniature Pack ($20) is a great gift set idea consisting of the original blend, stout edition, black barrel, and crested varieties.
How Good is Jameson Irish Whiskey?
With its popularity across the world, Jameson Irish Whiskey lives up to the hype as the best-selling Irish whiskey. It's a fairly cheap Irish whiskey, but it also has high-end products in its portfolio. Among all of its products, the favorites are:
Original Blend
Jameson Black Barrel
Jameson Caskmate IPA Edition
Jameson Cold Brew.
Without a doubt, the go-to Jameson is the Original Blend. Beyond the classic taste, Jameson Black Barrel has stellar reviews raving about its rich yet subtle flavors, with signature Jameson smoothness. Of course, there's also the butterscotch aroma.
Once opened, store them at room temperature and place them upright preferably in a dark place. Make sure to seal them properly so they can last about 1 to 2 years. The alcohol content in the whiskey is sufficient to preserve it without placing them in the fridge.
Jameson Irish Whiskey Prices
Item
Alcohol (ABV)
Size
Price
Jameson Irish Whiskey (Original Blend)
40% (80 proof)
750ml
$29.99
Jameson Cold Brew
40% (80 proof)
50ml
$2.49
750ml
$31.89
Jameson Black Barrel
40% (80 proof)
750ml
$40.99
1L
$49.99
Jameson 18 Years
40% (80 proof)
750ml
$158.99
Jameson Caskmates IPA Edition
40% (80 proof)
750ml
$34.09
1L
$43.99
Jameson Caskmates Stout Edition
40% (80 proof)
750ml
$34.09
1L
$44.08
Whiskey Makers Series
The Cooper's Croze
43% ABV / 86 proof
750ml
$71.99
The Blender's Dog
43% ABV / 86 proof
750ml
$70.99
The Distiller's Safe
43% ABV / 86 proof
750ml
$69.99
Alternatives
Tullamore D.E.W Irish Whiskey
40% ABV (80 proof)
750ml
$28.03
Bushmills Irish Whiskey
40% ABV (80 proof)
750ml
$26.99
Powers Gold Label
40% ABV (80 proof)
750ml
$33.25
Paddy's Irish Whiskey
40% ABV (80 proof)
750ml
$21.99
Jameson Irish Whiskey Buying Guide
Jameson Irish Whiskey is the original blend made up of pot still and fine grain whiskey aged at least 4 years in oak casks. Hence, its spicy, nutty, and vanilla taste with hints of sweet sherry.
Bringing together the best of triple-distilled Jameson Irish Whiskey and natural cold brew. And no, there's no sugar in it. Just dark chocolate and rich coffee aroma made from Arabica beans of Brazil and Colombia. This will not only delight the whiskey aficionados but with coffee lovers as well.
By double charring the bourbon barrels, Jameson Black Barrel is more flavorful in a subtle way. It greets you first with aromas of butterscotch, fudge, and creamy toffee. The taste still has the spice and vanilla smoothness, but with more apparent nutty notes.
A rare whiskey matured in European and American first-fill bourbon oak casks for 18 years. If you enjoy complex flavors like fudge, toffee, spice, wood, leather, sherry, and vanilla — this one's for you. It might sound intimidating, but Jameson 18 Years is wonderfully mellow and smooth with lasting finish of wood, spice, and toffee.
Jameson Caskmates is a collaboration between Jameson's Head of Whiskey Science and the Head Brewer of a local craft beer brewery. It's triple-distilled Irish whiskey filled in craft-beer soaked barrels.
Stout Edition — Jameson Irish Whiskey complemented with flavors of hops and cocoa beans, and a lasting finish of milk chocolate and butterscotch.
IPA Edition — The next edition has a distinct fruity aroma and flavor. The smell will remind you of flowers, herbal hops, grapefruit citrus, and subtle orchard fruits. The taste is just that but with a kick of spice and a lingering finish of fresh fruits.
A series that pays tribute to Jameson's creative team consisting of the Head Distiller, Head Cooper, and Head Blender — the Whiskey Makers.
The Cooper's Croze — aromas of flower petals and rich ripe fruits, tastes of sweet vanilla, hazelnut, and toasted wood, and has a lingering finish of sweet vanilla and oak char.
The Blender's Dog — aromas of pineapple, mango, and kiwi with figs and dates. It has a creamy taste of butterscotch, succulent fruit, and charred oak.
The Distiller's Safe — aromas of flowers, fresh herbs, grapefruit, and green pepper. The sweetness of barley sugar will fill your tongue first, followed by cinnamon, licorice, mandarin orange, and almond.
The Best Way(s) to Drink Jameson Irish Whiskey
It is not strong and overpowering. Quite the opposite actually, which makes it a good sipping whiskey. It's best served neat at room temperature to experience the pure flavor and aroma. Some also prefer it to be on the rocks to give the flavors much more spark. Try chilled whiskey stones rather than ice to keep the flavors subtle.
If you like it to be more interesting, Jameson also tastes well in cocktails. Here are a few you can start with:
Alternatives to Jameson Irish Whiskey
If you're looking for similar triple-distilled blended Irish whiskies, here are some good alternatives.
Tullamore D.E.W Irish Whiskey — blend of grain, malt, and pot still whiskies tasting of sweet, fruity, spice. Tullamore follows close behind the best-selling Jameson in the blended Irish whiskey.
Bushmills Irish Whiskey — a combination of single malt and grain whiskies. It has a smooth taste of fresh fruit and vanilla notes.
Powers Gold Label — blended whisky from pot still and grain. It's well-loved for its cinnamon, green pepper, nutmeg taste with a hint of orchard fruits, vanilla, and toasted oak.
Paddy's Irish Whiskey — blend of malt, grain, and pot still whiskies. The Paddy is light and crisp with flavors of nuts, malt, and charred wood.