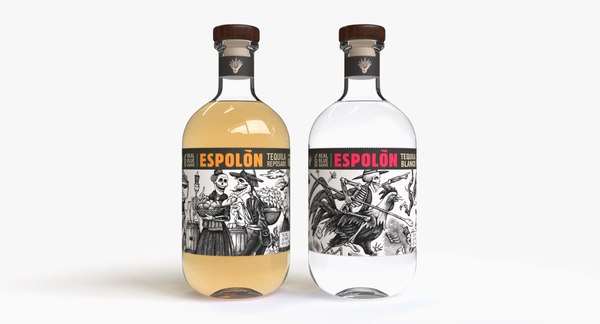 About Espolon
Cirilo Oropeza spent decades studying and distilling tequila to become a Master Distiller. In 1995, he met his business partner, and together they founded Destiladora San Nicolas in the Highlands of Jalisco, Mexico. This location, the story goes, gave Cirilo everything he needed to make the best tequila he could have dreamed of, which he named Espolon.
The name Espolon comes from the Spanish word for the spur of a rooster's foot, and Espolon's mascot, Ramon the rooster, symbolizes national pride and strength. Today, Espolon continues to honor its Mexican heritage through its signature artwork. Each bottle of Espolon Tequila features the artwork of Jose Guadalupe Posada, a Mexican artist, rebel, and hero.
Composition
Espolon Tequila is made from 100% Blue Weber Agave, hand-harvested by Espolon's farmers when the plant's sugar content is at its peak. The pinas are checked for quality, chopped, and smashed to make it easier to extract the delicious agave flavor.
The agave pinas are then distilled with natural water from a well in the Highlands of Jalisco at Casa San Nicolas, over 2000 m. above sea level. Using stainless steel autoclaves, Espolon distills its tequila using pressurized steam to get just the right level of caramelization and delicious agave flavor.
Today, Casa San Nicolas (NOM: 1440) employs a process perfected since 1889 and studied by Maestro Tequilero Cirilo for decades. The result is a genuinely authentic tequila that celebrates the history and heritage of its homeland.
Espolon Tequila can be found at most major liquor stores and is also available online via Drizly.
Item
Type
Origin
Aged For
Alcohol (ABV)
Size
Price
Espolon Blanco
Blanco
Jalisco, Mexico
–
40% (80 Proof)
375ml
$17.99
750ml
$19.99
1L
$31.49
1.75L
$43.99
Espolon Reposado
Reposado
Jalisco, Mexico
3-5 months
40% (80 Proof)
375ml
$17.99
750ml
$23.99
1L
$32.49
1.75L
$49.99
Espolon Anejo
Anejo
Jalisco, Mexico
12 months
40% (80 Proof)
750ml
$34.99
Espolon Anejo X
Anejo
Jalisco, Mexico
6 years
40% (80 Proof)
750ml
$99.99
There's an Espolon tequila for every circumstance, whether you're looking to spike a cocktail or sip it neat. Here's how to decide which variety is right for your next drink.
Espolon Blanco is the tequila for all your favorite cocktails, blended or on the rocks. Grab a bottle of Espolon Blanco if you're making Palomas or if you're looking for a more refined shooter.
This spicy Reposado is perfect for cocktails that demand a little more nuance than the Blanco can provide. If the tequila is the headliner of your cocktail, reach for Espolon Reposado. The aged flavor of this tequila can take your margarita to the next level.
This Anejo begins as a Blanco, aged 10 months in American oak, and finished in charred bourbon barrels for the last two months. Espolon Anejo features notes of caramel, vanilla, dried fruit, and chocolate.
Espolon Anejo X is a limited edition Anejo tequila that's been aged six years in American oak barrels. It's a sippable stash tequila to bring out for special occasions.
The Best Way(s) to Drink Espolon Tequila
To get a true sense of Espolon Tequila's authentic agave flavor, you should really consider sipping it neat, particularly if you can get your hands on the Espolon Anejo or Anejo X. But if you're craving a cocktail, these four bring out the best of Espolon.
1. Paloma Classic
This cocktail, believed to be named after a famous Mexican folk song, offers a powerful combination of sweet, salty, and bitter flavors.
Ingredients
2 parts Espolon Blanco tequila
1 part Lime Juice
Grapefruit Soda
Sea Salt
Combine tequila and lime juice in a highball glass on the rocks. Top with grapefruit soda and sprinkle with sea salt for a refreshing summer cocktail.
2. Mexican Mule
This fiery twist on the Moscow Mule replaces vodka with rich Espolon Reposado. The ginger beer brings out Espolon's fantastic agave flavor.
Ingredients
1 ½ parts Espolon Reposado tequila
½ part Lime Juice
Ginger Beer
In a copper cocktail cup, combine tequila and lime juice over ice. Top with ginger beer and serve with a lime wedge.
3. Anejo Old Fashioned
Espolon Anejo offers a bourbon-like finish that makes it a great way to bring new life to the Old Fashioned.
Ingredients
2 parts Espolon Anejo tequila
½ part Agave Nectar
1 dash Angostura Bitters
1 dash Orange Bitters
Over ice (one large cube, if you've got it), combine tequila, Agave nectar, and bitters. Serve with an orange peel garnish.
4. Classic Margarita
Espolon Blanco tequila brings a more authentic Agave flavor to your traditional margarita on the rocks.
Ingredients
2 parts Espolon Blanco Tequila
½ part Triple Sec
1 Lime
Salt
Combine tequila, triple sec, and juice from one whole lime in a cocktail shaker with lots of ice. Shake vigorously, and pour into a high ball or footed glass with a salted rim, if you like. Garnish with a lime wedge.
5 Best Things to Mix with Espolon Tequila
Want to try your hand at making your own cocktail with Espolon tequila? Here are a few mixers that do it justice.
Nothing: Espolon Anejo and Anejo X are so smooth, you can sip them neat at room temperature.
Grapefruit Soda: This is an easy, no-frills base for a delightfully refreshing Paloma.
Ginger Beer: Swap out the vodka in your Moscow Mule for a spicy take on your favorite tequila.
Lime Juice: Whether you squeeze in just a little or mix it into a cocktail, the citrus taste of lime makes the agave flavor of the tequila sing.
Coffee Liquer: It's called a Tequila Dirty Bird, and it's essentially a White Russian with tequila in place of vodka. This is tequila like you've never tasted it before.
Now that you know how best to enjoy Espolon tequila, here are some last burning questions you may have.
Tequila Alternatives to Espolon Tequila
Espolon Tequila is widely available at most major liquor stores. Not all stores carry all varieties, however. If you need to choose a different tequila in a pinch, or if you want to try something new, here are a few tequilas you may like.
818 Tequila originates from the same region as Espolon, which is known for its unique agave plants. The starting price ranges from $17.11 for 818 Blanco to $59.99 for 818 Anejo.
Casamigos Tequila is a top-shelf option at a mid-shelf price, not unlike Espolon which offers top-shelf flavor. You can find Casamigos Tequila from $24.99, though it usually retails for $50 – $55.
Patron Tequila is one of the most famous tequila brands, and for good reason. It's a flavorful top-shelf option that's as good neat as it is in a cocktail. Prices range from $36.99 for a 750 ml Blanco, to $499.99 for Gran Patron Burdeo.