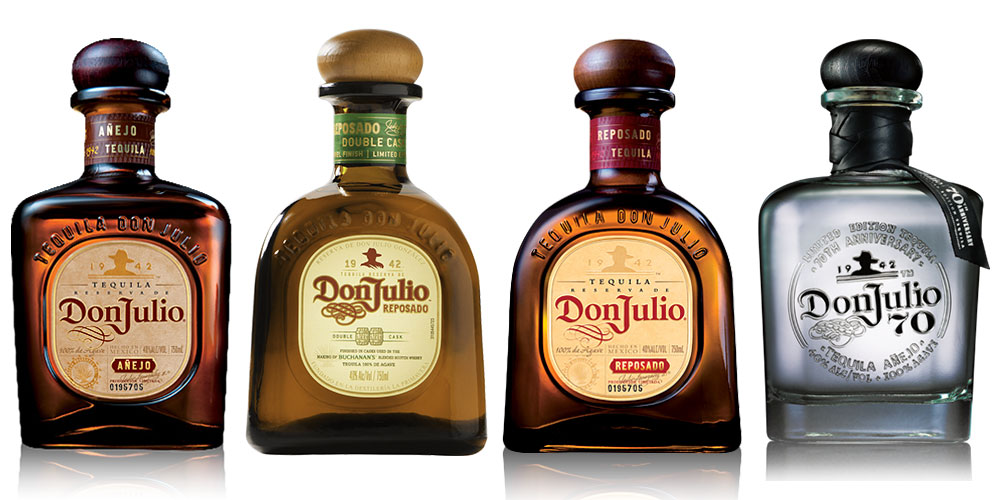 About Don Julio
Don Julio Tequila exists in large part because of one man, Don Julio González-Frausto Estrada. Born in 1925 in the highlands of Jalisco, Mexico, Don Julio began working at the age of 15. His father had just died, leaving behind his mother, himself, and his six siblings. He found that typical jobs didn't earn him as much as he wanted, so Don Julio settled on the idea of selling tequila by horse, making far more than he could at other jobs in Jalisco.
Don Julio learned to make tequila from his uncle, and eventually, his need turned to passion. In 1942 Don Julio opened a distillery with the aid of a wealthy merchant's loan of 20,000 pesos. Many describe Don Julio González as a man who revolutionized the tequila industry by opening a unique distillery and setting industry standards for agave harvest and production.
Don Julio Tequila makes all of its products from blue agave plants that are grown far enough apart to allow for maximum plant growth. The current standard that Don Julio established is allowing the plant to fully mature, which may take over five years.
Don Julio has six main tequilas; Blanco, Reposado, Añejo, 70 Añejo Claro, 1942, and Real.
Item
Type
Origin
Aged
Alcohol (ABV)
Size
Price
Don Julio Blanco Tequila
Blanco
Jalisco, Mexico
–
40% (80 Proof)
50ml
$6.99
375ml
$26.99
750ml
$46.99
1.75L
$89.99
Don Julio Reposado Tequila
Reposado
Jalisco, Mexico
8 months
40% (80 Proof)
50ml
$6.50
375ml
$32.99
750ml
$54.99
1.75L
$159.99
Don Julio Añejo Tequila
Añejo
Jalisco, Mexico
1.5 years
40% (80 Proof)
375ml
$37.95
750ml
$54.95
1.75L
$94.99
Don Julio 70 Anejo Claro Tequila
Añejo
Jalisco, Mexico
1.5 years
40% (80 Proof)
750ml
$54.99
Don Julio Reposado Double Cask
Reposado
Jalisco, Mexico
8 months
40% (80 Proof)
750ml
$59.99
Don Julio 1942 Tequila
Añejo
Jalisco, Mexico
2.5 years
40% (80 Proof)
750ml
$104.99
1.75L
$369.99
Don Julio Real Tequila
Extra-Añejo
Jalisco, Mexico
3-5 years
40% (80 Proof)
750ml
$359.99
Don Julio Limited Edition Tequila Prices
There are also four Limited Edition Don Julio luxury tequilas, including; Primavera, Reposado Private Cask, and Reposado Double Cask Lagavulin.
| Item | Type | Origin | Aged | Alcohol (ABV) | Size | Price |
| --- | --- | --- | --- | --- | --- | --- |
| Don Julio Reposado Private Cask | Reposado | Jalisco, Mexico | 10 months | 43% (86 Proof) | 750 ml | $79.99 |
| Don Julio Reposado Double Cask Lagavulin Aged Edition | Reposado | Jalisco, Mexico | 8 months | 40% (80 Proof) | 750 ml | $68.99 |
| Don Julio Primavera | Reposado | Jalisco, Mexico | 8 months | 40% (80 Proof) | 750 ml | $129.99 |
Said to be the purest form of tequila, Don Julio Blanco Tequila is the base used in all of their variants. Known as "Silver" tequila, it has a crisp agave flavor with notes of citrus. It is pure and unaged, leaving a light, sweet, agave finish.
The golden amber color of the Don Julio Reposado Tequila comes from being aged for eight months in American white-oak barrels. It claims a mellow, elegant flavor with an inviting aroma, perfect for on the rocks.
Agave, wood, and hints of vanilla are on display with this Don Julio Añejo Tequila aged eighteen months in small batches. Don Julio Añejo Tequila pairs for neat or on-the-rocks enjoyment.
Introduced as the "world's first Añejo Claro Tequila," Don Julio 70 is a celebration of the man himself, Don Julio. The smooth Blanco approach and complex Añejo flavors make a truly unique experience that aged for eighteen months.
Made in small batch production and aged for at least two and half years, Don Julio 1942 recognizes the year that Don Julio began his journey into tequila. A rich nose and warm oak taste lead the way to a lingering oak and rich vanilla finish.
The favorite of the Don Julio brand, Don Julio Real Tequila, is a rare Extra-Añejo and is proud to claim it was the first. It is said to smell strongly like cooked agave and that the taste is of caramel, chocolate, almond, and vanilla undertones, with a sweetly seductive finish at the end.
This double casked Don Julio Reposado has notes of tropical fruits and vanilla peaty tones, honeyed agave flavors, and a spicey and peaty finish. The barrels used in the process are scotch whisky barrels.
Orange wine casks infuse the flavors of macerated orange peels, citrus, and honey. It balances notes of honeyed agave and spice. Don Julio Primavera is great with an orange wheel.
Aged ten months in a single cask, Don Julio Reposado Private Cask has a nose of caramel and tangerine, a taste of oak, and a smooth but spicy finish.
Aged in casks previously held Lagavulin Islay Single Malt Scotch Whisky, this limited edition Don Julio Reposado has a nose of warm wood-fired agave, caramelized agave with toasted oak and smoky peat, and warm hints of cinnamon spice.
The Best Way(s) to Drink Don Julio Tequila
There are so many different ways to enjoy Don Julio Tequila that it is hard not to claim the top five are straight, on the rocks, blended, mixed, and in a cocktail. The five best ways to enjoy Don Julio Tequila in a cocktail:
Paloma – Don Julio Tequila, lime juice, and grapefruit soda
Tequila Collins – Don Julio Tequila, lemon juice, agave nectar, and club soda
A Tequini – A tequila twist on a martini, use a Don Julio Blanco Tequila and high-quality vermouth for a dry cocktail.
Brave Bull – Kahlua (of coffee liqueur) and Don Julio Blanco Tequila.
Reposado Old-Fashioned – Use a Don Julio Tequila that has been barrel-aged, bitters, agave nectar, and bing cherries.
5 Best Things to Mix with Don Julio Tequila
Complicated drinks are not required to enjoy a mixed tequila beverage. Tequila can pair well with a variety of juices, sodas, and sparkling drinks.
Grapefruit Juice: The unique citrus grapefruit style combines with any Don Julio tequila to make a sweet-tart that can also be refreshing. It is simple to water it down or add ice.
Limeade: Lime is an excellent pairing with tequila but for a delicious and easy mix, try Don Julio Tequila and limeade. Add a bit of effortless glamour with a lime peel twist in a fancy glass.
Sparkling Water: Add a bit of bubbly to your tequila with sparkling water. It adds more than melted ice or a spritz of water but still lets you taste the Don Julio Tequila of your choice.
Ginger Beer: Depending on the brew, ginger beer can be a spicy or smooth combo with any tequila in the Don Julio luxury tequila line. Ginger beer also mixes well with citrus flavors and other spices.
Soda: An easy and familiar mix, Don Julio and soda of any kind can be a refreshing mix. Don Julio Blanco with a Ginger Ale and lime wedge can be just as delicious as Don Julio Reposado and cola.
Alternatives to Don Julio Tequila
There are, of course, alternative tequilas to the Don Julio luxury line of tequila that may be more within your price range. It is essential to understand that price does not always determine what your pallet or taste buds will enjoy, so remember to find the flavor for your preferences.
Based on information available online, here are some tequila competitors, ranked in order of cheapest to the most expensive for a 750 ml bottle (prices may vary):
Jose Cuervo – $12.99 – $15.99
Espolon – $23.99 – $34.99
1800 – $27.99 – $39.99
Teremana – $29.99
Casamigos – $54.99 – $74.99
Patron – $51.99 – $609.99