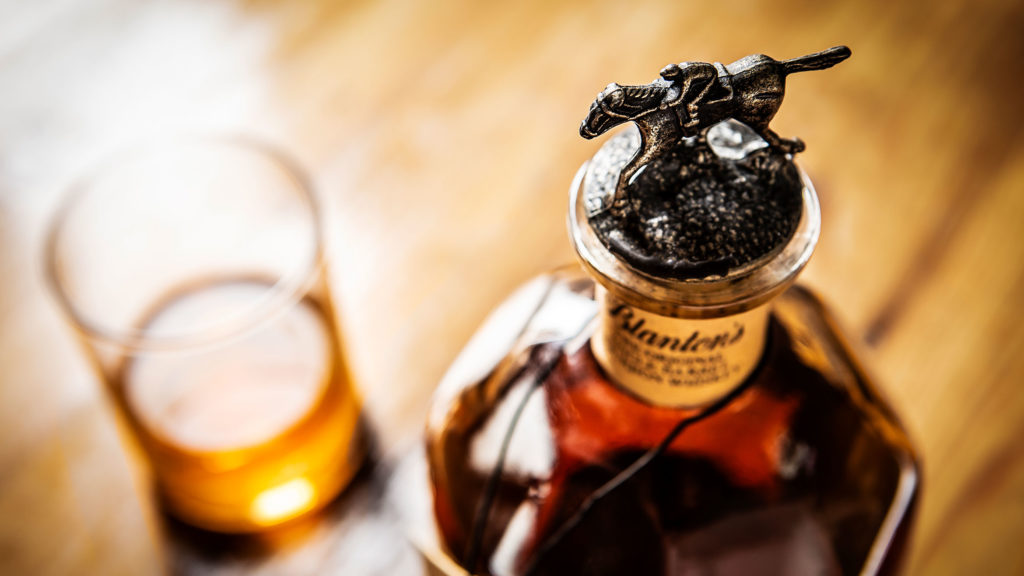 About Blanton's Whiskey
The world has known and enjoyed whisky for nearly a millennium, but America's whiskey claim to fame, Kentucky bourbon, didn't come on the scene until the late 1700's. Born in America's first wild west – Kentucky – of European settlers accustomed to Irish and Scotch whisky, Kentucky bourbon whiskey's popularity spread like wildfire once it was bottled, establishing a real stake in the worldwide whisky industry.
Where to Buy Blanton's Kentucky Bourbon
Blanton's isn't easy to find, especially after distilleries and distribution facilities were forced to shut down for months in 2020. Demand is outpacing supply, and most liquor stores' Blanton's shelves are empty. However, if you're friends with the manager you might get your name in the lottery for a bottle of Blanton's, and bottles can be found online from collectors' sales like caskcartel.com, and Blanton's is often in stock from specialty Whiskey online retailers like thebourboncentral.com.
Blanton's Whiskey Prices
Item
Alcohol (ABV)
Size
Price
Bourbon Whiskey
Blanton's Original Single Barrel
46.5% (93 proof)
50ml
$25
750ml
$160
Blanton's Gold Edition
51.5% (103 proof)
750ml
$270
Blanton's Straight from the Barrel
64% (128 proof)
750ml
$300
Special Reserve Bourbon Whiskey
Blanton's Green Label
40% (80 proof)
750ml
$352
Blanton's Black Label
40% (80 proof)
750ml
$330
Blanton's Red Takara Label
51.5% (103 proof)
750ml
$360
Blanton's Whiskey Buying Guide
A bottle of Blanton's is an investment, and not a small one. Beginning at $160, a full sized bottle is one to cherish, and it will endure a lifetime. If you're fortunate to run across a bottle in person, it's best to snatch up what you can while you can, but if you're looking online for a collector's sale or at a specialty whisky shop, it's important to know what you're looking for before jumping the gun. Here's a buyer's guide to help you make the most informed decision on which bottle of Blanton's Kentucky Bourbon Whiskey will suit you best.
Blanton's original series smells of vanilla and tastes of oak and citrus. This particular bottle is the standard for all single barrel bourbons, and the flavor is consistent year after year. It's the flagship whiskey for Blanton's.
This smoky edition smells of tobacco and rye but tastes like honey. It's for true whiskey aficionados, and the complexity combined with the smooth, rich texture is truly luxurious. This whiskey's balance and character are on par with the best whiskies in the world.
Blanton's Straight from the Barrel is raw and powerful, yet surprisingly smooth and balanced. It's one of the best whiskeys in the world, highlighting notes of caramel and chocolate and the flavors of oak and vanilla. It's an experience to behold, and it's rare to encounter.
These are the rarest bottlings of Blanton's, and they are the most special. Once in a while Blanton's has a unique distilling season with unprecedented weather, or the grain crops were extraordinary that year, or the Master Distiller had a one-in-a-million inspiration. These reserves are born of those circumstances, so if you have the chance for even a taste don't pass it up.
The Best Way(s) to Drink Blanton's
There's no better way to say this: Blanton's is premium and it's rare, and it should be a crime to cover it up with a sugary cocktail or blend it with Coke. So for the love of all things holy, savor it. Sip it with pride, and make a mental note of every taste and flavor. But that's not to say Blanton's can't be enhanced. There are certain methods of enjoying Blanton's that enhance it rather than subtract from it, so let's explore the best ways to drink Blanton's.
1) Paired
If you're prepared to savor each and every note and flavor, try pairing Blanton's with a bite. A luxurious extra-dark chocolate pairs flawlessly with Blanton's Straight from the Barrel, and a cuban cigar stacks nicely against the tobacco nose on Blanton's Gold Label.
2) On the rocks
Especially a big rock. The greater surface area on the cube of ice, the slower it melts, and the colder it'll make your whiskey. This is a crowd favorite, and the best way to take the edge off the burn while maintaining all the complexities of the whiskey.
3) Neat
To experience Blanton's at its fullest, drink it neat at room temperature. No dilution, no alterations. Especially if you ever get the chance to taste several of Blanton's varieties side-by-side, neat is the only way to go.
4) (Old) Old Fashioned
The Old Fashioned is the original whiskey cocktail, invented to enhance the sweet, smooth flavors of a Kentucky Bourbon. The cherry and the orange enhance the notes of a Blanton's Original Single Barrel. It's best to steer away from the added soda water in a New Old Fashioned, though, if you want to savor the flavors of such an expensive pour.
A History of Blanton's Kentucky Bourbon
While bourbon doesn't legally have to be produced in Kentucky, it's where over 95% of it is made. Bourbon is predominantly composed of corn, which is ripe for the picking in Kentucky. Kentucky is also known for its limestone deposits which naturally filter the water used in Kentucky bourbon, and the extreme and sudden shifts in Kentucky weather draw the whisky in and out of the wood of the barrels it's aged in, releasing that oaky flavor into the liquor over and over again.
All these reasons make Kentucky bourbon different from any other whiskey, and when Master Distiller Elmer T. Lee was tasked in 1984 with producing the world's first super-premium single barrel top shelf Kentucky bourbon, he knew it would be a worthy endeavor.
He was inspired in his distillation by Colonel Blanton, who entertained important guests with "honey barrel" whiskey, bottled one barrel at a time. He was so inspired that he gave his new bourbon the name Blanton's, which would become the most prestigious Kentucky bourbons of our time.
Blanton's has since positioned itself as one of the most coveted not only bourbon, but whiskey brands in the world and earned itself a place on every bourbon collector's shelf. The horses on the corked tops alone are worth a prize in a set, and a full collection of Blanton's Kentucky Bourbon sells for thousands of dollars.
Alternatives to Blanton's Bourbon Whiskey
Buffalo Trace: $25- This extremely limited bourbon comes in at such a price point it's hard to pass up. If you can't find Blanton's, you might be able to find this instead, though it's equally rare.
Knob Creek: $30- Knob Creek is available everywhere liquor is sold, so if you run into trouble locating Blanton's or just don't want to fork up the cash, this is a great alternative and is equally emblematic of Kentucky Bourbon.
The Burning Chair: $50- This fun and expressive blend of Kentucky and Tennessee Bourbon hits different than traditional Kentucky Bourbons. While it includes Kentucky Bourbon in the blend, it's a fresh and innovative take on a classic by Dave Phinney, a celebrity of the liquor and wine world.
Eagle Rare: $75- Eagle Rare is available almost everywhere, but it's still of excellent quality. It's a good mid-priced Bourbon whiskey with great complexity and a smooth finish, and it makes a killer old fashioned (or a new old fashioned, your preference).
Bardstown Bourbon: $160- This bold, cask-strength Bourbon tastes strong and clear. At Bardstown Distillery, the team members and distillers vote on the best recipes, giving this Bourbon a collaborative spirit.
Old Fitzgerald Bottled in Bond: $300- This Old Fitzgerald Kentucky Bourbon stands up strong to the stature of Blanton's. It's just as good, just as smooth, and just as rare. Snag this when you can, and it might be available when Blanton's isn't.