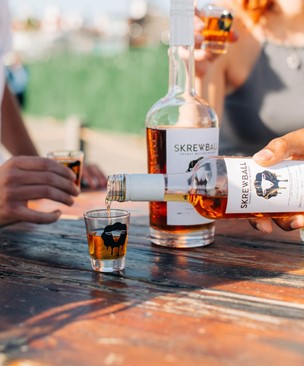 About Skrewball Peanut Butter Whiskey
Bourbon whiskey was the first liquor invented in America, and it has become a symbol of American ingenuity, resilience, and community. The popularity of the whiskey has spread around the world, and since America is a melting pot of different backgrounds, an unconventional twist on traditional whiskey was bound to come along.
Composition
Skrewball is essentially an American whiskey mixed with peanuts and natural flavors. This not-quite-a-straight-whiskey, not-quite-a-whiskey-liqueur spirit bends the boundary between whiskey and liqueur, creating a new category of its own.
It was important to founders Steven and Brittany Yeng that they capture the essence of the insanely popular peanut butter whiskey cocktail invented in their restaurant, OB Noodle House, and bottle it for distribution.
They began by transitioning the cocktail into a shot and testing it on customers. If it was a success in shot form, they knew it would be a hit in the bottle. When their patrons raved about the shot, the couple committed to finding a way to blend quality whiskey and quality flavors to create something new, special, and enjoyable to share with the world.
Using her background in chemistry and his palate for a successful recipe, the couple created a peanut butter whiskey that shot well, sipped well, and blended even better.
Where to Buy Skrewball Peanut Butter Whiskey
Since its inception in 2018, Skrewball had rapidly outpaced others in the flavored whiskey category and has spread rapidly throughout the United States and Canada, promoted by influencers, individual liquor stores, and restaurants everywhere.
If you'd like a piece of the peanut butter whiskey pie, look in the flavored whiskey section of your local market (where market sales are legal) or liquor store. You can also order it for same day delivery from a local liquor store using Drizly.com, or you can order online for shipment from WineChateau.com.
Skrewball Peanut Butter Whiskey Prices
Item
Alcohol (ABV)
Size
Price
Peanut Butter Whiskey
Skrewball Peanut Butter Whiskey
35% (70 proof)
50ml
$3.00
15pk of 50 ml
$38.00
200ml
$10.00
750ml
$25.00
1L
$31.00
1.75L
$42.00
Is Skrewball Right for You?
So how do you know if Skrewball is right for you? Consider this: are you interested in new and unexpected flavor combinations, or looking for a talking piece at a cocktail party? If so, this one's for you. It shoots great chilled, sips wonderfully on ice, and mixes flawlessly with other liquids, so it'll suit anyone you plan on serving.
The Best Way(s) to Drink Skrewball Peanut Butter Whiskey
The hallmark of a truly excellent table liquor is versatility. You want it to mix well with other ingredients for endless options for every palate. Here are some of the best ways to mix Skrewball Peanut Butter Whiskey.
Best Skrewball Cocktails
Skrewball originated as a peanut butter whiskey cocktail that attracted curious drinkers near and far. Since then, Skrewball has expanded on their peanut butter whiskey cocktail lineup, and here are some of the best ones they've shared.
1) Skrewball Old Fashioned
The Old Fashioned is the original whiskey cocktail. Spice it up with a twist of peanut butter.
1½ oz. Skrewball Peanut Butter Whiskey
¾ oz. Rye Whiskey
4 dashes Angostura Bitters
Stir all ingredients in a mixing glass. Pour into a rocks glass with one large ice cube. Garnish with a cherry and orange twist.
2) Red White and Skrew
Some would say nothing is more American than apple pie, but since peanut butter's history is all American let's say nothing is more American than Red, White, and Skrew.
1½ oz. Skrewball Peanut Butter Whiskey
¾ oz. Strawberry Infused Aperol
½ oz. Strawberry Purée
½ oz. Lemon Juice
Shake and strain over fresh ice, top with soda and garnish with pop rocks and a festive skewer.
3) Sour Skrew
This cocktail combines all the classic flavors: lemon, lime, and wine, and adds a twist of the Skrew.
2 oz. Skrewball Peanut Butter Whiskey
1 oz. Lemon Juice
½ oz. Lime Juice
1 oz. Simple Syrup
1 Egg White
Shake vigorously and pour up or on the rocks. Float red wine.
4) Nutty Russian
The White Russian is a classic cocktail. But for a modern pivot on an old favorite, mix coffee liqueur and Skrewball into the recipe.
1¼ oz. Skrewball Peanut Butter Whiskey
¾ oz. Coffee Liqueur
1½ oz. Half and Half
Build in a glass over ice. Pour whiskey followed by coffee liqueur, then float half and half on top.
5 Best Things to Mix with Skrewball
Skrewball is low maintenance. It's already mixed with natural flavors to help you build an easy cocktail with a single added mixer. Let's explore the 5 best.
Milk: Your choice of milk mixes with Skrewball to make a delectable dessert cocktail. It's similar to a white russian, but even thicker and creamier and perfect for an after-dinner night cap.
Cold Brew: Mix Skrewball Peanut Butter Whiskey with cold brew for a twist on an Irish coffee.
Soda Water: Skrewball is flavored on its own, and to maximize that experience mix it with something unflavored, like soda water, if simplicity is your peanut-butter-and-jam.
Cranberry Juice: Cranberry juice is available at every bar, so if you spy Skrewball on the shelf ask for it on rocks with a splash of cran for a liquid PB&J.
Rocks: Skrewball on the rocks deserves an honorable mention. Rocks isn't a liquid mixer, but Skrewball stands alone on the ice and the added peanut butter flavor makes it a cocktail of its own.
Alternatives to Skrewball Peanut Butter Whiskey
PB&W Peanut Butter Whiskey- $25: Skrewball was the first, but PB&W is a big contender in the peanut butter whiskey market. Try this if Skrewball is out of stock in your local liquor store.
Whiskeysmith Flavored Whiskeys- $27: Flavored whiskeys of all kinds are big right now, not just nut-flavored. Whiskeysmith offers a range of flavors from banana to pineapple and many others in between.
Jack Daniel's Tennessee Honey- $30: Jack Daniel's is a giant in the world of whiskey, but for a reason. If you like the smooth finish of Skrewball, Tennessee Honey Whiskey will be a new staple in your home bar.
R6 Carmella Caramel Flavored Whiskey- $31: To stay in the world of sweet, smooth, and easily-to-mix flavored whiskeys, try this caramel flavored whiskey. This up and coming whiskey won bronze in San Francisco's World Spirits Competition in 2020.
Texas Pecan Rye Whiskey- $32: If you try Skrewball and like it, you'll love this pecan variation. Made with a rye whiskey base, this one has a bite that's mellowed by smooth pecan.