About Pendleton Premium Canadian Whisky
Every locale has its own rules about whiskies. Bourbon whiskey must contain at least fifty percent corn in its mash bill. Scotch whiskies may not come in at higher than 93% ABV to allow the complex flavor of the drink to remain detecable. And Canadian whisky must only contain cereal grain. But one unspoken rule every style has in common is that it must tell a story.
Whisky is for the honest man and woman, working hard to build this world. And it's the escape at the end of the day when their stories come to life, sometimes by the fire after back-breaking farm labor, and sometimes in the drawing room sharing cigars with gents. It's just a matter of finding the right whisky for sharing your story.
How Pendleton Whisky is Made
Pendleton whiskies are blends of American oak barrel aged whiskies from Canada, just north of Pendleton's rodeo namesake. Before these blends are bottled to be sent to consumers, they're finished with natural glacier-spring water from the top of Oregon's highest peak: Mt. Hood.
Where to Buy Pendleton Premium Canadian Whisky
Pendleton is one of the most commonly-sold Canadian whiskies in America, and its popularity extends throughout much of the world. While most liquor stores and markets don't have a large Canadian whisky section, this is one of the Canadian whiskies that can be found almost everywhere. Costco regularly stocks the liquor and stores like Walmart and Kroger with a generous liquor section do as well. To guarantee you'll get your hands on it, check local stock at Drizly.com, where you can also get same day delivery in qualifying cities if you like.
Pendleton Whisky Prices
Item
Alcohol (ABV)
Size
Price
Canadian Whisky
Pendleton Original Canadian Whisky
40% (80 proof)
50ml
$2.40
375ml
$10.00
750ml
$23.00
1L
$32.000
1.75L
$42.00
Pendleton 1910
40% (80 proof)
750 ml
$39.00
Pendleton Midnight
45% (90 proof)
50ml
$3.50
750ml
$34.00
Pendleton Directors' Reserve
40% (80 proof)
750 ml
$188.00
Limited Release
Pendelton "We've Got Your 6" 2021
40% (80 proof)
750 ml
$34.00
Pendleton Champions 2021 (Distributed in Oregon only)
40% (80 proof)
750 ml
$39.00
Pendleton Whisky Buying Guide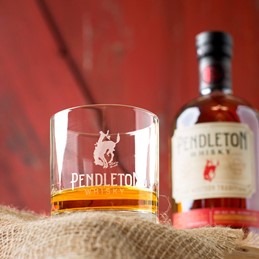 Every Pendleton whisky is a blend of some of the best accessible whiskies in Canada finished with natural glacial spring water, but there are subtle differences that make every bottle unique. Read about their lineup to choose the right whisky for you.
This is the most popular Pendleton Whisky since it's the original blend, oak barrel aged and glacial water finished. It's smooth, warm, and balanced, tasting like fall fruit, honey, and spice and smelling like vanilla, butterscotch, and custard.
It's rare to find a 100% rye Canadian whisky, so if you're a fan of ryes this is a must-try. It's complex and full-bodied thanks to the 12 years it spends aging in new oak barrels. This one smells of tobacco, nutmeg, and cloves, and it has flavors of dried apples and cherries with a nutty undertone. Like a traditional rye whisky, the finish is crisp with lingering flavors of tart Cherry.
This Canadian whisky has the same glacier water synonymous with the Pendleton brand, but with an expert blend of whiskies of varying ages that have spent up to 6 years in oak barrels. This blended-aged quality creates notes of leather, musk, and spice. The palate has a full body with flavors of caramelized bananas and candied figs and a nutty, spiced finish.
Directors' Reserve is Pendleton's most premium whisky. This 20-year aged blend is worth the price from the time the first note hits the nose. It contains hints of coconut, cinnamon, orange, and oak, and the palate has hints of toasted wood, ripe fruit, and baking spices. And the finish is long, smooth and mature. Drink it neat for a hot flavor, or add an ice cube or water to draw out the bright orange zesty flavors in the whisky.
Each year Pendleton releases a new set of limited release whiskies, blended with current trends, terroir, and distilling seasons in mind. The limited releases use the same practices of mixing the best Canadian whiskies and finishing with glacier spring water emblematic of all Pendleton whiskies, but the details are new each year. The labeling is fresh each year and tells stories of the makers and the drinkers, and the flavor is distinct in each release.
The Best Way(s) to Drink Pendleton Whisky
Pendleton is made for sipping as much as it is cocktails. Here are some of the best cocktails and single mixers to enhance your Pendleton experience, if you decide sipping neat isn't for you.
Pendleton Whisky Cocktails
1) Pendleton Salute
1.5 oz Pendleton® Whisky
1 oz Campari
1 oz Sweet Vermouth
3 Blueberries
Stir ingredients very well with ice and strain into an ice-filled rocks glass. Garnish with blueberries.
2) Midnight Manhattan
1.5 oz Pendleton® Midnight (OR Pendleton® 1910)
0.75 oz Sweet Vermouth
3 dashes Angostura Bitters
1 Maraschino Cherry
Stir ingredients very well with ice and strain into a chilled cocktail glass or over a large ice cube in a rocks glass. Garnish with a maraschino cherry.
3) 1910 Toddy
2 oz Pendleton® 1910
0.25 oz Lemon Juice
0.25 oz Honey
Hot water
Mix Pendleton 1910®, lemon juice, and honey in a mug. Fill with hot water. Mix with a spoon. Add more honey to taste.
4) The Original Cowboy
1.5 oz Pendleton® Original
0.75 oz Fresh Lemon Juice
0.5 oz Simple Syrup
Soda Water
1 Cherry & Lemon Wheel
Combine all ingredients except soda water into a cocktail mixing tin. Add ice and shake until well combined. Fill a tall collins or highball glass with ice half way. Pour cocktail mixture into glass. Top with soda water and serve.
5 Best Things to Mix with Pendleton
Cola: Whisky and Coke go together like apples and pie. It's available everywhere and the flavors of Canadian whisky and cola mix seamlessly.
Ginger: Ginger ale compliments the fresh smooth finish of the glacier spring water in every Pendleton bottle. The spice of the ginger draws out the complexity in the whisky, and the carbonation adds an instant elevated element.
Water: One of the best things about Pendleton whiskies is their complexity. No other whisky is produced the same way, and adding water will draw out the brighter notes, revealing more aspects than you'd notice simply sipping neat.
Sour: Sour cuts through the hot flavor of the alcohol while the citrus highlights the lighter notes in the whiskies.
Lemonade: For an easy sipper, try pouring lemonade over a Pendleton whisky in a tall glass. It has the same general effect that sour does, mellowed out.
Pendleton Canadian Whisky's Story

Pendleton Whisky's namesake is none other than the greatest rodeo in the world: The Pendleton Round-Up. Drawing cowboys and spectators from leagues away, the competition has a rich heritage of hard work, camaraderie, and fond memories, so it's no surprise that the whisky's foundation is the same.
While bottled in Pendleton, Oregon, Pendleton blends Canadian whiskies that are rooted and based in the time-honored tradition of easy sipping known to cowboys, and now shared with the rest of the world through this tried and true whisky lineup. These spirits are smooth but not watered down, complex but not harsh, and adventurous but not eccentric. They keep in step with the true nature of the Great Northwest.
Alternatives to Pendleton Whisky
Canadian Club Whisky: $14- Canadian Club Whisky is the cheapest good bottle of Canadian whisky you'll find in most liquor stores.
Texas Crown Canadian Whisky: $15- The popularity of American blended and bottled Canadian whiskies is growing, and this accessible selection is one of the most popular. Distilled in Canada and bottled in Texas, you won't find anything else that tastes quite like this adventurous blend of styles.
Legacy Canadian Whisky: $24- Legacy is similar to Pendleton's original blend. The grain mash is similar and some of the blend is even from the same distilleries used for Pendleton.
Crown Royal Canadian Whisky: $28- If you want to dip your toe into the world of Canadian whiskies but can't find Pendleton in your local retailer, try Crown Royal. It's the most widely available Canadian whisky in the world for a reason.
JP Wiser's Blended Canadian 15-Year Whisky- $44: This blended, aged Canadian whisky will put hair on your chest. It's bold, complex, and purely Canadian.
Alberta Cask Strength Premium Canadian Rye Whisky: $65- If you're a fan of American rye whiskies, you'll love this one. It's very similar to Pendleton's Canadian rye whisky, but is aged longer for a stronger body.