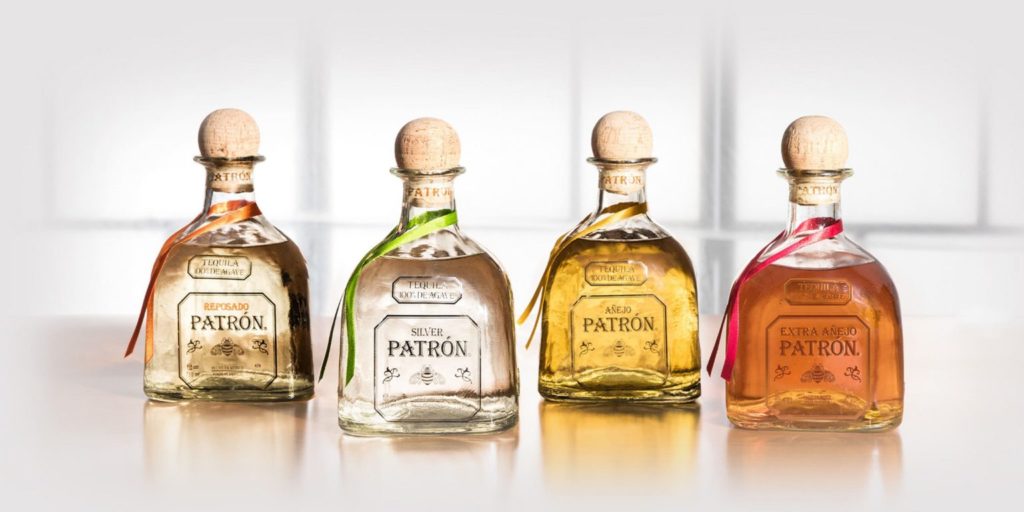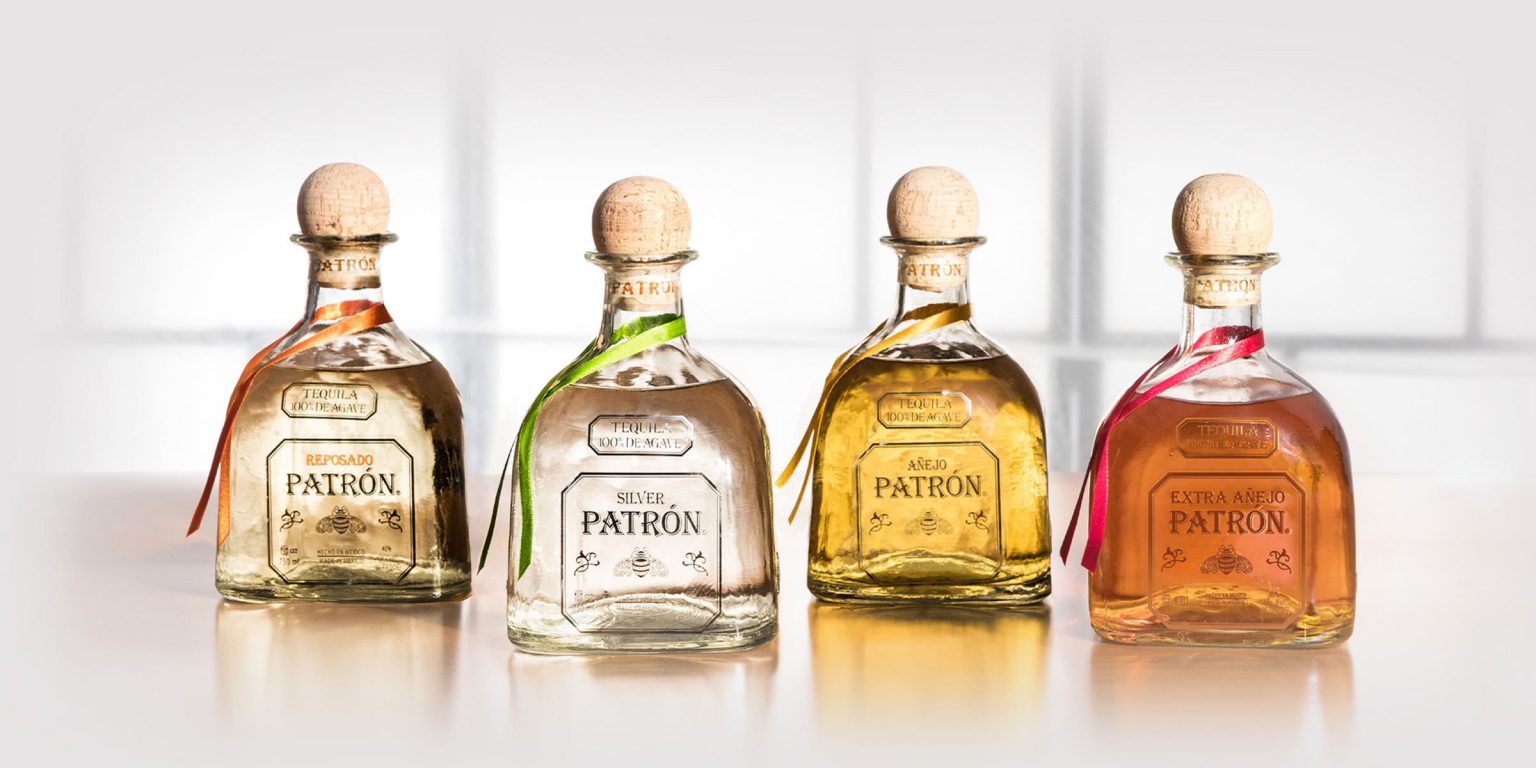 About Patron
Patron tequila is the brand of tequila that the Patron Spirits Company manufactures. Each bottle of patron tequila has about 40% alcohol in it. Originating from Mexico in 1989, Patron tequila has become a very popular tequila brand, with variants that include Burdeos, Gran Platinum, Silver, XO Cafe Dark Cocoa, to mention but a few.
It has an exquisite bottle design handcrafted at the Patron Spirits Company distilleries, alongside the barrels and the corks. Through the years, patron tequila has become a favourite among country and hip hop lovers. It is also a popular drink with vodka drinkers.
The agave plant is the most significant ingredient in the makeup of the patron tequila drink, and it ripens every eight years, which also adds to the uniqueness of the drink. Since Patron tequilas are made in small batches and with 100% agave, they can be expensive.
There are several types of tequila, and all are denoted differently to signify how they were made.
Blanco is a type of tequila that has no additives and is freshly distilled.
Reposado denotes a tequila that has been rested or aged. All reposado tequilas are left to age for two to twelve months, characterized by a yellowish colour.
Anejo tequilas are rested and left to age for one to three years, and they take on a darker color. Other categories of tequila include Extra Anejo, Gold, Joven, and Cristalino.
Patron tequilas are the very picture of sophistication and excellence. Check out the table below for a rundown of the different types of patron tequilas, their sizes, type, origin, age, price, and alcohol content.
Item
Type
Origin
Aged for
Alcohol (ABV)
Size
Price
Patrón Silver
Blanco
Jalisco, Mexico
30 days
40% (80 proof)
200ml
$16.99
375ml
$24.99
750ml
$44.99
1.75L
$94.99
Patrón Reposado
Blanco
Jalisco, Mexico
2 months
40% (80 proof)
375ml
$29.99
750ml
$50.99
1.75L
$129.99
Patrón Anejo
Anejo
Jalisco, Mexico
12 months
40% (80 proof)
750ml
$52
Patrón Extra Anejo
Extra Anejo
Jalisco, Mexico
3 years
40% (80 proof)
750ml
$90
Patrón Roca Silver
Blanco
Jalisco, Mexico
30 days
45% (90 proof)
375ml
$33
750ml
$68
Patrón Roca Reposado
Reposado
Jalisco, Mexico
5 months
42% (84 proof)
750ml
$70
Patrón Roca Anejo
Anejo
Jalisco, Mexico
14 months
44% (88 proof)
375ml
$50
750ml
$100
Gran Patrón Smoky
Blanco
Jalisco, Mexico
30 days
50.5% (101 proof)
750ml
$200
Gran Patrón Platinum
Blanco
Jalisco, Mexico
30 days
40% (80 proof)
375ml
$100
750ml
$200
1.75L
$450
Gran Patrón Piedra
Extra Anejo
Jalisco, Mexico
3 years
40% (80 proof)
750ml
$350
Gran Patrón Burdeos
Anejo
Jalisco, Mexico
4 years
40% (80 proof)
750ml
$400
Patrón XO Cafe
Blanco
Jalisco, Mexico
<2 months
35%(70 proof)
750ml
$23
Patron Limited Edition Tequila Prices
| Item | Type | Origin | Aged for | Alcohol (ABV) | Size | Price |
| --- | --- | --- | --- | --- | --- | --- |
| Patrón Silver 2021 Mexican Heritage TIN | Blanco | Atotonilco el Alto, Mexico | <2 months | 40% (80 proof) | 750ml | $50 |
| Patrón Silver 2020 Mexican Heritage TIN | Blanco | Atotonilco el Alto, Mexico | <2 months | 40% (80 proof) | 750ml | $50 |
| Patrón Silver 2020 Chinese New Year TIN | Blanco | Atotonilco el Alto, Mexico | <2 months | 40% (80 proof) | 750ml | $50 |
| Patrón Silver 1-Liter | Reposado | Atotonilco el Alto, Mexico | 2 months | 40% (80 proof) | 1L | $55 |
| Patrón Extra Anejo 10 Anos | Extra Anejo | Jalisco, Mexico | 10 years | 40% (80 proof) | 750ml | $349 |
| Patrón En Lalique Serie 2 | Extra Anejo | Jalisco, Mexico | 8 years | 40% (80 proof) | 750ml | $7,500 |
| Patrón En Lalique Serie 1 | Extra Anejo | Jalisco, Mexico | 4 years | 40%(80 proof) | 750ml | $7,725 |
The Patron tequila brand has revolutionized the way people think about spirits. Not only has the brand provided a feeling of sophistication to drinkers via the bottle, but they have also managed to produce quality spirits over the years. The most popular patron tequila is Patron Silver, a Blanco with 40% ABV. It is smooth, crystal clear, has a fruity smell, peppery finish, and a sweet taste.
The Patron Reposado has a light amber color with notes of oak, floral, and honey. It also has a 40% alcohol content and has been aged for about two months. Patron Anejo, on the other hand, is an amber coloured tequila that has aged for about a year in a mixture of French oak, Hungarian oak, and American whisky barrels.
It has a stronger taste than the Reposado with notes of raisin, caramel, vanilla, honey, and oak. These flavors and notes of dried fruits are also present in the Patron Extra Anejo. The difference between the Patron Anejo and the Patron Extra Anejo is the years they have both been rested.
While the Patron Anejo has been rested for a year, the Patron Extra Anejo has been rested for three years before its eventual bottling and sale. The result is a darker amber color and a stronger taste and texture than the Patron Anejo.
The Patron XO is a patron line of liqueurs that replicates the taste and feel of coffee for tequila drinkers. It is perfect for martinis or desserts and has a 35% alcohol content. Though the Patron Xo Cafe has been discontinued, it remains one of the ingenious creations of the Patron brand.
The Roca Patron is a premium tequila line of the Patton brand. The manufacturing process of this line of tequila follows the ancient and traditional Tahona method, thereby producing a more refined drink. The Gran Patron line launched officially in 2004 and is famed for its exquisite and exclusive bottle designs.
Not only is the bottle design creatively unique, but this tequila line also boasts a beautiful manufacturing process that results in a unique taste. Take the Gran Patron Smoky as an example. The pinas, that is, the heart of the agave plants, are roasted with mesquite wood in underground pits. This manufacturing process gives the drink a smoky flavor.
The Patron en Lalique series 1 and 2 has an exquisite bottle design and a tasteful and artful tequila that will cost you over $7000. Both series have been rested for more than four years, making them rare, limited, and expensive. All these Patron tequila lines have their unique tastes and flavors. You should savor all of them to know when to drink each one and with what you need to drink them.
The Best Way(s) to Drink Patron Tequila
The popular way of enjoying tequila is to take it with salt and lemon. However, if you really want to enjoy tequilas, especially Patron tequilas, you should sip them slowly and savor the taste of the individual ingredients, more like when you take whisky or brandy. To better help you differentiate the different aromas and tastes that make up the tequila, you can use a shifter or rocks glass for drinking the tequila.
You can also pour the drink over ice or shake it with ice, then sieve it into a different glass if you want your tequila chilled. Adding a few drops of water to your tequila is also not a bad idea. It will help enhance the taste of the tequila. The beautiful thing about spirits is that you can experiment with anything and come up with something that is tastefully grand.
5 Best Things to Mix with Patron Tequila
Silver Breeze Cocktail: This recipe combines lemonade, grapefruit juice, and cranberry juice with your Patron Silver. You can also use a lemon wedge to garnish the mix.
Patron Mojito Cocktail: A lovely cocktail mix to behold, the Patron Mojito Cocktail Recipe is a mixture of a bit of the Patron Silver, sparkling water, simple syrup, fresh lime juice, sprigs fresh mint, and lime wedge as garnish.
Mexican Martini Cocktail: Mix a bit of your Patron Reposado with your Patron Cironge Orange and fresh lime juice, and simple syrup. You may take this cocktail this way or use olives and lime wheels as garnish.
Reposado Old Fashioned: For this mix, you need your Patron Reposado, simple syrup, and a dash of Bitters. Orange peels can serve as a garnish for this drink. You can also adjust the sweetness to your taste.
Jalisco Mule Cocktail: This mix uses ginger beer, lime juice, and your Patron Silver tequila. You can also use a lime wedge and candied ginger as garnish.
Here are some of the key questions and answers that you need to know.
Alternatives to Patron Tequila
Some alternatives to the Patron brand are in order of the cheapest to the most expensive:
Don Julio and Casamigos are premium tequila brands like Patron. They are also as popular as Patron is. The same family manufactures Jose Cuervo and I800, and though they do not fall into the premium category, they are indeed high-quality tequila brands. The Rose Brand is the cheapest of the five. It combines affordability with quality, making it a favorite of the typical person.