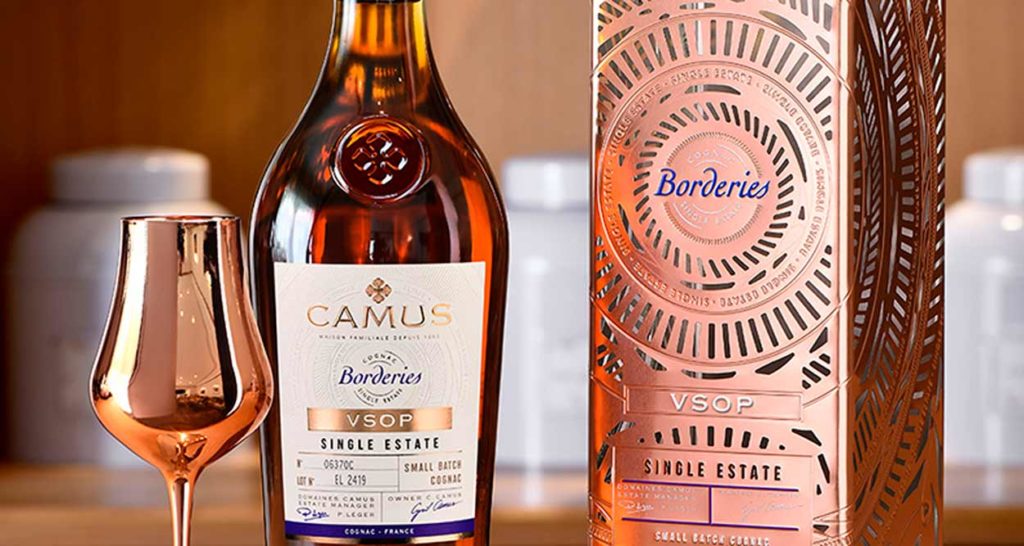 Camus is a family-owned cognac house going on five generations and the fifth largest cognac producer. Pronounced "kah-moo," Camus can trace back its roots to 1863.
Background & History
Jean-Baptiste Camus originally sold cognac to larger houses as an independent distiller and winegrower. In 1863, Jean-Baptiste Camus gathered producers to sell cognac with the brand name "La Grande Marque." After some time, he bought his partners' shares and added his name to call the cognac "Camus La Grande Marque."
His sons, Edmond and Gaston Camus, improved quality, innovation, and marketing. They were one of the first cognac houses to sell their spirits in labeled bottles rather than barrels, and Camus became very popular in Russia, so much so that the last Tsar named it the official cognac of his court.
Composition
Camus uses grapes mainly from Borderies, which gives their cognac blends a floral character. They also uniquely produce bottles solely composed of Borderies grapes.
Is Camus A Whiskey, Brandy, or Cognac?
Camus is both brandy and cognac as it is located within the Cognac region in Borderies, one of the six approved sub-regions, or "cru." Camus recently began importing Glencadam, a Highland single malt Scotch whiskey, and launched their own brand of Irish whiskey under the brand Lambay.
Camus Cognac Prices
Item
Type
Aged
Alcohol (ABV)
Size
Price
Camus VS
Cognac
2 years
40% (80 proof)
200ml
$8.99
350ml
$18.99
750ml
$36.99
1L
$46.99
Camus VSOP
Cognac
4 years
40% (80 proof)
200ml
$18.99
750ml
$46.99
1L
$78.99
Camus XO Superior
Cognac
10 years
40% (80 proof)
350ml
$71.99
750ml
$160.99
Camus VSOP Borderies
Cognac
4 years
40% (80 proof)
50ml
$3.99
750ml
$49.99
Camus XO Borderies
Cognac
10 years
40% (80 proof)
750ml
$149.99
Camus Île de Ré Fine Island
Cognac
2 years
40% (80 proof)
750ml
$52.99
Camus Extra Elegance
Cognac
15 – 20 years
40% (80 proof)
700ml
$399
750ml
$419
1.75L
$1,299
Camus Cognac Prices – Limited Editions
| Item | Type | Aged | Alcohol (ABV) | Size | Price |
| --- | --- | --- | --- | --- | --- |
| Camus Caribbean Expedition | Cognac | 2 – 8 years | 45.3% (90 proof) | 750ml | $125.99 |
| Camus Return to Saint-Aulaye | Cognac | 4 years | 43% (86 proof) | 750ml | $129.99 |
| Camus Extra Dark & Intense | Cognac | 30 – 50 years | 40% (80 proof) | 750ml | $399.99 |
Camus Cognac Buying Guide
There are several types of Camus cognacs out there, each with different flavors and notes. Check out our buying guide below to get to know each Camus cognac in more detail.
Camus VS is an elegant blend with floral and fruity notes. The wine is distilled with no lees and aged in French oak barrels, making the Camus VS a mellow cognac. It stays true to the original aromas from the wine with notes of apple, sticky date pudding, caramel, and a touch of smoked nuts.
This smooth and rich cognac has fruity and woody flavors like orange blossom, candied orange peel, and sarsaparilla. It has peach skin, polished oak, and roasted pineapple flavoring and finishes with a bitter lemon, black tea, and pickled alliums finish.
The Camus XO is a blend of the best eaux-de-vie that has aged in lightly toasted oak wood casks for at least 10 years. The fine grain woods give the cognac a flavor and aroma of spices with floral and fruity notes from the Borderies distillates. The liquid has aromas of apricot, orange, and white flowers with touches of cinnamon. It perfectly balances wood spices with fruity flavorings.
This unique and luxurious cognac blends very rare eaux-de-vie from Borderies, Grande, and Petite Champagne. This cognac has strong flavors of creamy pastry and hints of tobacco, walnut, leather, and dried violets. It has a velvety finish that lasts a long time.
Camus VSOP Borderies has received the most awards among VSOP cognacs from the San Francisco World Spirits Competition (WSC). This cognac is made solely from Camus vineyards in the heart of Borderies. Borderies flavors are known to be floral, and it has soft notes of milk chocolate and orange zest with a hint of spice.
The Camus XO Borderies is made exclusively with eaux-de-vie from Borderies from the Camus family's own vineyard. It has complex and rich aromas that balance fruity and floral notes with vanilla and pastry. It has a velvety texture and intense flavors of pastries, cinnamon, and dried fruits with subtle notes of spice.
This unique maritime cognac is made solely from wines from the Ile de Re Fine Island. The island is located off the western French coast. Its sandy soils and unique island climate contribute to the marine makeup of this cognac. The fresh flavors are crisp with a nutty taste balanced by hints of rich minerals.
There are only 4,500 bottles of this limited batch of cognac. It matured in both tropical and oceanic climates, going from France to Barbados for one year. This gave the Camus Caribbean Expedition unique flavors of pear and banana. The exotic fruits are rounded out with nutmeg and cocoa beans.
This batch of cognac is produced solely from Colombard grapes. It is categorized as a VSOP as it was bottled in its fourth year of aging. This series only has about 3,000 bottles, making it a rare and limited supply. It has aromatic fruity notes of pineapple, pear, and spice. The hints of walnut and ginger complement the warm vanilla flavor.
After the Camus Extra was aged, it was removed for the barrels to be heated enough for the concentrated cognac drops to be released from the wood. The intense, aromatic droplets were then mixed with the Extra cognac when it was poured back into the cask to finish. This cognac has powerful aromas of roasted macadamia nut, gingerbread, and creme brulee.
The Best Way(s) to Drink Camus Cognac
There are many ways to enjoy a Camus cognac, but it serves well in cocktails due to its floral and fruity notes.
Originally created with gin, the French 75 gets an extra kick when you use Camus VS instead. The fruity flavors in the cognac complement the zesty lemon juice in the cocktail. Combine it with white powdered sugar and fresh lemon juice. Once it's strained into a flute, top it off with champagne and garnish it with orange, lemon, and two cherries for a celebratory drink.
To make this New Orleans cocktail, mix Camus VS with rye whiskey, vermouth rouge, a cognac-based plant liqueur, aromatic bitters, and spicy bitters. Add ice and stir it together for about 30 seconds before straining it into a chilled cocktail glass. Then rub a lemon twist on the rim, drop it in, and then serve.
This cocktail combines the fruity and spicy notes of the Camus VS with pineapple and Earl Grey tea. In a shaker, pour in VS, freshly squeezed pineapple, cold infused Earl Grey tea, lemon juice, and vanilla syrup. Shake it together with ice. Put ice into a tumbler and strain the liquid over it into the glass. Top it off with champagne and use a pineapple slice as garnish.
5 Best Things to Mix with Camus Cognac
Tonic
Green Tea
Earl Grey Tea
Orange Juice
Ginger Ale
VSOP Cognac Alternatives to Camus
XO Cognac Alternatives to Camus