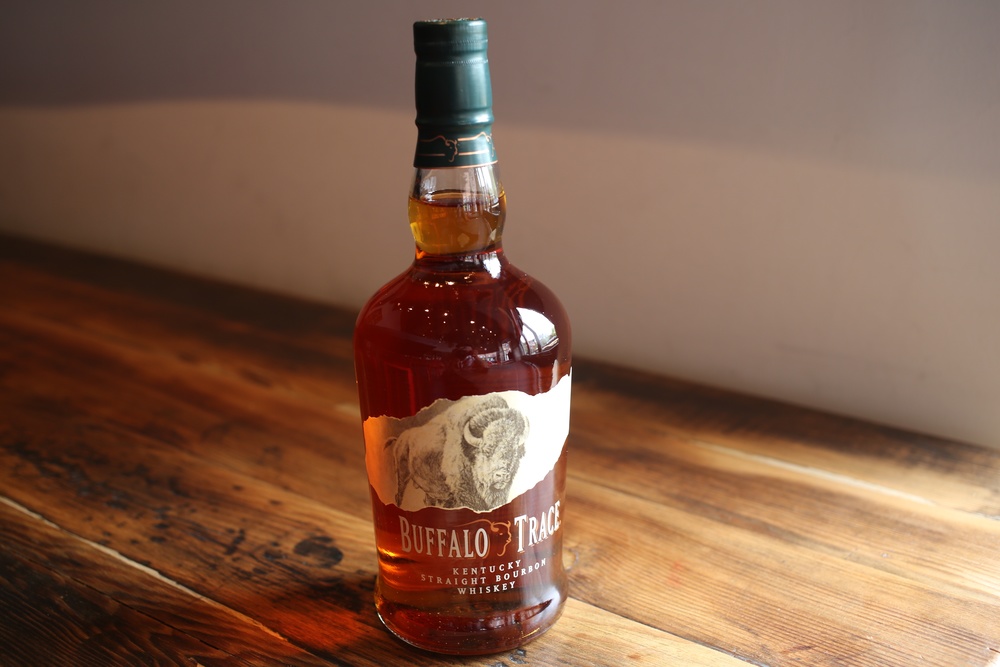 About Buffalo Trace Whiskey
After a long history and many rebrands, the Buffalo Trace Distillery settled on its name in 1999 and created its new flagship brand: the Buffalo Trace Bourbon. This bourbon is their most affordable and readily available whiskey and is a favorite of whiskey circles for its sweet notes, mild heat, and reasonable price. Up to this day, this brand still uses the techniques and recipes developed in the distillery since its inception.
The Buffalo Trace Distillery is the oldest continuously operating distillery in the United States. It is one of the few distilleries that can show spirits production before, during, and after Prohibition.
How is Buffalo Trace Whiskey Made?
Buffalo Trace is bourbon, a type of American whiskey noted for its mash containing at least 51% corn and aged in newly charred wooden barrels. Corn makes up most of the raw material in the creation of Buffalo Trace, with additions of some rye for flavor and barley for additional enzymes to speed up the fermentation process.
The Ageing Process
During the aging process, approximately 3% of the original mixture evaporates into the atmosphere, leaving behind the tannins, sugars, and the color that give Buffalo Trace its signature look and flavor. This happens in barrels made from the trunks of 70-80-year-old white oak trees. Each barrel is made by airdrying the barrel for days before charring the inside with an open flame to expose the wood's natural sugars, allowing the whiskey to penetrate deeply and take in flavor from the wood.
Buffalo Trace boasts a longer aging process than its competitors — its unique flavor profile. Although the Buffalo Trace Distillery has not stated the specific length of the aging process, whiskey fans approximate it somewhere between seven to nine years.
Where to Buy Buffalo Trace Whiskey?
Bourbon newbies and seasoned drinkers can purchase Buffalo Trace Bourbon from the Buffalo Trace Distillery gift shop, the Buffalo Trace website, and online through Drizly or SipWhiskey, and brick-and-mortar liquor stores in your state (e.g. Total Wine and Ohio Liquor/OHLQ).
In addition, supermarket chains like Walmart, Costco, Safeway, and Kroger most likely have stocks of Buffalo Trace Whiskey on their shelves.
Buffalo Trace Whiskey Prices
Item
Alcohol (ABV)
Size
Price
Buffalo Trace
45% (90 proof)
375ml
$17.99
750ml
$33.59
"Nose: Spicy and sweet with caramel, creamy toffee eclairs, hints of cinnamon, rum spice, and cereal sweetness.
Palate: Brown sugar, toffee apple, sweet oak, custard, oily espresso beans, a touch of chocolate-covered raisins, and toasty wood.
Finish: Good length with sweet spices, cinnamon gum, and toffee" – Master of Malt
Buffalo Trace Whiskey Buying Guide
Buffalo Trace is the flagship bourbon of its namesake distillery, the Buffalo Trace Distillery. Containing a 200-year old recipe containing rye, barley, and corn, Buffalo Trace is smooth, sweet, and has a light spicy taste for easy sipping or bourbon beginners.
Whiskey aficionados and expert tasters consider Buffalo Trace one of the best bourbons globally. Buffalo Trace has consistently won various national and international whiskey competitions since 2000. Their latest awards are the 2020 Gold Medal in the World Whiskies Award and the 2020 Silver Medal in the San Francisco World  Spirits Competition, among many others.
How Good is Buffalo Trace Whiskey?
Buffalo Trace Bourbon has a good amber color, a sweet scent and taste, and a spicy aftertaste. Although the bourbon's suggested retail price is less than $20 for the 375 mL bottle, it holds a good flavor that can be taken neat or in a cocktail. Buffalo Trace provides considerable value for its price, providing caramel notes that quickly morph into spicy notes. It gives good flavor without overwhelming spice, allowing them to taste the distinct toffee notes and finish with heat reminiscent of cinnamon.
With the price point and quality, Buffalo Trace Bourbon could be a good everyday bourbon for both new enjoyers of bourbon and seasoned drinkers alike.
Buffalo Trace Distillery
The Distillery claims to be the oldest continuously operating distillery in the country, having over 200 years of production. Originally known as the George T. Stagg Distillery, named after founder George T. Slagg, the distillery is in the US National Register of Historic Places and a designated US National Landmark. Because of its rich history, Buffalo Trace Bourbon has perfected the whiskey manufacturing process, creating a reliable bourbon that stands through the ages.
There are available tours in the distillery where visitors get to view the distillery grounds and take a glimpse of the distillery production process — from the raw material collection, mashing, and up to the aging in the warehouses and bourbon tasting. Visits happen Monday to Saturday (10 AM – 4.30 PM) and Sunday (11.30 AM – 4.30 PM) throughout the year, excluding Easter Sunday, Thanksgiving Day, Christmas Day, and New Year's Day. Currently, tours are temporarily unavailable, but visitors are recommended to register online on their website when they're up.
The Best Way(s) to Drink Buffalo Trace Whiskey
Buffalo Trace is a good sipping whiskey thanks to its sweet nose and spicy tasting notes. Because of its full-bodied but straightforward flavor, Buffalo Trace is enjoyable for bourbon beginners and seasoned drinkers alike.
Buffalo Trace also mixes well with cocktails. Because of Buffalo Trace's distinct toffee notes, Buffalo Trace is best with:
Manhattan — Mix Buffalo Trace Bourbon with angostura bitters, sweet vermouth, and maraschino cherry
Mint Julep — Buffalo Trace Bourbon makes a delicious cocktail with just ice and mint garnish. The Buffalo Trace Distillery also sells a Mint Julep Cocktail Mixer to add just the right sweetness.
Old Fashioned Cocktail — keeping it classic, Buffalo Trace Bourbon tastes delicious when mixed with sugar, angostura bitters, and garnished with orange peel. But to make it even simpler, you can buy a ready-made cocktail mixer. The Buffalo Trace Distillery also sells an Old Fashioned Cocktail Mixer.
Alternatives to Buffalo Trace Whiskey
Eagle Rare – Eagle Rare Whiskey is also made in the Buffalo Trace Distillery and uses the same mash as the Buffalo Trace Bourbon. It is distinct from the Buffalo Trace Bourbon because it's aged for longer, which may lend a smoother taste profile than its younger brother.
Four Roses – Four Roses is also a small-batch bourbon made with various low- and high-rye content mash bills. Four Roses Bourbon is aged 6-7 years, similar to the Buffalo Trace Bourbon. Because of its similar aging process and mash bill, Four Roses has identical notes to Buffalo Trace.
Old Forester – Old Forester has various low- and high-rye mash bill contents, aged in a similar period as Four Roses and Buffalo Trace Bourbon. Old Forester has sweet tasting notes found in Buffalo Trace but lacks the spiciness found in the latter.