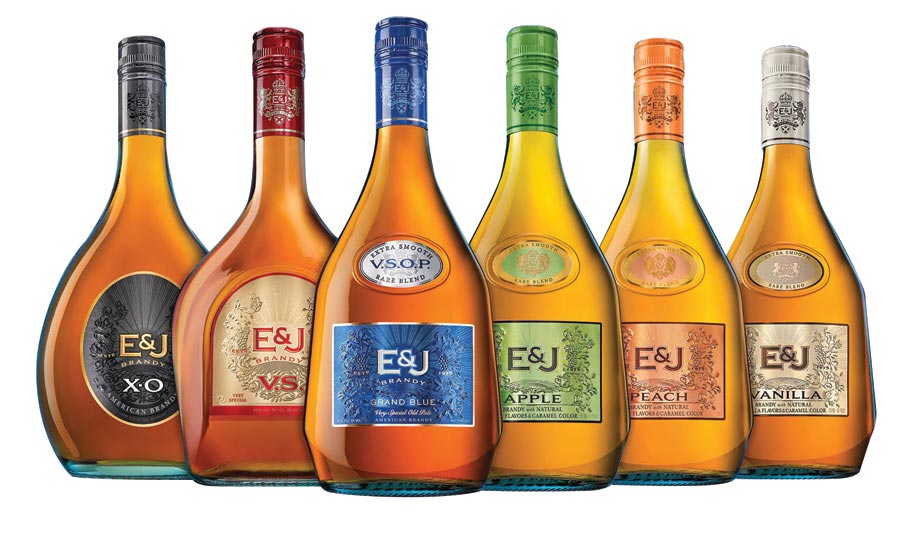 Ernest and Julio Gallo started the E&J Winery in San Francisco in 1933. Immediately following the end of Prohibition, the two brothers worked tirelessly to compete with other big names in the industry. 
After over thirty years of established winemaking, the brothers turned their eyes to the art of brandy. In 1975, after practicing distilling for over five years, the brothers developed their signature brandy.
The brandy grew in popularity, appearing in Sports Illustrated and The New York Times. In 1983, it was America's best-selling brandy and is still recognized as one of America's most popular.
The spirits start humbly as fresh-picked California grapes. They are then fermented in E&J's custom oak barrels for three months, which add a distinct flavor to the brandy. Afterward, they are aged at least two years and blended to create the many iconic flavors the brand offers, including apple, peach, and Grand Blue.
E&J Brandy Prices
E&J Brandy Prices—Limited Editions
Item
Type
Aged For
Alcohol content
Size
Price (based on 750ml size)
E&J XO Extra Smooth
Brandy
2 years minimum
40% (80 proof)
750ml
$14.99–$16.99
E&J XO Vintage Reserve
Brandy
7 years
40% (80 proof)
750ml
$12.00–$22.00
1.75L
VS was created in 1975 when the Gallo brothers joined the brandy scene, and it has remained the historic favorite since then. It has tasting notes of apple, vanilla, and toasted oak for a crisp and light-bodied flavor. The brandy is also the cheapest on the list, making it a great, affordable option.
Grand Blue is crafted European-style, with rich flavor and a smooth finish that gave it its name. Each bottle has an aroma of sweet brown spices and notes of vanilla cream, maple, and sherry. With many accolades to show off, Grand Blue is a popular and worthwhile brandy choice.
XO is a velvety smooth brandy that is charcoal-filtered for added texture and flavor. It has notes of vanilla, creamy toffee, and brown sugar. XO is E&J's most acclaimed brandy, earning higher accolades than the other varieties. You'll find that the quality of its taste justifies the price increase.
This brandy is made with layers of natural butter and notes of caramel, dried apple, and toasted wood. The sweetness is ideal as part of a cocktail and goes down smoothly. This one is a great choice, with a flavor that anyone can enjoy.
E&J's apple brandy is a mixture of bold apple liquor, sweet vanilla, and caramel that creates a refreshing, fruity finish. This brandy won double gold at the 2019 Ultimate Spirits Challenge, demonstrating the versatility and decadence of apples.
This brandy is the result of bold peach liquor combining with vanilla spices, resulting in a smooth and sweet finish. It's the perfect base to add some fruity flair to your favorite cocktails.
XO Extra Smooth is a lot like its original namesake but is charcoal filtered for longer to create an even smoother taste. This brandy was a limited release but is still available in some locations.
XO Vintage Reserve is E&J's longest-aged brandy, absorbing oak flavors for seven years. The vintage taste creates a bygone atmosphere with each sip. It contains the classic maple and brown sugar flavors that brought the original XO so much acclaim.
The Best Way(s) to Drink Drink E&J
Any E&J products are great for drinking straight or over ice. There are also many great options for using brandy in cocktails. Here are some smooth cocktail choices suggested by E&J.
E&J VS and Cola is a classic mixture that both brandy newcomers and veterans will enjoy. Mix 1 ½ oz. of E&J VS and 4 ½ oz. of your cola of choice and garnish the glass with a zesty lime wedge. 
The XO Starter is a delicious combination of 1 ½ oz. E&J XO, ¼ oz. Bitters, a splash of lemon-lime soda, and a dash of simple syrup. This cocktail is best enjoyed in a highball glass for a tall drink of sour smoothness.
If you're in for a fruity cocktail, the Washington Apple is a great choice. Simply mix 1 oz. of E&J Apple with 4 oz. Cranberry juice for a tart brandy drink.
5 Best Things to Mix with E&J
Orange liquors, including triple sec, are some of the best mixers for E&J brandies. The bitter and sour flavors complement each other well.
Fruit juices are a versatile choice that can make any cocktail with E&J brandy feel exotic. Cranberry, pomegranate, and orange are top choices.
Ginger ale is a classic mixer that never gets dull, giving cocktails an energizing amount of carbonation, sizzle, and flavor.
Hard apple cider is the perfect compliment to E&J's award-winning apple brandy. These two ingredients make drinks with the perfect balance of spice and fruity flavor.
Cola and root beer are very beginner-friendly mixers sweet enough for anyone to enjoy. It can make your cocktails taste a lot more playful.
E&J VSOP Grand Blue Alternatives